Short Title
Community Conversations: Dialogue about Health
A New York Public Library branch hosted a series of health-related conversations, with scientists present to clarify the facts.
Recently, the New York Public Library launched a new pilot series in select library branches across three boroughs. Community Conversations encourages open dialogue where everyone's voice can be heard. 
When you, as a resident, participate in Community Conversations, you can expect to:
Connect with your neighbors. Build new relationships in your area by taking the time to talk with other community members about local issues.
 
Stay informed. Get accurate information and build your knowledge around timely neighborhood topics.
 
Participate in the unique culture of your neighborhood. Speak up and listen in the context of a local dialogue that tells your community's complex story. Our libraries are open spaces for all sides of an issue to be discussed. When you attend a conversation in your community, you're sharing an important perspective.
At the library's 67th Street branch, Community Conversations Café provides a valuable forum for patrons interested in discussing health-related topics.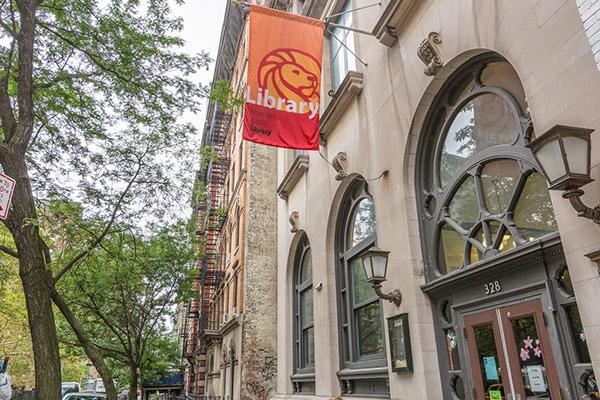 Health dialogues
Community Conversations Café serves as a platform where the scientific and non-scientific communities of the Upper East Side can gain insight and perspective. The scientific community comprises doctoral and postdoctoral scientists and clinicians from Memorial Sloan Kettering Cancer Center and New York Presbyterian-Weill Cornell Medical Center, who study the health care issues discussed at each event.
The goal of the program series is for both groups to learn from each other through an organic, informed and respectful exchange. These programs are meant to inform participants in a meaningful and constructive way, discuss current scientific endeavors in our community, shed light on the unknown, and dispel misinformation or fear.
Educating attendees about the science behind health care topics is the primary goal; however, the hope is to also increase awareness of certain health issues leading to a more understanding society as well as to mitigate biases. 
Choosing topics
By conferring with organizations that hosted health-related events at nearby locations, the 67th Street Library and its partners were able to identify topics that would spark conversation.
The nearby NYP-Weill Cornell location regularly hosts health events that have been well attended and received good feedback. Along with considering the programming experience at nearby Webster Library and engaging with the community and library patrons from the 67th Street branch, we were able to identify three main topics specific enough to guide conversation, but broad enough to ensure discussion wasn't limited: Mental Health and Aging, Obesity and Nutrition, and Depression and Anxiety.
The timing of the events played a role in coordinating a successful event series: Obesity and Nutrition was planned shortly before Thanksgiving— a notoriously gluttonous affair! — while Depression and Anxiety was scheduled right before the December holidays, a time of year that can be very difficult for people.

Embracing disagreements
The Community Conversation Cafe emphasizes a collaborative and interactive opportunity where patrons and experts alike can speak to their experience. Instead of following the traditional lecture or PowerPoint-style program, Community Conversations encourages all participants to speak in a setting where varying viewpoints are welcome and respected.
Ground rules help set the stage for a fair and polite conversation where everyone benefits from the exchange of information. One such ground rule that I found extremely useful, even outside of this program, is "It is OK to disagree, but not be disagreeable."
The scientists' role
At 67th Street Library, participants contributed in a way that gave greater relevance and impact to the discussion. The experts in the room were not lecturing; rather they were coloring the conversation with supporting information and correcting when needed. In fact, the scientists learned from participants that there are gaps in public knowledge and worked to address them.
The discussions helped many of the scientists remember why they do they do research — for the people — and they returned to work with a renewed sense of duty. We heard the following feedback:
"As an individual I found this to be a warm socializing event where completely different people sat down and opened up about personal thoughts, events, fears ... this was a bonding experience for us all." — Maria Skamagki, scientist at Memorial Sloan Kettering Cancer Center
"As a PhD student, it's easy to lose focus on the big picture and social impact of our research. Talking with members of the community, I realized there was lot of information ... which scientists take for granted, but which the public doesn't know about, which is all the more reason to hold open dialogue between scientists and the public. Sometimes they asked questions to which I didn't even know the answers, which showed how complicated the challenges of biomedical research and medicine [are] for everyone, even scientists. Overall, it was [a] learning experience on both sides and a good opportunity for scientists to really hear people's stories and concerns about health issues." — Joanna Luo, scientist at Weill Cornell Medical Center
Difficult health issues can affect our communities, and it is imperative that the library is able to support important health-related matters in a neutral space. Community Conversations not only helped our branch connect with our patrons, but forged new relationships with organizations with similar missions and goals that will carry over into the future.
Alexander Mouyios is the Acting Library Manager at the 67th Street Branch of the New York Public Library.
Popular Topics
Community Engagement
Health and Wellness
STEM
Job Functions
Resources and Program Starters
Collaborations