It's a bird! It's a plane! It's a great opportunity to join in on a national celebration of your patrons' interests!
Along with the promise of flowers and Justin Timberlake "It's gonna be May" memes, each year the beginning of May brings Free Comic Book Day (FCBD) on the first Saturday of the month.
The name is pretty self-explanatory; stores that sell comics throughout the United States participate in FCBD by offering free comics for eager fans of all ages. This celebration of comics is a prime opportunity for libraries to connect with the diverse comic community and potentially develop a new partnership with a local shop.
Starting your own FCBD event

Starting in January, use the Comic Shop Locator to find your nearest comic shop. Icons next to the store name will let you know in advance if they participate in days such as FCBD and if they are considered a school and library partner. Depending on the store, they may be able to facilitate a donation of comics and/or swag for patrons.
Here are some tips for a successful day:
Have comics available for all ages, but make sure you clearly distinguish which comics are for kids and which are for teens and/or adults. It may get crowded, so if possible, put physical distance between the groupings.
Depending on the amount of comics you receive, it would be wise to limit one comic per a patron. Make sure signage includes a note saying "while supplies last." 
The FCBD website offers plenty of free downloadable marketing materials you can use for promotion.
Since this is a first-come, first-served event, expect a rush when you first open.
Support your local comic shop! If you have the funds, purchase gift cards from them for a giveaway for attendees stopping in.
Beyond offering free comics, there are plenty of ways you can celebrate comics with the rest of the community.
If you have months in advance to plan
Host a book discussion on a comic — either leading up to FCBD or soon after — to connect with FCBD participants that may be new to library programming.
Offer a drawing program. Enlist talented local college students or patrons to volunteer to help with drawing instruction or have playlists of drawing technique videos available on tablets.
For adults and teens, invite an avid collector to come in to offer tips and tricks for collecting comics and figurines. Build in time to facilitate a discussion for patrons to talk about their collections and how they got into collecting. Bonus: See if you can get a specialized appraiser in!

If you have no time in advance to plan
Spotlight comics throughout the library through displays.
Create an activity station. Themed button-making, trivia sheets, coloring pages and/or a themed puzzle on a table are all lower-maintenance possibilities to break from the ordinary.
Offer jars at your public service desk asking patrons to vote on an answer for a themed question such as "Which is your favorite, 'Lumberjanes' or 'Nimona'?" or "Who makes a better Spider-Man, Tobey Maguire or Andrew Garfield?"
Comic book programs year-round
One of the great things about Free Comic Book Day is it brings independent patrons you may not normally interact with out of the woodwork and new traffic through the library. However, if you are unable to participate in FCBD, there are still plenty of opportunities throughout the year to timely key into comic culture. Try out Doctor Who Comics Day in September, Halloween Comic Fest in October, and/or offer programs leading up to or right after local or well-known comic conventions.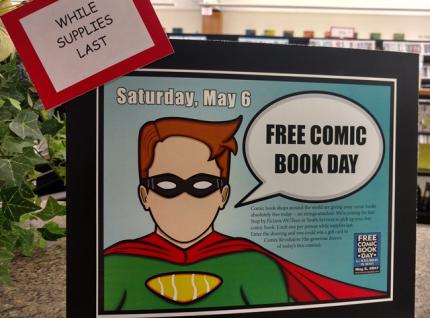 Audience
Adult
Children / Family
College Students
Young Adult