The Free Library of Philadelphia built bridges with the community through a collection of rare Islamic texts.
Joe Shemtov is a special collections coordinator and primary source specialist and a participant in Cohort 1 of the Skills for Community-Centered Libraries trainings.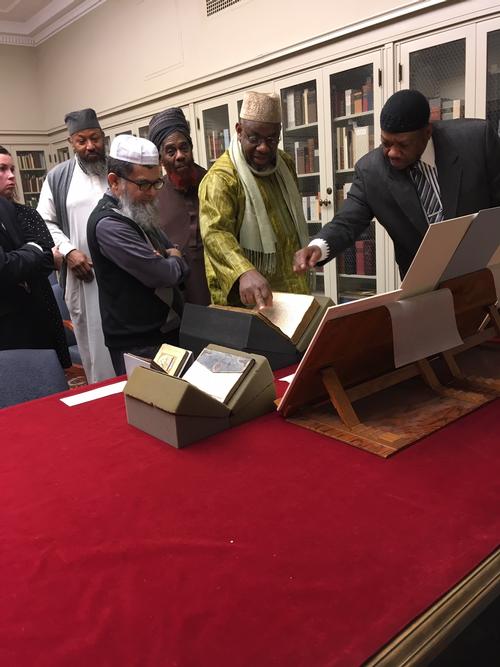 In October I had the pleasure to complete Skills for Community-Centered Libraries, a series of four half-day workshops centered on helping library staff develop and assess successful community-based programs. Working in Special Collections, the workshop was challenging. It helped me to raise the following question: "How could we in Special Collections explore innovative programming which would use our collections to meet the needs of, and impact, local communities?"
Among the many collections from which to choose, I focused on our collection of Islamic manuscripts. It recently garnered a lot of attention because of a $500,000 grant from the Council on Library and Information Resources (CLIR) awarded to the Free Library — and to the University of Pennsylvania, Columbia University, Bryn Mawr College and Haverford College — to digitize and catalog its Islamic materials in order to make them freely accessible to the public. With the digitization and cataloging effort underway, the time had come to begin thinking about creating community programs. But how would I begin to identify my target audience? And how best could I reach out to them?
Fortunately, on the last day of this training workshop, I met Shahadah Abdul-Rashid, a community initiatives specialist for the Free Library. I introduced Shahadah to our collections and we discussed various ideas. She then suggested that I begin my outreach efforts by reaching out to Philadelphia Islamic communities. Her recommendation was on point, given that Muslims represent 10 percent of the total population of Philadelphia, shaping and enriching the city's way of life. Shahadah was instrumental in coordinating a meeting between the Free Library with the Majlis Ash'Shura of Philadelphia and Delaware Valley, a consultative body of imams, masjids and Islamic organizations representing the Muslim community. 
On January 9, 2019, the Rare Book Department hosted a delegation of five imams from the Majlis Ash'Shura. This visit turned out, at least for me, to be an unforgettable experience. The imams educated us about Islam and its rich history and were captivated by the display of manuscripts we shared with them. Imam Yahya Abdul-Latif was so moved by one of the Qurans on display that he recited a part of the Quran that he knew by heart.
This was an important step between the Free Library and leaders of Philadelphia's Islamic communities, as we begin a much-needed dialogue on how the Free Library, with its outstanding collection of Islamic manuscripts and paintings, can begin to create impactful and long lasting programs that will meet the cultural and educational needs of Islamic communities within Philadelphia.
For more information about the Skills for Community-Centered Libraries initiative, contact Project Coordinator Cameron Voss at vossc@freelibrary.org.