Serve up this cooking program that draws on the local talent and knowledge of your patrons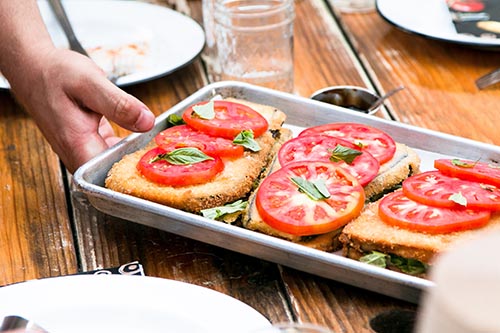 It wasn't so long ago that you would be asked to leave if you brought food and drinks to the library. But in the last decade or so, many libraries have relaxed those policies, and now we are seeing some interesting results.
Cultural Cooks
In Cultural Cooks, area cooks are invited to talk about their cooking backgrounds, demonstrate recipes and serve samples to attendees. We have so far explored recipes from Vietnam, Cuba, Venezuela, the Caribbean, Cameroon, Liberia, Puerto Rico, Pakistan and the American South.
Culture extends beyond location, so we have also begun to host demonstrations by gluten-free, vegan and vegetarian cooks, as well as a series on Buddha bowls and Passover recipes.
Kitchens are optional 
The library's former director received two grants to build a demonstration kitchen, which was completed late last year. That kitchen now hosts three series of cooking classes: one for kids, one for amateur chefs (Cultural Cooks), and one to highlight the restaurant chefs of our local community.
While the kitchen is a wonderful addition, the library held Cultural Cooks events in the past using hot plates and folding tables. Even then, we still packed the house — proving that this model could be easily adapted for a variety of libraries, given a relaxed food and drink policy and a space to get a little messy.
Demo like a pro
Every cooking program is educational by nature, allowing guests to learn something they can recreate at home. Cooks often start with a PowerPoint presentation and talk a little about themselves, their culinary backgrounds, hometowns, families, etc. They discuss the recipe and explain the ingredients.
Then it's on to the demonstration! We ask that the cooks clearly demonstrate each component of the dish so patrons can take notes. At the end of the demonstration, attendees can try a sample-size portion of the dish and ask questions.
Patrons must register for the class in advance so we can ensure that our presenters prepare enough samples. At MPL, the budget is $50 to $75 per cooking class, which is reimbursed to the cook. We ask for enough ingredients to serve roughly 30 samples.
If there are leftovers, which is rare, I invite staff to sample the dish. Everyone gets a copy of the recipe and is encouraged to make the dish at home and share the results on the library Facebook page.
Timeline and guidelines
Cultural Cooks can be scheduled as a one-time event, quarterly or as a three-part series. As each cook has different schedules, this flexibility has been necessary.
It's also very helpful to check in and confirm availability with the cooks several times before their scheduled date, and to remind them to send a copy of the recipe well in advance. Sometimes the recipes just won't work for a group of 30, so there is some preparation to take care of.
The cooks for this program are amateurs, although a few of them have some previous professional experience or do catering. We find the cooks by reaching out to patrons and gathering recommendations. Some cooks bring their recipes and outline how they would like to run the program. 
When cooks sign up for classes, they receive a copy of the kitchen guidelines, which we ask them to sign. Guidelines include information about the demo kitchen, available appliances, and items that are prohibited (alcohol, for instance).
We schedule our cooking events on weekends or evenings, and we get attendees of all ages. That's what I like most about cooking programs at the library: everyone comes. Not just kids or retirees, but families, friends and neighbors … food really does bring us together.
This program model could be expanded to include crossover partnerships with area chefs and restaurants. There are plenty of ways to take this idea to the next level, and I hope to explore new cooking classes in the future.
Final tips
Use a picture of the dish that will be prepared on the promotional graphic. 
Schedule plenty of extra time for Q&A.
Schedule two staff or volunteers to run each class. Cooks often need help in the kitchen.
Leave some hand sanitizer next to the sign-in sheet and recipes.
Other cooking models to explore
Cupcake or cake decorating
Iron Chefs-style competition
Retro cookbook party
Raw foods
Preserving and pickling classes
Library Type
Academic / College
Public
School (K-12)
Popular Topics
Coloring, Crafts & Hands-on
Health and Wellness
Audience
Adult
College Students
Community Members
Older Adults / Seniors
Rural
Urban
Young Adult