Short Title
Dispatches from the Road: HEAL (Healthy Eating, Active Living) Programs at the Library
Two recent health conferences show ways for libraries to become more involved in making Americans healthier.
At two national health conferences last month, I learned about an array of new programs taking place in public libraries, from Play Streets to Fix-A-Flat. A major take-away from these conferences is that many people across the country interested in health are ready and eager to team up with public librarians.
I also learned a new acronym: HEAL, which stands for Healthy Eating, Active Living.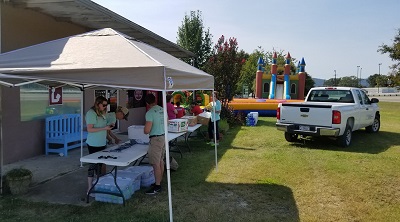 Fix-a-flat
Dr. Morgan Clennin introduced the HEAL concept in her presentation at the Active Living Conference (ALC) 2019 in Charleston, S.C., on research she has done in Colorado. Dr. Clennin shared that one of their partners is the Denver Community Active Living Coalition, which includes the Denver Public Library. 
As part of its work in the coalition, the library launched a Fix-A-Flat program, which is available at seven branches of the library. In addition to bike repair kits that you can check out, the library staff learned how to repair bikes so they can offer ongoing programs and assistance. Check out this map of participating libraries.
Play Streets
Shifting from urban to rural libraries, I also met with Dr. Renee Umstattd Meyer of Baylor University's Public Health Program at both ALC and at the 2019 Sharing Knowledge to Build a Culture of Health Conference in Houston, Texas. She has worked with public libraries (and others) in the small towns of Talihina, Okla., and Cameron, Texas, to bring Play Streets programs to these rural communities.
Play Streets are temporary street closures in which kids are invited to play and parents are invited to meet and mingle. In Talihina, the library hosted the Play Streets (promoting it on Facebook) in collaboration with the Choctaw Nation, a Native American territory and federally recognized Indian Tribe. According to Dr. Umstattd Meyer, during the Play Streets program there was a constant flow of people in and out of the library, playing in the street and then going into the library to relax, recharge and read.
In Cameron, Texas, the library brought its bookmobile to the Play Streets program held at a local school. Dr. Umstattd Meyer is currently developing a toolkit and is very excited to share what she has learned with librarians interested in trying out this program idea. Play Streets would be a great way to kick off or end your summer reading program.
Civic design guidelines
Public libraries were also prominently featured in an ALC workshop led by Suzanne Nienaber from the Center for Active Design, focused on their new civic design guidelines. The guidelines include case studies of public libraries in Queens, New York and McAllen, Texas, and states that a priority area is to "make space for large and small events throughout the community—at parks, plazas, libraries, community centers and other public spaces."
In compiling the report, the researchers found that there was a 10 percent increase in people feeling extremely welcome to attend a program at a library if the library spruced up its entrance through the addition of plants, flowers and lighting (p. 62).
Public libraries and community health
At a more general level, the conferences offered valuable food for thought in terms of how we conceptualize the roles of public libraries in supporting health.
At ALC, many individuals talked about, as Dr. Teresa L. Penbrooke put it, parks and recreation agencies as "preventive public health agencies." For instance, there was a fascinating poster on how "local park and recreation agencies address food access and physical activity to improve health outcomes in rural communities" presented by staff from the National Recreation and Park Association and the NORC Walsh Center for Rural Health Analysis. Many of the ideas presented are things public libraries increasingly do, like offer lunch at the library during the summer. This finding suggests that we in libraries should do more to get involved in these cross-sectoral conversations about health.
Indeed, public libraries are increasingly framed by those in the health sector as essential to community health. For instance, at the Sharing Knowledge conference, Dr. Anita Chandra of RAND Health shared during her presentation that public libraries are framed as one of the measures of health because we know that the presence of a library in a community increases quality of life and overall health.
Similarly, during presentations at Sharing Knowledge on how to measure wellbeing, the coordinator of the Santa Monica Wellbeing Project reported that "frequent library use has been shown to positively impact people's sense of wellbeing by providing access to learning across the lifespan," and in the same session, a representative from Nova Scotia Quality of Life shared that in their work they have found local librarians to be vital partners. Almost all of their local leadership teams have representatives from public libraries, and many of their community conversations on wellbeing have taken place in public libraries.

Nature, green spaces and libraries
Many of the presentations also focused on how access to nature and green space is a matter of public health. For instance, at Sharing Knowledge I met Sarah Milligan-Toffler of the Children & Nature Network, who is working on what she calls Nature Smart Libraries. The program started in collaboration with the Saint Paul Public Library but is now spreading throughout the country. She reported that the Houston Public Library in Texas is now working with them to make sure every one of its branches becomes a Nature Smart Library.
What does it mean to be a Nature Smart Library? More information on the program can be found here, but in general it means working with parks to create collaborative programs, ensuring green spaces around libraries are inviting and used to foster engagement in nature, and checking out supplies that can be used to enhance experiences in nature. In building the program, the Children & Nature Network conducted a study of how libraries across Minnesota are incorporating nature programming into their services.
On a similar note, at ALC I met with John Henderon of ParkRX America, whose mission is to "to decrease the burden of chronic disease, increase health and happiness, and foster environmental stewardship, by virtue of prescribing nature during the routine delivery of healthcare." They are very interested in working with public librarians who may be interested in referring (rather than prescribing) patrons to nature and green spaces. 
The overall message I took away from these two conferences is that policy makers and researchers want public libraries to become more involved in both conversations and collaborative programs focused on increasing America's health. So reach out and try something new at your library.
Popular Topics
Community Engagement
Health and Wellness
Audience
Community Members
Rural
Urban