Short Title
Eco-Friendly Fall Garland
Looking for an easy fall craft that is fun for all ages and reuses old materials?
Looking for an easy craft to do this fall that is fun for all ages and helps reuse old materials? At the L.P. Fisher Public Library in Woodstock, N.B., we made decorative fall garlands! We had nine patrons from three different families gather on a windy/rainy Saturday morning.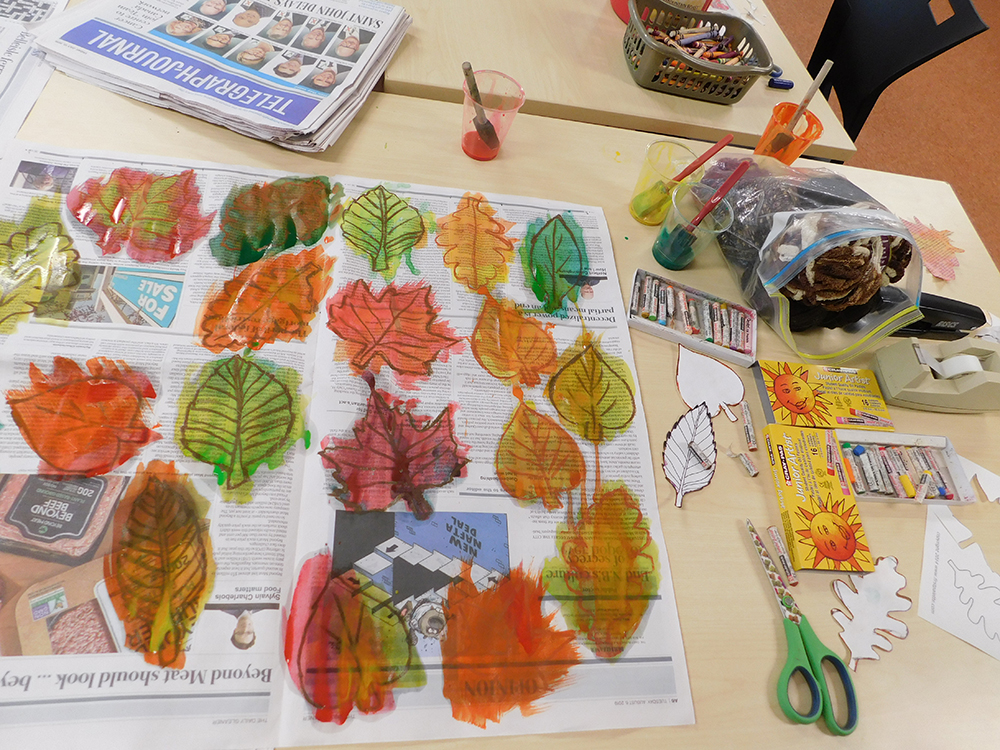 Here are the supplies we used:
leftover crayons and oil pastels
watercolor paint (watered down A LOT)
old newspapers
scissors (safety scissors for the smallest participants)
discarded yarn (leftovers from other projects)
re-used foam paint brushes
stapler
tape
printed leaf templates (or you can use real leaves from the ground)
First we cut out free leaf templates I printed off the internet. We were going to go hunting for fallen leaves, but it was very windy and rainy from Hurricane Dorian so we did this as an alternative.
We traced the leaves on newspaper using crayons and pastels. Then we painted the newsprint leaves different colors: green, yellow, red, orange or some combination. We didn't worry about painting inside the lines because we were going to cut them out anyway. The oil/wax in the pastels/crayons creates a resist effect so if you want to add lines or words or any sort of decorative texture to your leaves you can. 
Then we waited for the leaves to dry before we cut them. If you wanted to speed up the process you could use a fan or hairdryer, but we took this opportunity to play. I brought out the tumbling mat and tunnel and other toys and we worked on our physical literacy skills! We also talked about all the different leaf shapes and types of trees and parts of the leaf while we worked.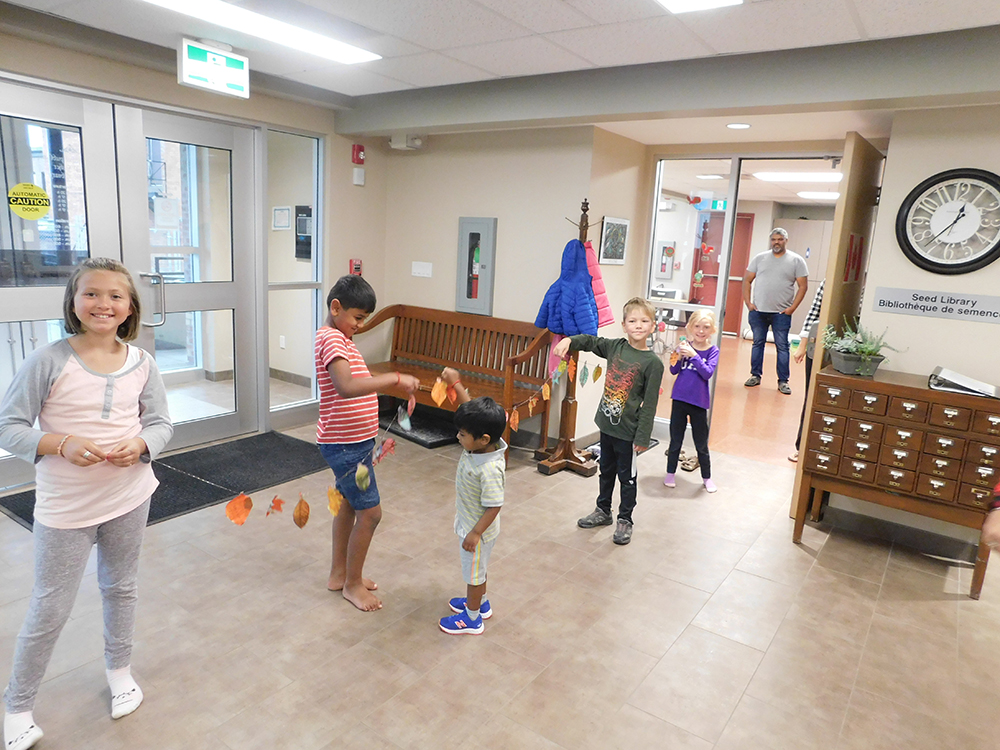 With the drying time, the program took about 90 minutes, but we had great fun playing and singing and reading books. If you needed to do this program in 30 minutes or less you could just color the leaves with crayons or cut them out of leftover construction paper or cardstock.
We reinforced the stems with clear tape and fixed any little rips that happened during the cutting process and then stapled the leaves to lengths of yarn. You can space them close together or far apart, to taste. You could also words on the leaves, like "Happy Thanksgiving," if the craft was for a specific event.
Each family decided to pool their leaves together to make one long garland each, but each participant could have taken home a shorter garland if they wanted (or if they came to the program alone). The leaves could also be used to decorate cards or classroom bulletin boards or many other things! 
Popular Topics
Coloring, Crafts & Hands-on
Environmental Sustainability