Short Title
Evening Storytelling with The Moth
Working with a local theater, the Princeton Public Library hosted a popular storytelling series.
An important function of our library is to provide a space for our community members to feel connected to one another and share their own stories with each other. Last fall, Princeton Public Library (PPL) focused our efforts on storytelling, highlighting the many ways that stories can be shared: poetry, memoirs, graphic novels, performance, quilting and more. 
Starting a storytelling series
The idea for a storytelling series started with a conversation with McCarter Theatre Center, a frequent collaborative partner of PPL. The theatre was seeking community partners for hosting the Moth Mainstage, a wildly successful live storytelling program that hosted more than 600 live shows in 2019 alone. (You may be familiar with the Moth Radio Hour, which is hosted on more than 500 radio stations and has been downloaded as a podcast more than 73 million times.) McCarter Theater and the Moth organizers worked together to identify a date and organize the program.
With the excitement of the Moth Mainstage event to build a series around, PPL began thinking about how storytelling could translate into meaningful public programming. We created a program series that highlighted the talents of our community, providing multiple ways for people to engage with the overall storytelling theme. You can see details of the whole series here.
Story Lounge, professor talks and a quilting bee
A highlight of the series was a new program, created in partnership with McCarter Theatre Center and No Dominion Theatre Company: the Story Lounge. Two Story Lounge programs, both hosted at McCarter Theatre, preceded the Moth Mainstage event on the themes of "Fear" and "Family."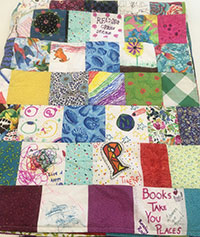 At each Story Lounge, community members volunteered and were selected to tell their own 10-minute stories following the same format as a Moth event: no notes, true stories. It was wonderful to see people on stage and in the audience, enjoying the exchange of ideas and emotion inherent in live storytelling.
Several other programs at the library also had a distinctly local flare, including Princeton University professor Boris Fishman talking about his book "Savage Feast," which detailed his experiences, focusing on food, as an immigrant to the United States from the former Soviet Union. Professor Brian Herera also performed his one-man show, "I Was the Voice of Democracy," the true story of his brush with fame when a speech he wrote in high school won a national contest.
The most outside-the-box program was a community quilting bee. Members of the community were invited to create a quilt square, and an experienced quilter assembled the final product. 
The grand finale: Moth Mainstage
As anticipated, the Moth Mainstage event was a sold-out show featuring five moving stories around the theme of "Lost and Found." The storytellers for the Moth Mainstage were identified and brought in by the Moth organizers. The storytellers ranged in age and background, and some have told their stories at other Moth events nationwide. It was a powerful culmination to the program series.
The most rewarding part of the series was seeing people share stories about themselves with their friends, neighbors and many new people. There is something inherently personal and rewarding about sharing a story publicly, in celebration of (as The Moth says) "the diversity and commonality of human experience." 
Job Functions
Resources and Program Starters
Collaborations