A simple one-sheet form can help get a complicated program off on the right foot.
There are a lot of moving pieces involved in library programs — partners, funding, event logistics, marketing — so organization is key.
My secret to successful event planning is starting with a checklist. I created this one-sheet form that helps me get my programs rolling.
Download the form as a Word document or PDF.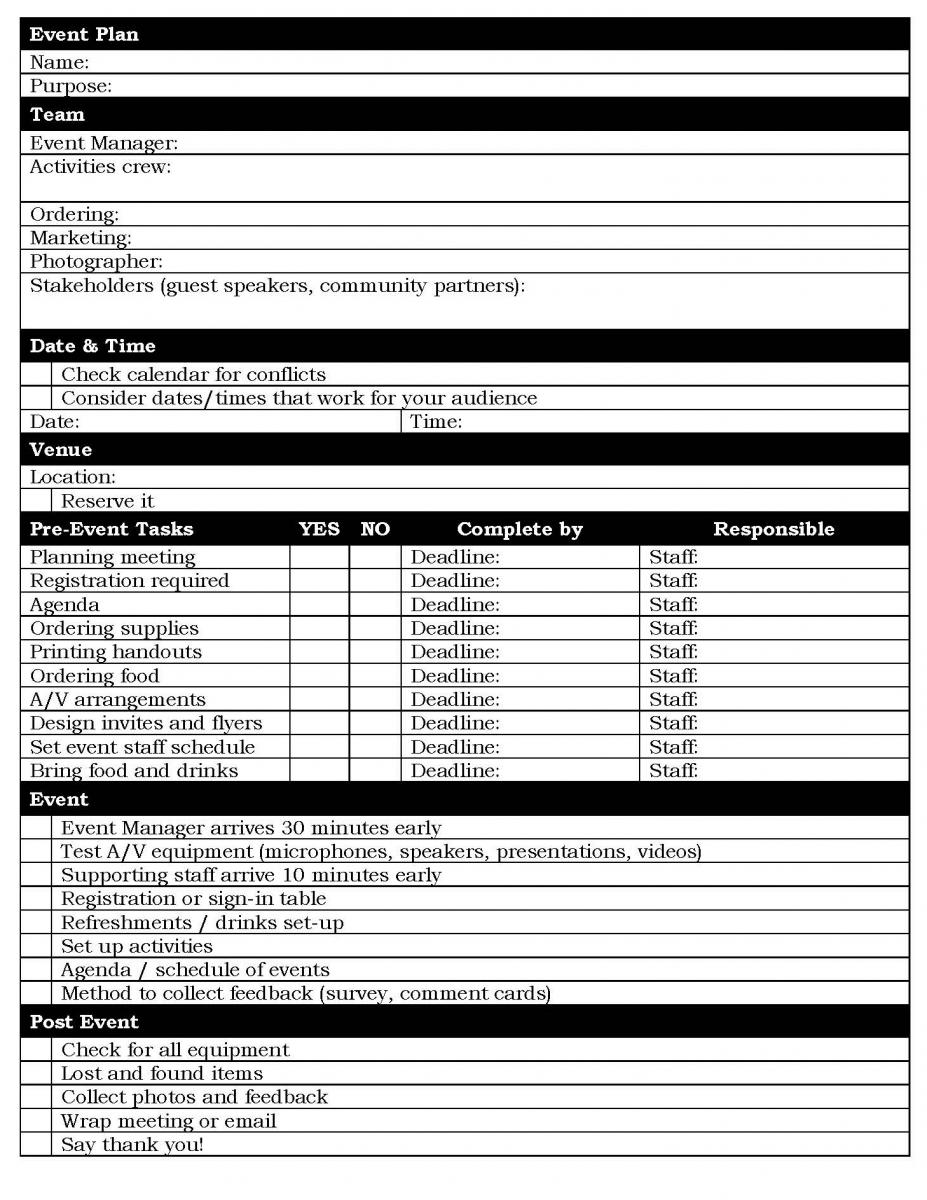 As you work your way through this form, consider the following questions.
Event plan
Are there additional partners with a similar purpose that might strengthen this event?
Are there funders who might like to support the event?
Team
Is everyone's role clear?
Do you need to assign back-up staff that can jump in should someone become unavailable?
Date & time
Will the day and time work not only for your library, but for your audience?
Venue
Does the location suit your event's needs? What about your participants' needs?
Pre-event tasks
Planning meetings: Does this event require formal planning meetings? Should you invite stakeholders to participate in order to encourage teamwork and generate buy-in? Who will take notes and share out tasks after each meeting?
Registration required: Do you need a head count before the event? If so, which registration method would work the best? By what date do you need to know?
Agenda: As your draft agenda evolves, who needs to be kept in the loop? By what date do you need a final copy?
Ordering supplies: What do you need for your event? Presentation folders? USB drives? Pens? 
Printing handouts: Do you have information you'd like to distribute at the event? Do your partners have forms or brochures they'd like to provide?
Ordering food: How much notice does your preferred deli need in order to put together their yummiest sandwiches?
A/V arrangements: Are presenters bringing their own laptops or just a USB drive? Is there a projector and screen or monitor available at the site, or does it need to be arranged? Is a microphone and speaker needed? Is it onsite?
Design invites and fliers: How are you advertising your event? What media do you need developed? How much notice does your audience need?
Set event staff schedule: How many staff need to be present to support the event? Do you need three for set-up and only one during the program? What about clean-up?
Bring food and drinks: What time does the food need to arrive?
Post event
Collect feedback: Which format works best for your audience? To whom will creation, distribution and collection be assigned?
Saying thank you: Does your audience know how much you appreciate their participation? Do your stakeholders know how much you appreciate their support? What information would they like to hear about? Number of attendees? Would they like to see pictures of focused or smiling faces?
Library Type
Academic / College
Public
School (K-12)
Special
Audience
Adult
College Students
Community Members
Older Adults / Seniors