Short Title
Exploring Memory and the Brain with Kids
Skokie Public Library has created a sugar-coated program to teach kids about the brain.
At Skokie Public Library, we recently spent four months exploring different aspects of what it means to be human, as a host site of ALA's Exploring Human Origins exhibition. In one of our upper-elementary science programs, we focused specifically on the human brain and its memory capabilities. The program was literally sugar-coated, as you'll see below.
Memory game
We started the program with a simple memory game. After putting kids in groups of three, we showed them a tray of simple everyday objects like pencils, pens, silly toys, cups and erasers. There were 25 items on the tray, and the groups had five minutes to look at the them, touch them, name them … anything to help them remember as many of the items as possible. After those five minutes, we took the tray away and challenged each group to see how many items they could name; each group wrote down what they remembered. The groups were pretty animated as they tried to recreate the list. No group got the entire list correct, but they all did pretty well — teamwork at its best!
Short-term vs. long-term memory
Next we explored the differences between short-term and long-term memory and how the brain stores information. We created a presentation to explore some of the main information about memory, and we projected the presentation slides onto a large screen in the program space. We made sure to keep the slideshow short and to the point, including only very interesting information.
Sugar-coated neurons
After the kids had learned the basics of how the brain functions in terms of memory, we made candy neurons. We got this edible neuron idea from The Science and Art Project on YouTube.  
Watch the brief video below to learn how to make an edible model of a neuron. The kids had a great time making and eating a part of their brains! (Pro tip: have more candy than you actually need for the neurons, as some will inevitably be gobbled up.)
A sneaky challenge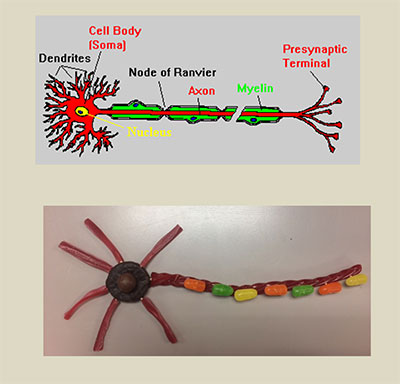 While the kids were working on their neurons, we also sneakily started another memory challenge. We had a staff member come into the program room looking for something while the kids were working; she opened a couple of drawers and asked a couple of innocuous questions. After the candy neurons were complete and the staff member was long gone, we asked the kids questions about the incident — as if they were detectives. We asked kids to recall as much about the staff member's visit as they could.
It was interesting to watch how much reprocessing had to happen before kids could come up with details, like who came in the room and what they had done. This activity demonstrated how hard it is to be an eyewitness, especially when you don't know you should be paying attention to something in order to describe it later.
One last memory game
Finally, we ended the program with the traditional game of memory: kids matched images of patterned mittens that were upside down in a grid on the table. Many kids have played this game before, but that doesn't stop them from getting really into it when it appears in a program. It just goes to show that our brains are always up for a little memory challenge!
Cathy Maassen is youth program librarian, and Gudrun Priemer is youth services librarian at Skokie Public Library.