If you screen it, will they come? Follow these five steps to ensure film screening success on campus.
Movies are a popular way to engage students with real-life stories and situations connected to what they're learning in class or experiencing in their personal lives. At University of Dayton Libraries, the diversity and inclusion team sponsors our frequent film screenings and series. Recently, our film screenings have undergone some changes in subject matter, genre and supplemental programming, and the results have been fantastic. Below I'll list the five things to take into consideration for planning a successful film screening in your library or on campus, in five acts.
Act I: Proposal and budget
As with most public programs, film screenings cost money. In order to comply with copyright law, you must obtain public performance rights for the film you would like to screen. With some vendor databases like Kanopy or DocuSeek2, those rights are included with your subscription. For other films, however, you will need to find out how you can purchase the rights.
The first place you should look to are the companies that handle performance rights for big movie studios; you can search their databases to find your film. These companies include Swank Motion Pictures, Inc., Kino Lorber, and Criterion Pictures USA. Can't find the information? For smaller, low-budget films, you can typically locate the screening information on the film's website, or try any contact information you can find on the case or on the DVD. If all else fails, try contacting the producer or director of the film to obtain rights. In my experience, public performance rights can range from $50 to $350. The cost depends on the film and, in some cases, the size of your audience. 
Act II: Choosing the setting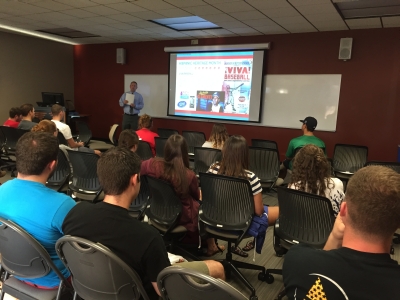 We use our library classroom for our film screenings. With multiple flat screens and a large projection screen, there isn't a bad seat in the house! After the screening, we reset the room as a study space so it can be used (and yes, students are typically waiting). When picking your location, try to ensure that noise from the film will not disturb other library users. You should also know going into planning that general library noise may disturb the ambience of the film screening — and that's OK. Also check for the space capacity and make sure attendance doesn't exceed it. Sometimes it's necessary to communicate the space limitations. When we anticipate larger audiences, we host in larger venues in academic buildings.
Act III: Casting your hosts
An element we recently added to our film screenings is inviting a "celebrity" guest host for the screenings. Someone knowledgeable and passionate about the subject can lead a fruitful discussion or provide a thoughtful introduction.
You can get creative and reach out beyond the university. For our Hispanic Heritage Month film series, as part of Latino Americans: 500 Years of History, we invited the director of media relations for our local minor-leage baseball team to introduce the documentary "¡Viva Baseball!" A local spoken-word artist introduced the documentary "From Mambo to Hip Hop" with an original performance. For our Collab Film Series this semester, the organizer invited departmental staff to lead discussions after each film.
Act IV: Promotion
We attribute some of our success to partnerships, incentives and faculty outreach. By attending designated cultural and intellectual events on campus, students can receive points to increase their standing in the student housing lottery. Anyone planning programming targeted toward undergraduate students is encouraged to submit their events to be eligible for housing points.
Community and campus partners, including faculty and departments, also promote the film screenings in their networks. Be sure to put your events on online campus and community calendars, and you can also promote them with good old-fashioned fliers.
Film screenings give the opportunity to promote library collections if you already own the film or are using a subscription database. Audience members may not know that these film resources are available to them for free.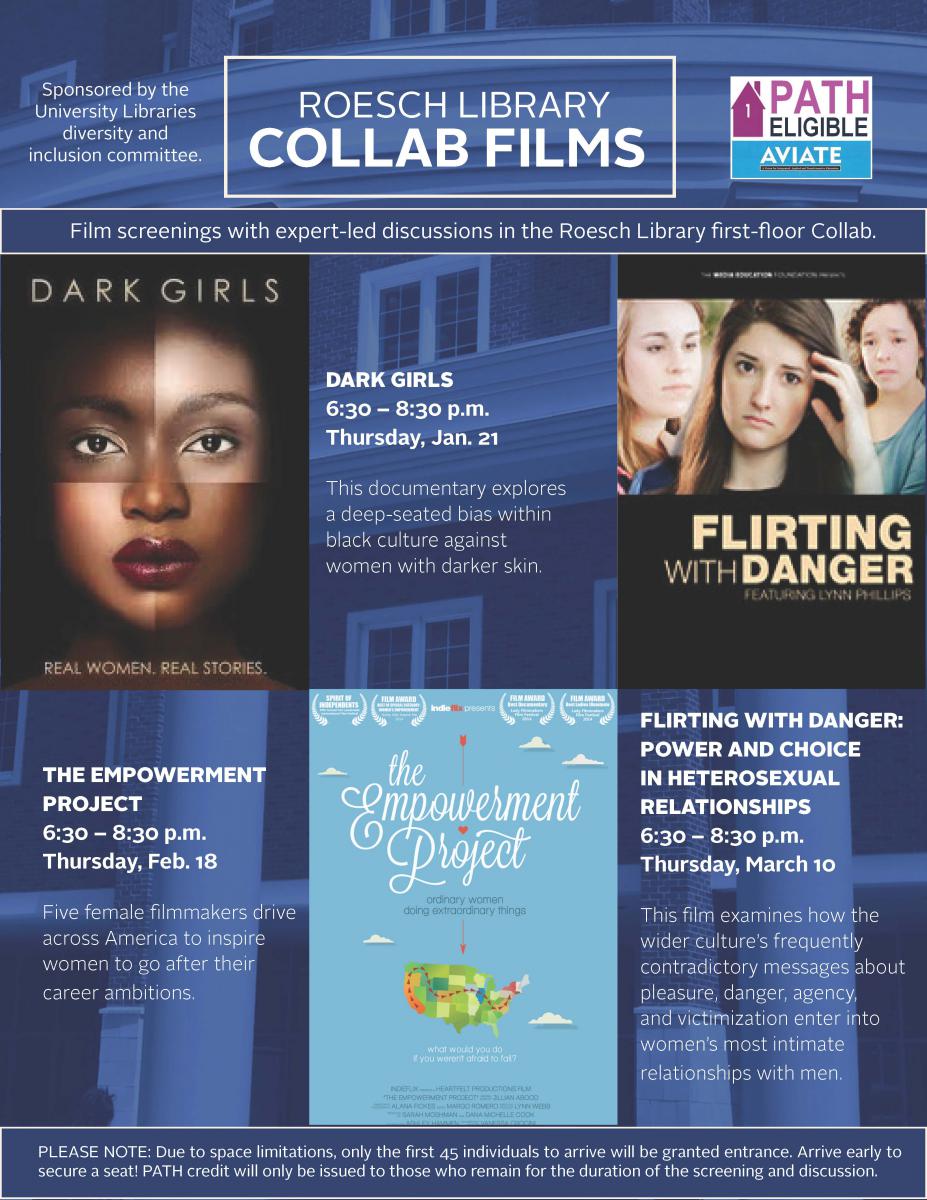 Act V: Audience evaluation
Practice makes perfect. Before receiving ALA programming grants, I was unfamiliar with strategies to measure film screening success. Thankfully, these grants set you up with helpful resources to ensure that you plan, market and assess effectively. At each film screening, the organizer fills out a Program Profile, which provides a checklist of what you can count for. Here are the results from using this method for the Hispanic Heritage Month film series.
Audience evaluation forms allow participants to give feedback on the film and discussion. This will help your future planning. I provide paper feedback forms, with a free library pen for the person to take. Then I enter them using Google Forms and Spreadsheets. See an example of Program Profile and audience evaluation forms from the America's Music viewing and discussion series manual.
Encore
One of the more important lessons I've learned from organizing film screenings is that partnerships are key. From partnering with our housing and residence life department to offer precious housing points, to collaborating with the "celebrity" hosts, these partnerships enrich the film experience for all involved. Our most recent outside partnership was with Welcome Dayton, a city-sponsored initiative to make Dayton a more immigrant-friendly city. With Welcome Dayton, we redesigned the format and planning of our film screenings. They helped promote the Hispanic Heritage Film series to their supporters, which resulted in a great mix of community members and students at all screenings.
Fin
There is lots to be learned from developing a film screening from a simple movie showing to an excellent public program. Asking for audience and staff input on films and themes can have a big impact on audience participation. Offering films with diverse viewpoints will promote the library as a space that is open to all. 
Job Functions
Grants and Awards
Resources and Program Starters
Marketing
Collaborations
Program Evaluation
Film Licensing / Distribution
Audience
College Students
Community Members