Short Title
Finals Week: We'll Be There for You
The One Where Roesch Library's Friends-themed Finals Week Services Are a Total Hit. 
Finals week: Could it BE any more stressful? Inevitably, final exams bring more students to the library along with heightened stress levels. Every semester, Roesch Library at University of Dayton hosts numerous stress-relief services and activities to help students succeed. To make the time more bearable, Roesch Library's marketing and outreach team decides upon a theme to promote finals week services. For spring semester, I proposed using the theme of the television show Friends, replacing the letters in the show's logo with FINALS, and designing some services and signage to capitalize on the popularity of the show.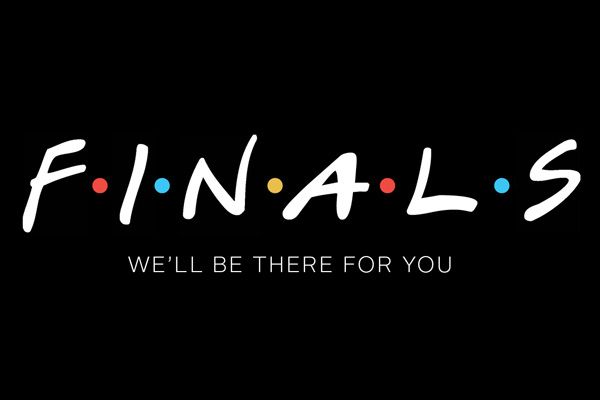 Although Friends aired its last episode in 2004, episodes are syndicated on cable and available for streaming on Netflix, making it easy to watch and very popular with young people. After confirming with students that we weren't being lame, we launched a successful and well-loved week of celebrating the end of the school year by calling on Friends. Here's what we did: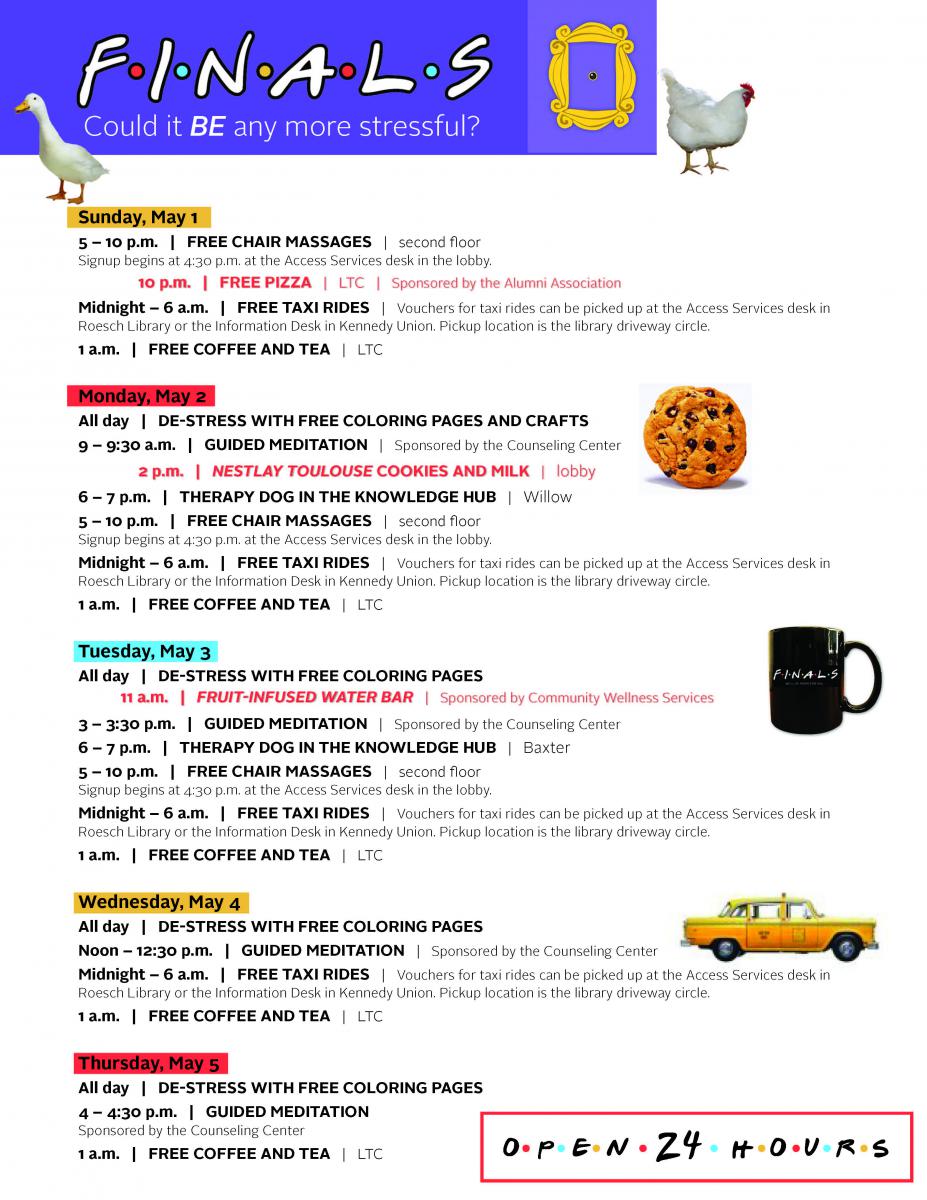 View a larger version of the image above.
One of the goals for each finals week is to transform our lobby area to capture students' attention to the theme and the library events and services. We recreated the show's coffee shop setting, Central Perk, with a comfy red couch, chairs and a coffee table to encourage group photos and provide a good meeting and relaxation spot. The marketing and outreach team came up with memorable catch phrases from the show, and our graphic design specialist created a cache of speech-bubble props and larger-than-life cutouts of umbrellas (inspired by the show's opening sequence), coffee mugs, and a chicken and a duck (memorable pets of characters Joey and Chandler). The chicken and duck were by far the most popular, and many students asked what their fate would be after finals. We decided to place student employee names in a drawing to win them after the week was finished.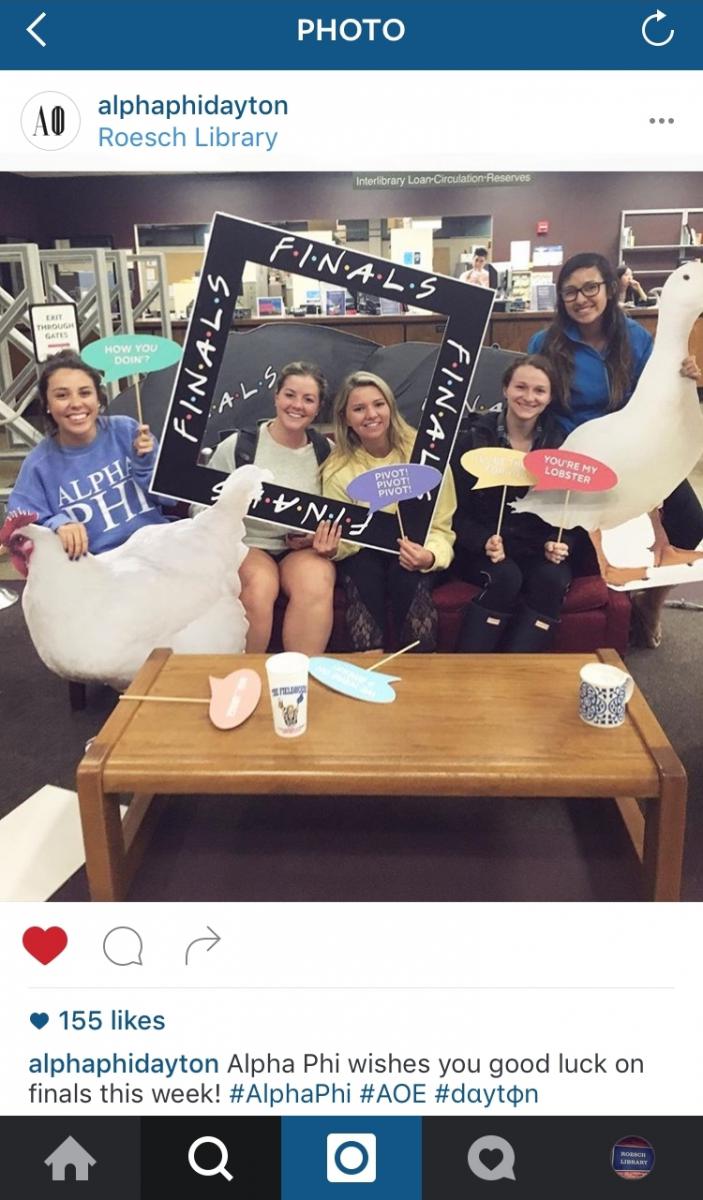 Each semester, we carry the finals week theme throughout the library, starting with screensavers on all of the public computers.
In the lobby, we set up our usual craft table of coloring pages that students flock to throughout the week for relaxing breaks from studying. During the special services that took place in the lobby, such as snack breaks and guided meditations in our gallery space, marketing and outreach team members helped students make their own buttons with the show's logo, sayings from the show and the iconic picture frame over the purple apartment door peephole. Sayings used for the buttons, signage and social media included "You're my lobster," "We were on a break!" and "How you doin'?" We wanted to have a craft related to the show, so we created directions to make an origami "Smelly Cat" bookmark, named after character Phoebe's memorable ode to a flagrantly fragrant feline. You can download the directions here.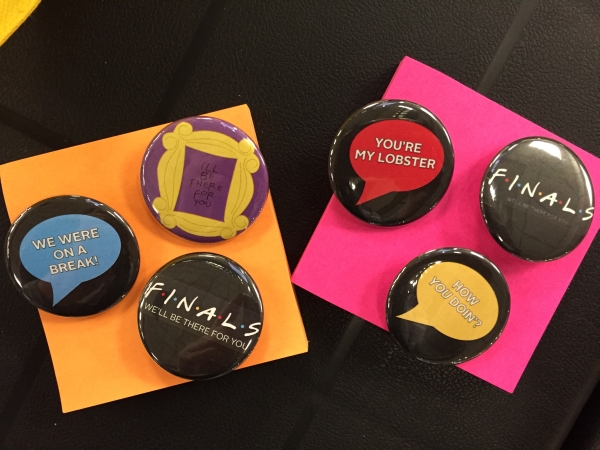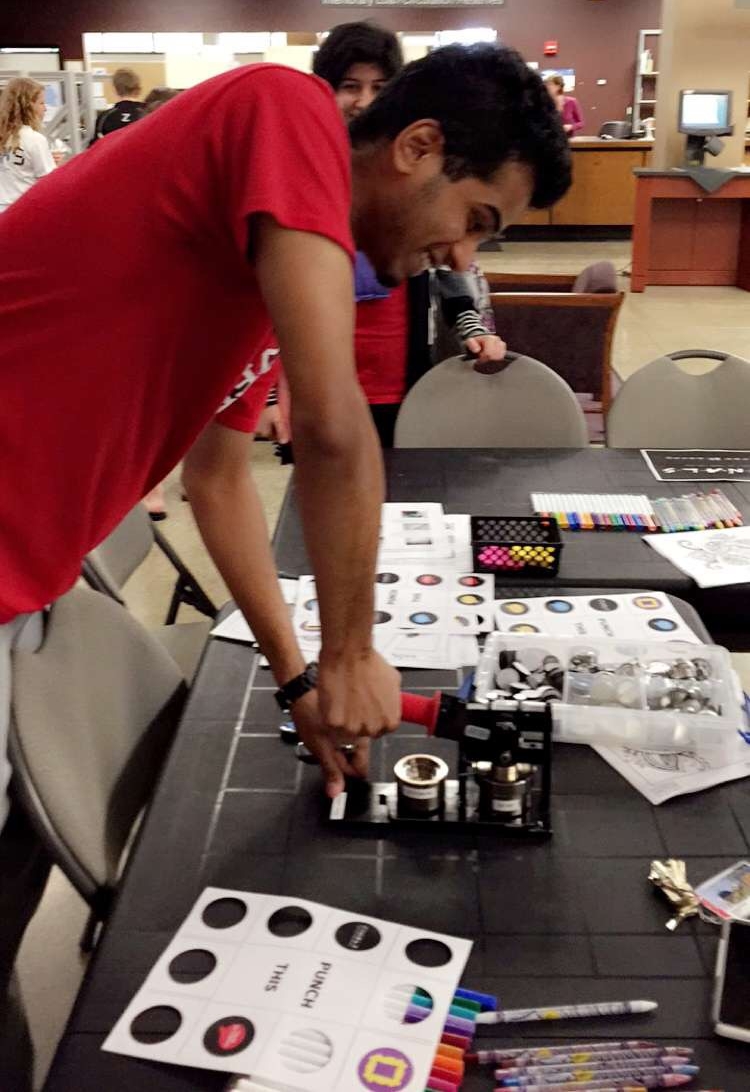 Our typical services include free chair massages, taxi rides home and visits with a therapy dog (better than a smelly cat!). In keeping with the theme, we also featured a snack break with chocolate chip cookies and milk. In one Friends episode, Phoebe is unable to produce her French great-grandmother's secret recipe for chocolate chip cookies. When Phoebe's friends learn the name of the grandmother, "Nestlay Toulouse," they realize Phoebe has been the victim of yet another family fiction. The recipe they're looking for is on the back of every bag of Nestle Toll House chocolate chips. Our order of Panera cookies and milk was gone in seven minutes!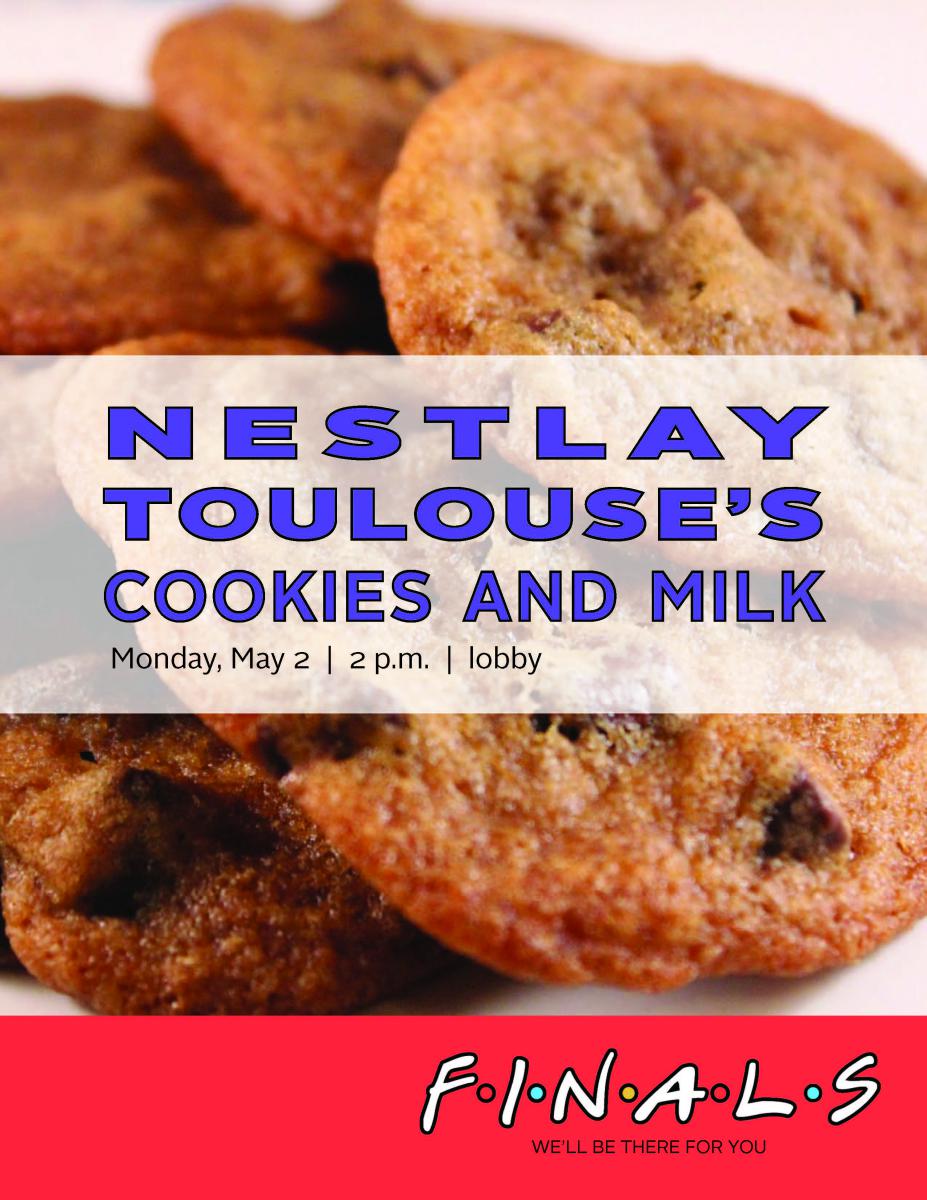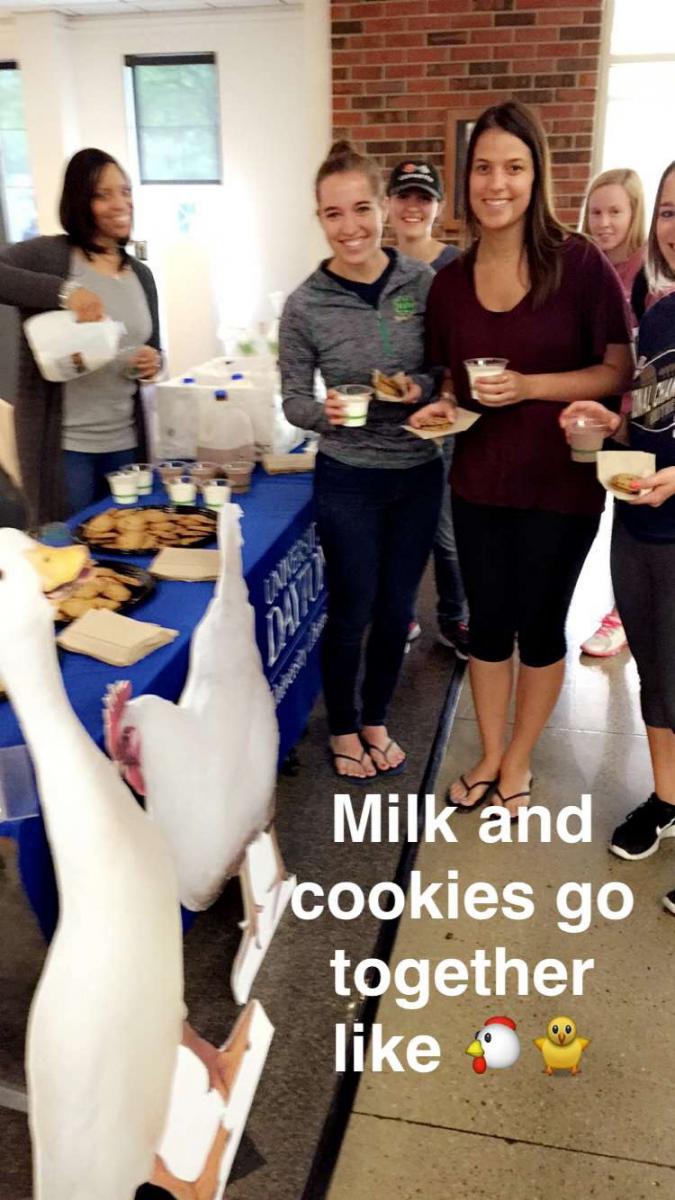 To give our finals week services the attention they deserve, publicity takes up a good amount of time leading up to and during the week. Our university's social media coordinator allows campus units to use the university's Snapchat account for a day, dubbed a "takeover." On the Monday of finals week, I ran the university's Snapchat account on behalf of the library and highlighted a few of the services, using the duck and chicken as the tour guides. The Snapchat story views topped 3,000 — which I credit to both the novelty of our story and the university's well-established social media following. A Snapchat takeover is a fun way to easily reach students and prospective students. A link to the full schedule of services was a pinned post on both Facebook and Twitter, ensuring that it stayed at the top of our social media timelines. I also added the link to our Instagram account's profile. Reminders of service offerings were tweeted daily.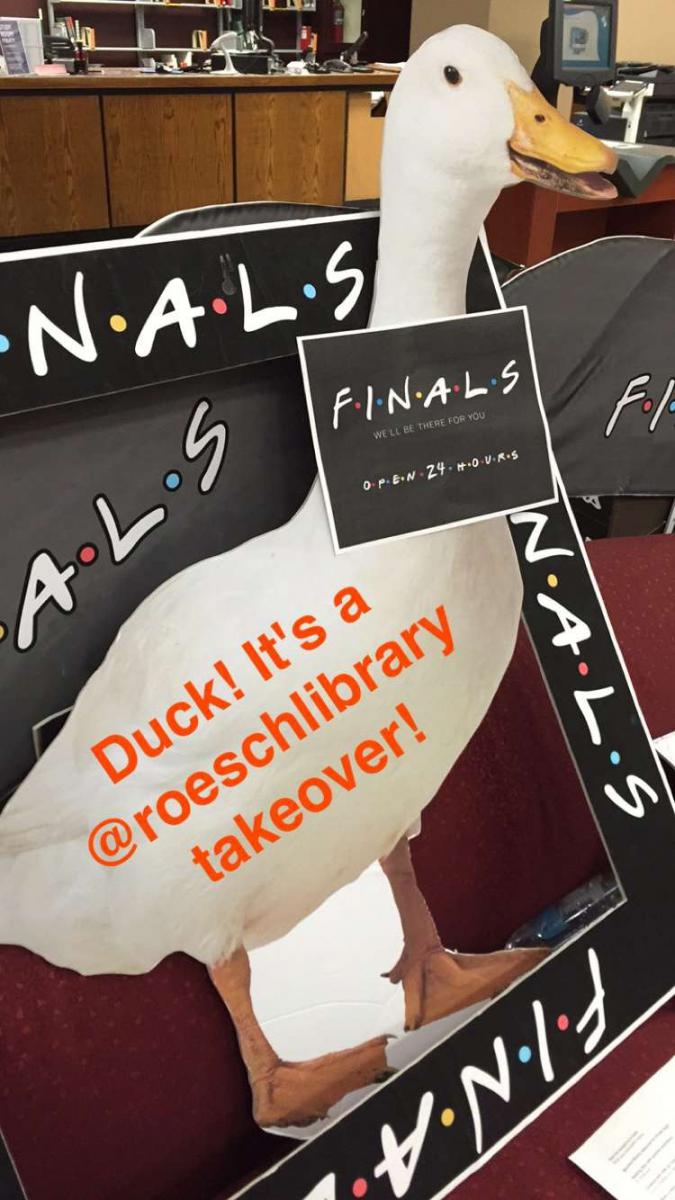 Our friends at the Blend, the student-run coffee shop in the library, worked the theme into their offerings as well. When I asked their director of marketing to consider a Friends-related special, the staff responded wholeheartedly with a "Friend for Your Coffee" promotion and provided this sign, in the style of Central Perk. Their hashtag for this was #FriendForYourCoffee, which I used on Roesch Library's social media.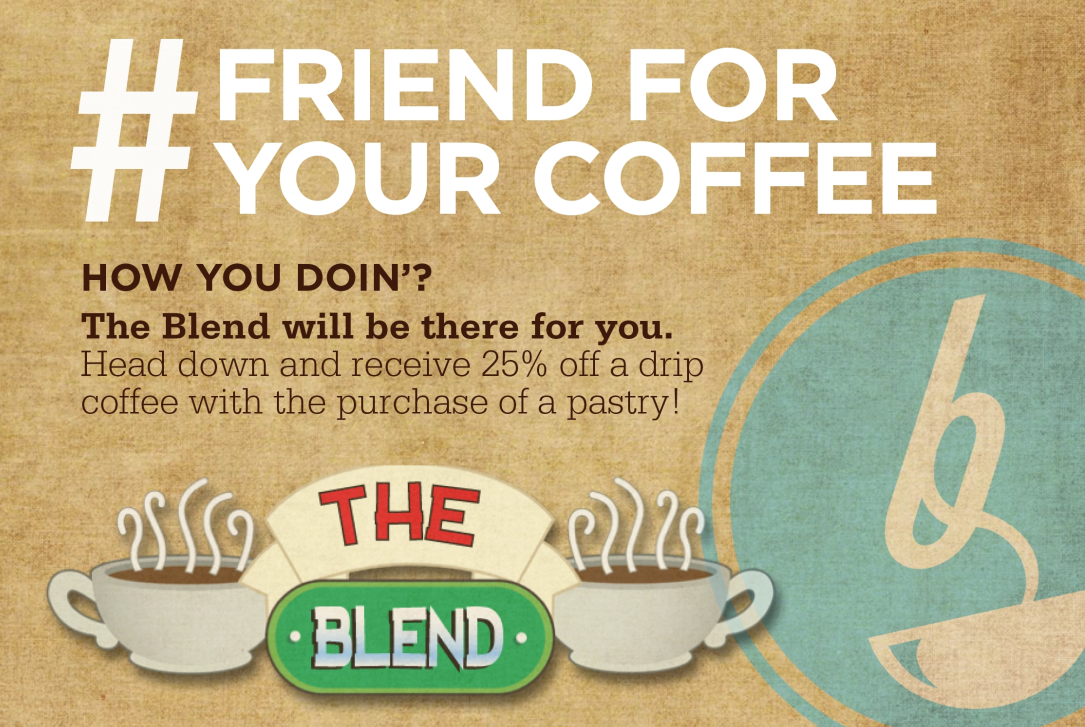 Finally, a porch sheet sign — the University of Dayton student neighborhood's original low-tech but perennially popular social medium — offered a touching goodbye in the spirit of the Friends theme.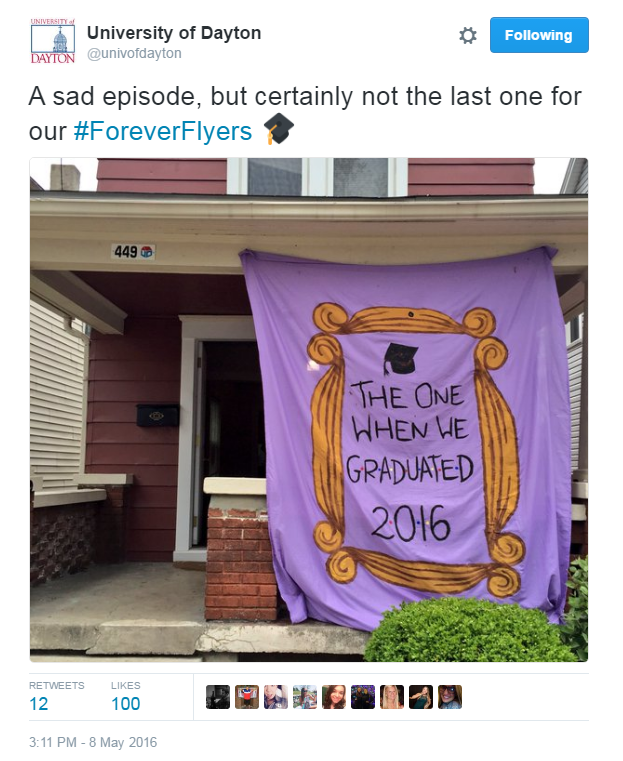 As with past finals-week programming — The Hunger Games, Candy Crush and Star Wars, to name a few  — the themes and logos went viral on campus, and many academic librarians asked permission to use them in their own libraries. Graphic design specialist Nichole Rustad brings the themes to life each semester with logos and promotional signage.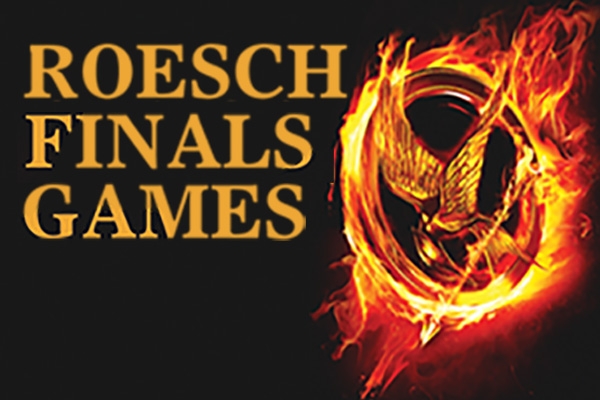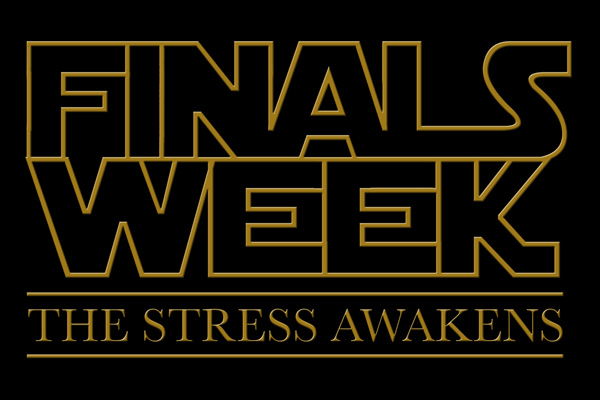 The positive feedback we receive from students about our finals-week themes provides more evidence that fresh, trendy, fun programs can help relieve stress, encourage studying and foster student success. You're welcome to share your ideas in the comments. 
Job Functions
Resources and Program Starters
Marketing