Short Title
First Impressions: This Library is 'Lit'
Or, how University of Dayton Libraries used new trends and pop culture to welcome first-year students.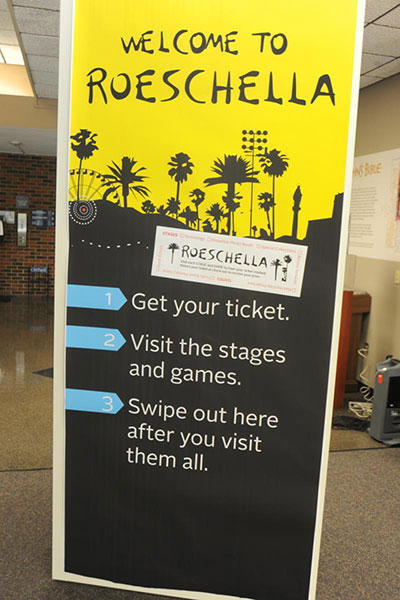 Every summer there's a build-up of anticipation for students to arrive on campus. How can we make a good first impression? What should they know on their first day of classes?
This year, a creative planning committee coordinated University of Dayton Libraries' two new student programs in August. Being part of the new student orientation schedule allows us to showcase our services, spaces and collections while having a lot of fun.
Our involvement in orientation has gone through many iterations, but I think this year was a favorite. In order for the information to stick, we incorporated trends and pop culture embraced by our audience: 18-year-olds. Here's some ways we did that and "kept it 100."
Welcome to Roeschella
First, we wanted a theme and name to work with to inform our planning. Since it was the end of summer we thought of a music festival theme, and we picked Coachella, an annual music and arts festival in the California desert.
We repurposed Coachella's iconic logo to present Roeschella, a play on the name of our building, Roesch Library. Music, games, snacks and library services presented at "stages" guided over 1,500 first-year students around our first floor.
The Roeschella planning committee coordinated stages that each went beyond a normal information table. All stages featured a game, activity or short film that engaged each student with our services and other offerings. Students received a ticket upon entering the library to get stamped at each stage to guide their festival experience.
Games and giveaways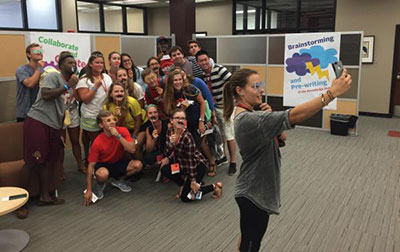 One stage, Emoji Books, had students guess titles of books in our leisure reading collection, with only emojis as clues. There are a lot of emoji versions of book titles online - here is one online example we used, and here is the game that we created. 
The Knowledge Hub, our combined research and writing service point, hosted several photo booth stations that described the different types of help the Knowledge Hub offers, from brainstorming to finding sources. We witnessed many selfies and group photos.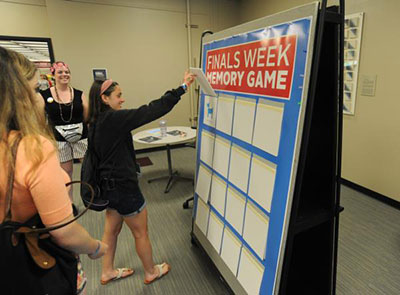 We also promoted our finals week stress relief services using a memory game. Students found a match before moving on to the next stage.
What's a festival without some fun accessories? The libraries' archives and special collections, Marian Library and US Special Catholic Collection teamed up to introduce students to some of our holdings. Images of objects from our collections made for some fun buttons, cool temporary tattoos and coloring pages. My colleague Olivia Gillingham wrote a blog post about their planning and included links to download the coloring pages.
Snapchat and Roeschémon Go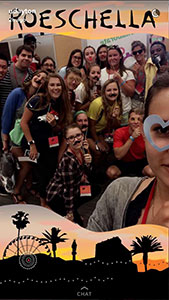 But wait, we got even cooler!
In advance of Roeschella, we designed a Snapchat "on-demand geofilter" that would be available during the event within the library building. More than 330 people used the filter, and it had over 33,000 views from those uses. If we do a geofilter again, I will include the library's name in the filter design so people outside of UD can make the connection between "Roeschella" and Roesch Library. 
Our new student programming didn't stop at Roeschella. The next day, we hosted an optional event, Roeschémon Go, a scavenger hunt that guided students to all floors of the library to find parts of a special code to solve. Even though they had all been to the library the previous day, we still welcomed back 138 students who were curious to see the other floors, services and collections. I think it's safe to say we have a great new group of library enthusiasts.
Libraries are lit
So how did we do? Numbers aside, we also received helpful qualitative feedback using Post-Its under three prompts: I liked, I learned and I suggest. Students posted 1,113 notes for us and many wrote they liked the emoji book game, tattoos, buttons and Snapchat filter. I particularly liked a Post-It reading "Libraries are lit" (under "I Learned"). I don't think they're talking about our lighting scheme ("lit" = exciting). Welcome to your library — it's "lit"!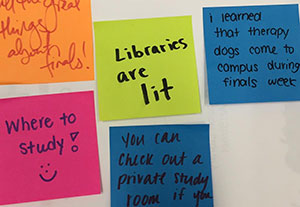 Job Functions
Marketing
Program Evaluation
Budget
$51-100
$251-500
$1,001-2,500