Short Title
Academic Libraries and Poetry Month
Cakes and choirs help to inspire at these academic library National Poetry Month programs.
Each year, the Academy of American Poets promotes National Poetry Month in April to highlight the achievements of American poets and encourage the appreciation and reading of poetry. Academic libraries have some great programming opportunities to join in on the celebration. Here are some examples of programming from four diverse academic libraries.
Poetry of Song: Western Michigan University
In 2015, Western Michigan University Libraries offered more than 25 events as part of the campuswide poetry celebration. Four librarians took three months to plan the events, said Lou Morgan, marketing specialist.
"The concept was to tap into already existing song, poetry and music talent and performances but give them another venue to perform," Morgan said. All four campus libraries provided welcoming and unique options for these "pop-up" programs.
Surveys from the events indicated that the favorite event was Poetry of Song, which featured 60 singers from the WMU Collegiate Singers group.
"Their quality performance, along with amazing acoustics in the entry of Upjohn Rotunda of Waldo Library, was so great that we begged for one more song," Morgan said. "People from all three floors had flocked to the railing as the first musical piece ended." Watch the video on YouTube.
Check out the WMU Libraries' complete list of programs from 2015, including other "pop-up" events, musical performances and workshops. For 2016, WMU Libraries is theming the month as "Living Arts in the Libraries" to include theater and dance in the programming lineup. Photo courtesy of Lou Ann Morgan.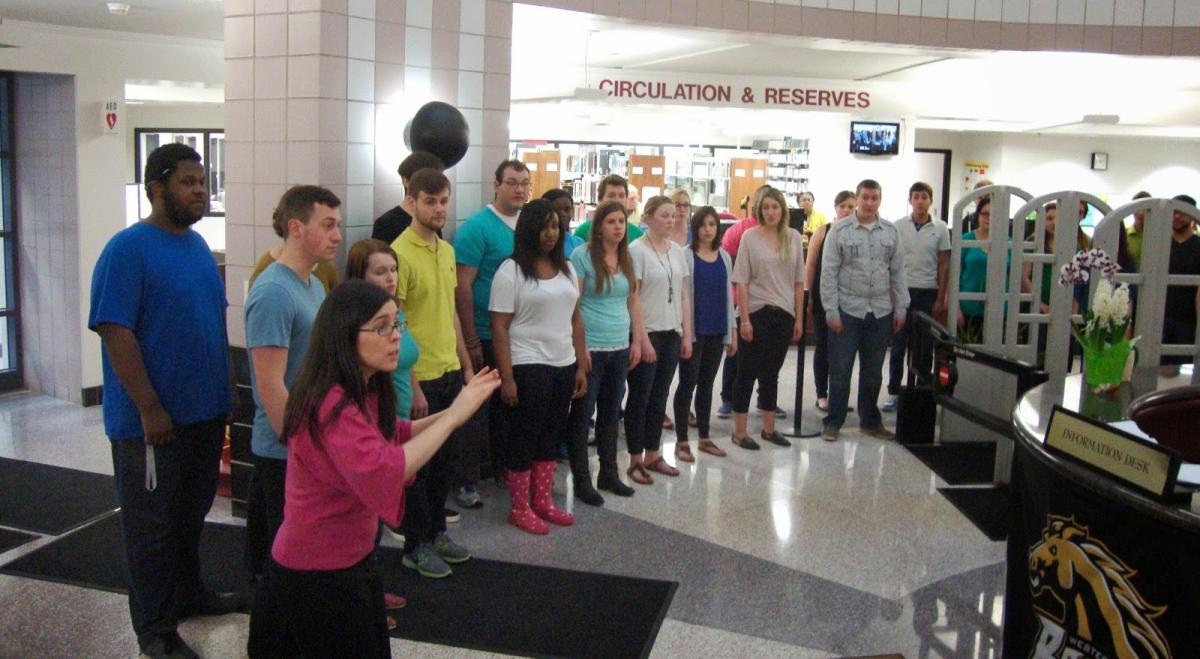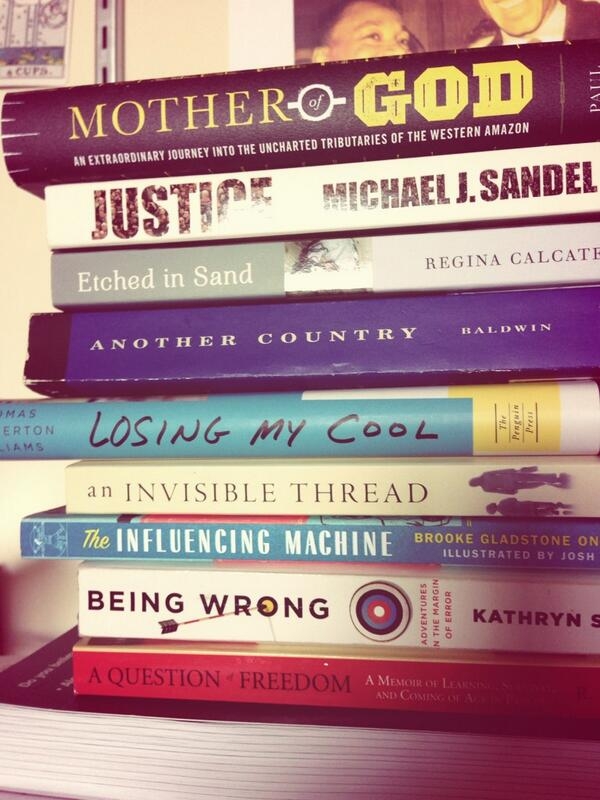 Pop By for Poetry: Washington State University
Poetry programs that are themed and applicable to crafting can help a campus community experience unique forms of poetry.
At Washington State University's Holland and Terrell Libraries, the libraries designated themed weeks for hands-on ways to engage with poetry at a one-stop-shop poetry kiosk next to the Access Services desk, said Lorena O'English, social sciences librarian.
"The four-sided kiosk advertises National Poetry Month and the three major weekly activities — Poem in Your Pocket Day (spread out over a week), spine poetry week, and dada week," O'English said. (In "spine poetry," people stack books so their titles create poems.)
Strong patron engagement made this an annual initiative.
"We've had people post their own spine poetry on the libraries' Facebook page or share via Twitter; we've had people send us dadaist poems they've created; and virtually everyone who walks by the kiosk stops to take a look," O'English said.
Passive programming like this type of interactive display can be a way for academic libraries to keep celebration months visibly in the forefront.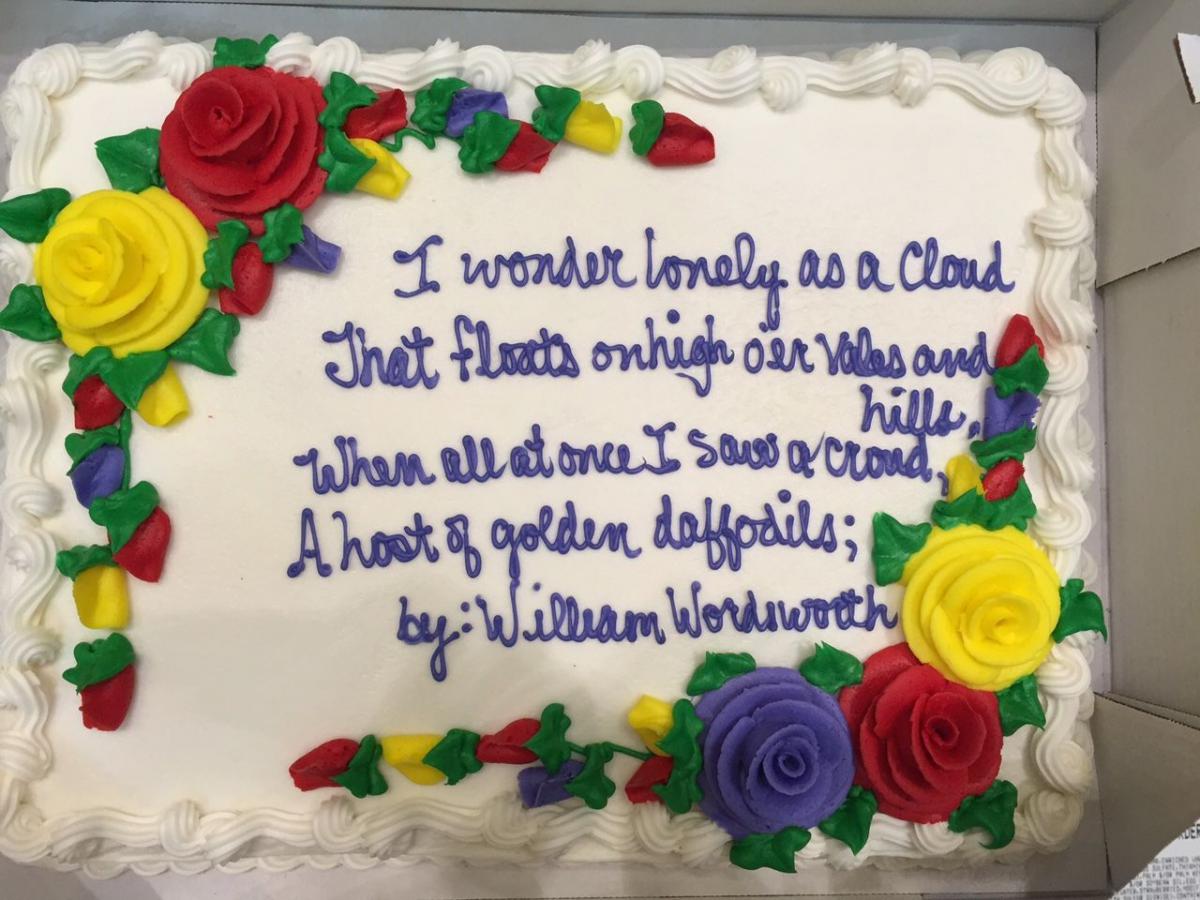 Sweet Celebration: Central Oregon Community College
You can never go wrong with cake. Central Oregon Community College (COCC) has celebrated poetry in April since 2012. Highlights include a Haiku contest and a sheet cake with a poem made of icing.
Professor Cat Finney, associate college librarian in collection development and acquisitions, said the Haiku contest in 2013 was her favorite event. To inspire the poets, Finney recruited faculty judges and created categories for the student entries.
"Our categories for Haiku were fun, as well: rain, fishing, dirt, laundry, soup and baseball," Finney said. "The best part of that project was that the winning haiku graced our cake that year."
Let's talk about this cake, which became a tradition during Poetry Month at COCC for good reason.
"We like cake, and we know free cake will entice students to come to the library," Finney said. Inspired by the Book2Eat Day (often part of Edible Book Festivals), cake became their interpretation and a fixture. Overall, Finney and the COCC Library enjoy seeing students interact with poetry. See COCC's Poetry Month website for more ideas.
More than a Month: Harvard University
With a year-round event lineup at Harvard University's Woodberry Poetry Room, every month is poetry month.
"I am a great believer in honoring poetry through a range of programmatic structure; that is, events that take different shapes around poetry, that concoct different social experiences and engagements," said Woodberry curator Christina Davis.
Woodberry Poetry Room, a special collections reading room and audio archive, promotes poetry as an intellectual pursuit and a sensory experience with events such as:
a reading by Martin Corless-Smith, whose recent collection "Bitter Green" (Fence Magazine, 2015) boldly reinhabits the lyrical self, reclaiming its dynamism, elasticity, magnitude and gravity.
a reading and conversation with Eileen Myles, who will be in residence at the Woodberry Poetry Room throughout April, researching the Boston accent through Woodberry's audio archive.
a reading by Dan Beachy-Quick and Jen Bervin, exploring the concepts of quiet, silence and erasure.
a recording session by Matvei Yankelevich, whose recent poetry collection "Some Worlds for Dr. Vogt" (Black Square Editions, 2015) "may just be one of this year's most compelling, centripetal world/werld/whirled-making compounds to emerge this year," Davis said.
See Woodberry Poetry Room's website for a complete listing of events as well as an online listening booth. Image courtesy of the Woodberry Poetry Room.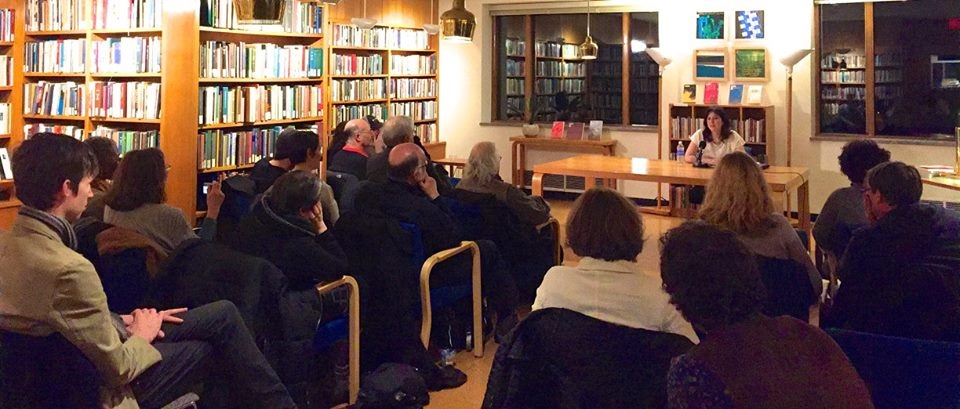 Inspired by the Theme
As I read the blogs and examples on ProgrammingLibrarian.org, I am reminded that library programs are developed and implemented by people. Creative and clever librarians use theme and celebration months to develop engaging programs. Kudos to you, programming librarians! You deserve a cake.
These four are just some examples of creative programming around poetry. How does your academic library celebrate the month of "The Best Words in the Best Order?" Leave a comment below. 
Audience
College Students
Community Members