Short Title
Discover Your Inner Frankenstein
FrankenHeroes lets teens swap and combine parts from different toys to make their own creations.
What happens when you combine scissors, hot glue guns, fast food toys, plush toys and random Barbie doll parts?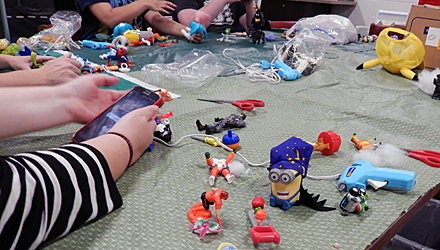 An awesome teen program, that's what.
FrankenHeroes is a teen program Julie Toomey and Windy Immer present at the Mid-Continent Public Library's Blue Springs North Branch that lets teens discover their inner Dr. Frankenstein by swapping parts from different toys and combining them to make their own creations. Think of a roomful of Sids from the "Toy Story" movie franchise.
It's a program that can play anytime of year, but it is a perfect fit for the October/Halloween season. Our branch did the program this summer as part of Teen Summer Reading.
To start, Toomey and Immer found bags of old toys – cars, dolls, kids' meal toys, plush toys, action figures – at a local thrift store. The initial investment was about $20.
"To get started cost more, but since they (the teens) rip them up into parts, there are always leftover bits and pieces for the next program," said Toomey.
To set up for the program, Toomey and Immer spread out old tablecloths and tarps onto tables, set out hot glue guns, scissors and spread out the toys for the teens to choose from. The program's ground rules are simple: keep it clean, nothing vulgar, and don't try to cut through any toys made of hard plastic. (That dulls the scissors and is just generally dangerous.)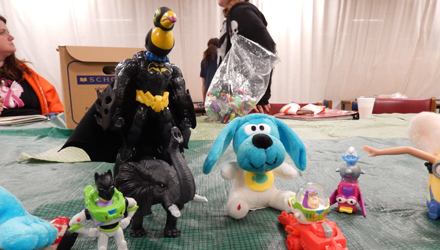 Teens' initial reaction to Toomey's instructions to cut and rip up toys apart was disbelief.
"Basically, it was, "Are you sure we can do this?"  Toomey said. "Then they really got into it."
Toomey advises to always inspect any plush animals before you offer them up for destruction. Some might appear to be filled with polyester stuffing, but are actually filled with tiny foam pellets, which are a mess to clean up.
There's no doubt about it, some of the FrankenHeroes are truly creative and, well, disturbing. Who knew there were so many uses for doll arms and legs? Not to mention their heads.
"One kid took the hair from the dolls and glued it all over another doll to make a Sasquatch," Toomey said. "It was great."
The branch has modified the program for younger kids. The only difference is the hot glue guns are substituted for the cool-melt alternative, and cutting of plastic parts is left to staff.
After each program, Toomey said the branch gives kids and teens the option of taking their projects home or leaving them at the library for a couple weeks for display and to inspire others.
Needless to day, the FrankenHero creations are talkers in the branch.
Here's a list of what you'll need to put together a FrankenHeroes program:
Castoff toys: Concentrate of smaller toys: kids' meal, action figures, fashion dolls, plush toys, cars, trucks. Check out local thrift stores, or ask patrons and staff members if they have any they would like to donate to the cause. This is an excellent way to get rid of those fast food toys that gather in the bottom of kids' closets.
Glue guns: Use either hot glue or cool-melt glue for teens and the cool-melt for younger kids.
Scissors: Standard all-purpose scissors work fine, but remember some plastic won't bend to any scissors.
Table coverings/tarps: These keep the tabletops glue-free and make clean-up go a lot faster.
Audience
Children / Family
Young Adult