How is your library celebrating 200 years of Mary Shelley's "Frankenstein; or, The Modern Prometheus"?
Time flies! It's been 200 years since Mary Shelley published "Frankenstein; or, The Modern Prometheus." The literary world is celebrating, and there are plenty of ways for you and your library to take part.
Frankengeeks (and not-so-geeks) have many opportunities to explore the gothic masterpiece this year. Nominated by PBS as one of the must-reads in the series "The Great American Read," 2018 marks multiple readathons, symposiums and new editions, so it's easy to get involved no matter the size or budget of your library.
Here are a few ideas for programming around this bicentennial year.
Where to start?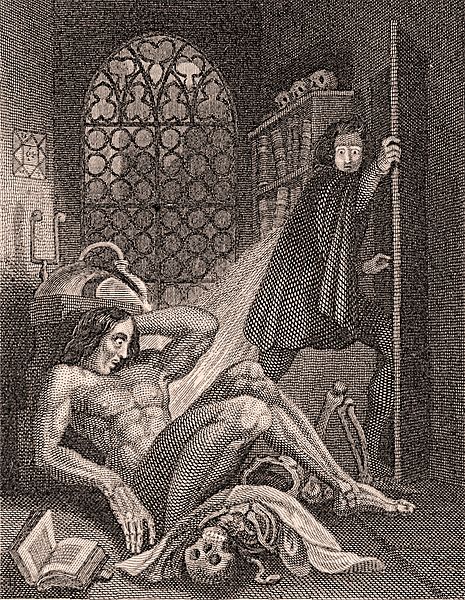 For starters, I would suggest checking out Frankenreads.org, organized by the Keats-Shelley Association of America and in partnership with the NEH. Their goal is to "…[encourage] people around the world to organize or participate in events celebrating the novel — especially by conducting public readathons of the entire novel on Halloween Day 2018 and in 'Frankenweek,' October 24-31, 2018." Sign up online to find events or submit your own. It's a fabulous resource for programming, collaboration and event planning.
Frankenstein 2018 is project based at Volda University College in Norway. Its goal is to "provide accessible information about the novel, its author and its remarkable afterlife. [It aims] to stimulate a wider creative and intellectual engagement with Frankenstein and its legacy throughout this bicentennial year, and to act as a place of record for that engagement." Still under construction, the site hosts a great animated TED Talk video for those who haven't read the book in a while and want to revisit some primary themes. It's also just fun to watch.
The Frankencities Project is a visual art application of "Frankenstein themes to the urban form." The site's gallery evokes haunting dystopian futures of global cities, claiming "Shelley's Frankenstein … may well provide a pathway to predict the character of our cities as they change over the near future." I can see an art project such as this going over well with my library teens. 
Explore the original text
In commemoration, Penguin Random House is publishing the complete 1818 text (January 2018), which "preserves the hard-hitting and politically-charged aspects of Shelley's original writing, as well as her unflinching wit and strong female voice."
This edition includes a new introduction and suggestions for further reading by National Book Critics Circle award-winner and Shelley expert Charlotte Gordon, literary excerpts and reviews selected by Gordon, and a chronology and essay by preeminent Shelley scholar Charles E. Robinson. 
The preface is particularly enlightening, as it briefly contextualizes the circumstances that brought Mary Wollstonecraft Godwin Shelley into the fray of outcasted Romantic poets that resulted in "Frankenstein" (and vampires!). Please check out this amazing infographic and feel all the things. Two hundred years later, "Frankenstein" manages to be timely as hell.
Revisit the science
The science behind "Frankenstein" is timely, too. We print prosthetics and are working on growing organs in a lab now!
As shocking and blasphemous as "Frankenstein" was when it was published, Shelley was influenced by the rudimentary biomedical discoveries of her time, including electricity. The fascination with re-animation is perpetual, and "Frankenstein" continues to make its way into the modern medical literature.
Check out Science Mag's article on what modern technologies Shelley might have described if the book were written today.
Tie it to Halloween
"Frankenstein" is a classic year-round, but there's nothing wrong with using the advantage of Halloween hype to bring attention to your library event(s).
Along with a Frankenreads readathon, my library is toying with the idea of putting together a library-wide Frankenstein-themed escape game in October. After attending a fabulous workshop hosted by staff from the Museum of Intrigue in Syracuse, N.Y. (who you should totally visit or hit up for a workshop), staff feels enthusiastic to take our BreakoutEDU-style escape games to the next level. We learned that adding actors, audio and other physical, tactile and experimental puzzle types can add a lot of depth to the experience.
The possibilities for passive and active programming are endless for all ages, including displays, read-a-thons, easy crafts for kids, film fests (maybe get a film student to talk about the many films), science-y talks (university professor?), etc.
And, of course, screen the films
Speaking of film fests, there's really no reason not to have one. If you are a public library and you use Movie Licensing USA (Swank), you have licensing rights to screen over 28 "Frankenstein" films, including the classic 1931 Boris Karloff  version so many of us are seeing in our heads at this very moment!
Just for the fun of it, and if you are a theater buff, you may be able to catch a screening of the 2011 live-filmed National Theater production of "Frankenstein," starring Benedict Cumberbatch and Johnny Lee Miller.
Library Type
Academic / College
Public
Rural
School (K-12)
Special
Job Functions
Resources and Program Starters
Audience
Adult
Children / Family
College Students
Community Members
Homeless Populations
Older Adults / Seniors
Rural
Tweens and Teens
Urban
Young Adult