Short Title
Free Photo Editors to Use for Your Graphics
Did you study graphic design? We didn't either. Here are a few tools to make your photo projects easier.
A surprising amount of graphic design goes into a programming librarian's job, from creating signage for upcoming programs to repackaging photos you took at an event. Navigating these tasks is easier when you have plenty of free tools at your disposal.
There are a lot of great free photo editor tools available, but it can be hard to find one site or program that will do everything you need. Below, I outline three different tools that have helped me with display signage, web content creation and photo repackaging.
Canva
Canva is one of the more versatile image creation sites. It comes with free templates, or you can create your own from scratch. The templates are organized by the graphic's purpose, such as Facebook ad, YouTube thumbnail, presentation, poster, etc.
Canva puts a wide variety of free stock images and graphics at your fingertips, and you can also upload your own photos to add to your templates. You'll need to create a Canva account to get started, but logging in makes it convenient to save projects and come back to them later.
I use Canva for:
Creating Facebook ads
Creating display signs using the poster template. (Note: the poster template cannot be resized from 11-by-17 to 17-by-11. If you want a horizontal display sign you will have to use custom dimensions, or turn your head to the side as you manipulate the template so it comes out horizontal.)
Creating blog headers
Creating social media posts
Pixlr Express
Pixlr Express is great for making quick photo collages or for overlaying text on an image. You do not need to sign into an account, which is great — but that also means you cannot save your work as you go and can only save your finished product. It is also hard to undo things, so I find that Pixlr Express is best used for simple manipulations. (Note: You will need to have Adobe Flash installed in order to use Pixlr Express.)
Why use it? The collage feature is easy to use, it's easy to access, it has a wide variety of filters you can put on pictures, and it offers a good selection of unique fonts.
I use Pixlr Express for:
Creating images for my library's blog
Putting together collages of photos after programs for monthly reports
There is also a Pixlr Editor for more in-depth photo editing, but I use Gimp instead, since it is easier to save your progress. Which brings us to ...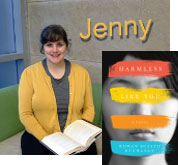 Gimp
Gimp is basically a free, open-source version of Photoshop. It has a lot of the same features, such as the ability to add layers to an image and ways to transform a picture to your liking. You need to download the program to your computer to use it. 
It is not the most intuitive program, but there are tutorials available. If you are called upon to create more involved graphics and don't have the budget for software, Gimp may be a good contender.
I use Gimp for:
Any time I need to overlay a picture onto another picture, such as for staff picks
These three photo editors merely scratch the surface of what is available for image creation and photo editing, but they are a great place to start. Happy photo editing — and if you need any tips or tricks using the above editors, please don't hesitate to reach out!
Library Type
Academic / College
Public
Rural
School (K-12)
Special
Popular Topics
Marketing and Communications
Audience
Adult
College Students
Older Adults / Seniors
Tweens and Teens
Young Adult