Short Title
High School Chess Team Sparks Library Program
Blogger Sara Peterson-Davis describes how a high school chess team boosted teen programming at her library.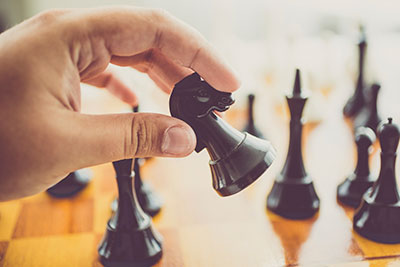 Sometimes the programs just come to you. The staff at the Raytown Branch of the Mid-Continent Public Library (MCPL) was struggling to attract teens to its programs. Despite their best efforts to offer everything from anime nights to arts instruction, they couldn't get teens interested. Then last spring, just before the start of summer break, Raytown's branch manager, Susan Haley, received a call from Raytown High School down the street. 
The sponsors of the school's chess team were looking for a location the team could use for weekly practice throughout the summer. In order to use the space, Haley asked if the team would be willing to turn their practices into a library program open to the public. Programs at MCPL, especially those like a chess program, are required to incorporate an element of lifelong learning to be considered for the schedule. In this case, Haley requested the team teach a brief lesson before starting each session's game time. The sponsors readily agreed and Chess Free Play was born.
"It's been wonderful," Haley said. "We usually have to seek out things like this."
Last summer, the team and a couple of faculty sponsors came each Tuesday afternoon to put on the program. They furnished their own chess sets and supplies.
"We hardly had to do anything," Haley said, who assigned a staff member to help monitor the program.
After the starting lesson, participants paired up to play matches. Players were matched according to their skill levels. Team members played participants who needed partners, and both team members and sponsors spent extra time working with younger and less experienced players.
The program was organized and advertised primarily for teens, but all ages were encouraged to come and play. And they did. Along with a majority of teens, the program also attracted adults and younger kids.
The program was so successful — at one point, bringing in as many as 20 players for the two-hour sessions — the team has continued the program on a monthly basis throughout the school year, meeting on Saturday afternoons.
The Chess Free Play is promoted in the library's Beyond the Books programming magazine, as well as at Raytown High School and in the local newspaper, said Denise Bozikis, branch programming coordinator at the Raytown Branch. That has helped raise awareness among chess players in the area, as well as people who don't usually frequent the library.
"They come on their own, out of the woodwork," said Bozikis. "Sometimes it's the same people, sometimes it's different people. They come because they are players."
This summer the program will return, but continuing with its winter schedule of one Saturday afternoon a month.