Short Title
Honor the Past, Embrace the Future: Exploring Services for Veterans and Their Families
Through Skills for Community-Centered Libraries, staff at the Free Library of Philadelphia explore how they can better serve veterans.
Blog post author Nina Coffin is a librarian in the Free Library of Philadelphia's Social Science & History Department at Parkway Central Library and a participant in Cohort 6 of the Skills for Community-Centered Libraries trainings.
Prior to joining the staff of the Free Library, I handled outreach and communication for Historic Germantown, a local history nonprofit. The Skills for Community-Centered Libraries training workshops reactivated lessons for community relationships and collaborations that I originally learned "on the ground." While I generally rely on past experience and traditional research to solve problems, this training challenged me to reach outward instead.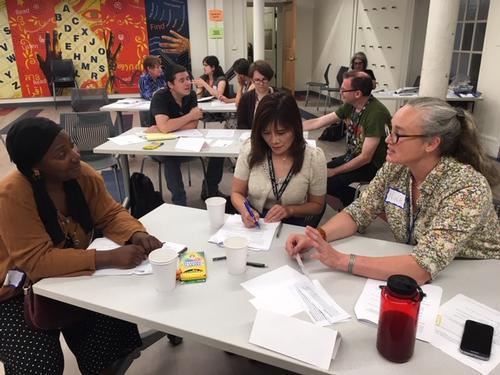 Seeking a project topic, I hoped to find an unmet need, even if it meant leaving my comfort zone. Once I identified a need to offer more to our veteran community, I had to contend with my own ignorance of exactly what services would be valued by veterans and their families. I attempted to contact a couple of organizations that I hoped would be interested in partnering, but realized quickly that their limited capacity was probably being directed towards the veterans they serve.
I learned about a Public Library Quarterly article, "Public Library Services for Veterans: Selected Brief Case Studies," that surveyed services for veterans in public libraries. The lead author, Loriene Roy, was one of my library school professors 25 years ago. I emailed her directly, and she provided me with a copy of the article.  
After this successful networking experience, I decided to see what other personal connections I could make. I visited the medical practice of Dr. Althea Hankins, who runs the ACES Museum in Germantown and organizes events for veterans and their families. After I explained our training and my goal, she referred me to PsychArmor, a nationwide nonprofit organization that provides free online training videos prepared with national subject matter experts committed to educating the civilian community about military culture. Users register for an account and can then browse videos and watch them online. I started with "15 Things Veterans Want You to Know."
Offering approximately 150 courses in 11 categories, videos address both the general audience and offer specialized courses to health care providers and other groups that might seek to better support veterans and their families. PyschArmor offers a wealth of high-quality video content and delivers it in a manner well-suited to public libraries. Library staff and the general public can explore the offerings and view the videos at their own convenience. Dr. Hankins completed special certification for health care professionals and believes strongly that spreading this type of cultural competence can make a significant positive impact on the lives of the veterans and their families in the communities around us.
Public libraries have tools and resources to raise awareness of military culture and deepen our relationships with veterans and their families, such as meeting rooms for hosting veterans groups and computer and internet access. I am thinking about ways to connect with the veterans who regularly visit Parkway Central Library.
This project was made possible in part by the Institute of Museum and Library Services [Grant #RE-95-17-0089-17].
Popular Topics
Community Engagement
Health and Wellness
Job Functions
Resources and Program Starters
Collaborations