Short Title
How-To Festival: Earth Day Edition
Springfield-Greene County Library retools a how-to fest to focus on sustainability and waste reduction.
The Springfield-Greene County Library District has hosted an annual How-To Festival since 2016. In 2020, the How-To Festival will be dedicated to the 50th anniversary of Earth Day.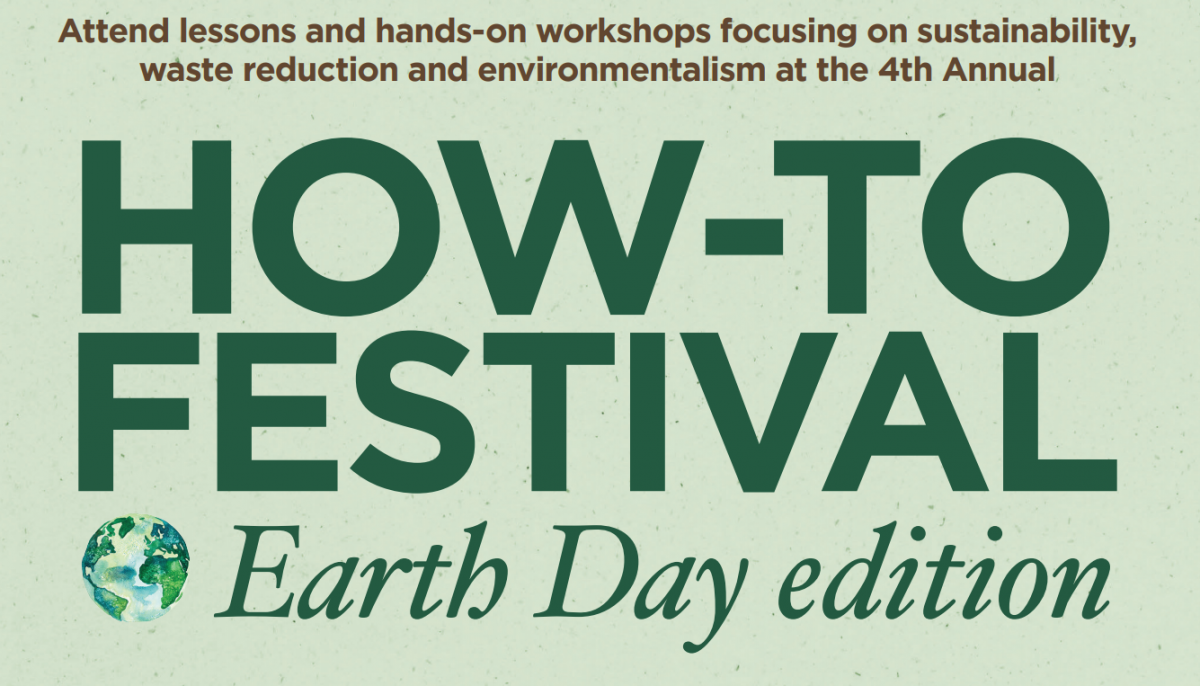 How-To Festivals are single-day events where local experts join library staff to provide a lively series of lessons and hands-on experiences for library patrons. Presenters range from local businesses and nonprofits to hobbyists from around the community (including library staff) with skills to share.
Some sessions from past festivals have included How To Play Chess with the Springfield Park Board Chess Club, How to Make Perfect Pie Crusts with Baker Prairie Pie, and How to Identify Missouri Wildflowers with the Missouri Conservation Department.
How-To (save the Earth)
Sessions at our 2020 How-To Festival will be entirely focused on sustainability, waste reduction and environmentalism. We've also added tables in the concourse outside of the main session rooms where local recycling centers, the parks department, the local tool library, the library's own heirloom seed library and others will display and talk about their services.
Some of our planned sessions include:
How to Use a Rain Barrel for Water Conservation with James River Basin Partnership Executive Director Brent Stock
How to Raise Chickens in Your Backyard with library staff member Ashley Fillmer
How to Compost, Regenerate and Have Zero Waste with the Springfield Compost Collective
How to Start a Garden with Urban Roots Farm Manager Alyssa Hughes
How to Live Better with Less with minimalist coach Amity Farr
How to Make Your Home More Energy Efficient with Ozarks Area Community Action Corporation Energy Auditor Allen Lupton
The festival takes place at the Library Center, our flagship branch. The Library Center has five meeting rooms with capacities from 15 to 150 people. On the day of the festival, every meeting room is occupied for a total of 25 presentations. The sessions run concurrently and begin at 10 a.m. with an hourlong presentation in each of the five rooms, followed by 30-minute sessions continuing until mid-afternoon. The hour slots are filled with session topics that can't be adequately covered in a shorter period of time, like yoga classes or dance instruction.
Early planning and partnerships
To meet the library district's deadlines for promotion, a committee starts planning several months in advance. In the initial meeting, we brainstorm session topics and presenters. We discuss what has worked in the past, topics we may want to avoid or rethink, trending topics in culture and the overall direction and outcomes we see for the upcoming festival. For example, our desired outcome for this year's festival is for attendees to come away with a better understanding of how our community supports the environment and how they can improve the world starting in their own home.
With 25 presenters for the event, clear and consistent communication between our committee members and our community partners is key. Presenters are often community organizations or individuals who have an established relationship with the library. Committee members divide the work of approaching these partners. We do not offer presenters an honorarium; we are clear about this from the beginning. The only costs associated with the event are staff time, promotional materials and signage.
Scheduling
Once the roster of presenters is confirmed, we use a grid to create a detailed schedule of the day's sessions. The committee assigns a broad category to each session and tries to ensure topics in the same category aren't held at the same time so attendees interested in a single "track," such as crafting or health, can attend all of the sessions in their interest.
Also, to minimize the need to reset the furniture in the rooms in between each session, the committee tries to plan sessions with similar room setups within the same room. 
Marketing
When the detailed schedule is complete, we pass it along to our marketing department who creates printed schedules and a shareable PDF to hand out in advance of the event as well as the day of.
We also market our event through more traditional channels: local media, social media and our quarterly programming calendar, Bookends.
Handouts
We email the presenters approximately a month before the festival to remind them of their scheduled time, ascertain their technology needs and request their handouts for their session. We have found that attendees like to have handouts from each presenter so we offer to print these at no charge. We put extra handouts on a table near the welcome table so people who were unable to attend certain sessions can still pick up materials.
Day of the event
With five sessions running concurrently while our largest branch stays open as a working library, our How-To Festivals require the assistance of many people to be successful. Library staff are assigned to set up each room according to the needs of the presenters. Two staff members sit at a welcome table at the library's entrance to hand out event schedules and answer questions. We usually have at least two runners making sure presenters have what they need and the event is running smoothly.
Each of the five rooms also requires a room monitor to be present during all sessions to prevent overcapacity and to keep the presenters on time. We provide each monitor with a clipboard that includes a schedule for the full day, a schedule specific to that particular room and large cards with "5 minute" and "STOP" warnings.  
Miranda Eudaly is a reference librarian at Springfield-Greene County Library District. This blog post is part of a series exploring programming for Earth Day 2020.
Popular Topics
Environmental Sustainability
Health and Wellness
STEM
Job Functions
Resources and Program Starters
Audience
Adult
Community Members
Older Adults / Seniors
Young Adult