Short Title
Robot Invasions at Your School Library
Allowing students to design and build their own robots encourages creativity and critical thinking skills.
Why Robots? Simple answer: Kids love the pop culture references to robots, such as "Transformers" and "Avengers: Age of Ultron." Taking advantage of recent achievements of the school's robotics team, our library featured programming in which the team would bring their robots featured in local competitions into the school library. Not only could students attending the program operate the robots, they could also look at the different parts used in robot construction and experiment with the mechanics of the robots.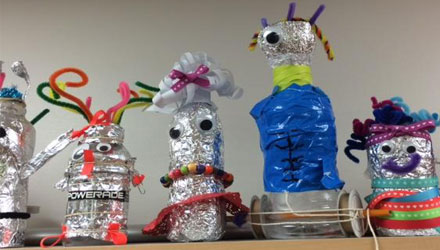 Planning the Event
When planning for a robot invasion, one must first try to develop a plan for such a program. The following questions are helpful in developing a robot-themed program plan: Who could this program apply to? When would it be occurring? And most importantly, how might this event be significant to a student's learning after the program is over?
The goal of the program was to educate students about something that they may not have interacted with before, and to show that the world of robotics is actually a very creative one. To give attending students the full experience, the program enabled them to design a robot, develop a model robot, and then actually practice operating robots on an obstacle course.
Designing Robots
All types of design mediums were provided to help students design a robot, including plain and colored paper, graph paper, pencils, crayons and markers, as well as Boogie Boards. When at this station, students were asked to design a robot that would serve any purpose that they chose. The students were also asked to write a short paragraph describing the functions of their design. This encouraged writing and effective reasoning, as well as creative efforts from students.
Building Robots
Using ArtCarts and MakerSpaces stocked with various art supplies (including empty water bottles and soda pop cans, pipe cleaners, aluminum foil and googly eyes), students brought their designs to life. Making model robots proved to be the most popular part of the program, as well as the most time-consuming.
Operating Robots
The school's robotics team, fresh off of winning a regional competition, volunteered to provide model robots for the program. Students could operate on an obstacle course, and see the different elements in a robot's construction. The robotics team also answered questions and discussed what it takes to build a robot. 
Things to Consider When Preparing for a Robot Invasion
I originally offered this program to take place after school, but after receiving requests from teachers to accommodate their classes, I held the program all day. This turned out to be inclusive of a larger group of students, because students who couldn't attend after school were able to attend while school was in session. A physics teacher was able to bring her special needs class to the program, and they analyzed Newton's laws of motion while operating robots. I was very happy to provide this opportunity for the students, but I won't say that it wasn't hectic to do so.
Materials for constructing model robots began to run out, and I had to restrict supplies to ensure we had enough. (Sorry kiddo, your robot can only have two googly eyes instead of 15.) But students were still able to satisfy their creative desires with the materials we were able to provide, so I call that a success.
Students from the robotics team rotated throughout the day as their study halls allowed, so they could maintain the robots that were on loan for the obstacle course. Confession: I broke the robot during a trial run before school had even started that day, so I was extremely grateful for their presence, otherwise one large aspect of the program would have been missing.
Overall, the program was a success, and I have had requests to bring it back next year. 
Are you ready for your own library invasion?