Short Title
Hungry for More: A Library Food Fair
This sans-café academic library promotes restaurants that deliver to satisfy an important need: study fuel.
"More food." "Better food options." "Late-night snacks."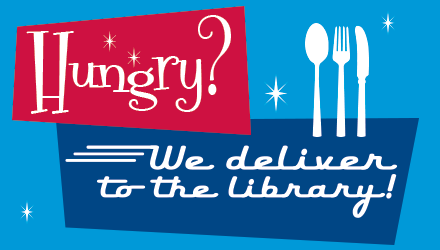 According to recent surveys, easy access to food would greatly improve the library experience for many students. At University of Dayton, it's the quality of the snacks that can take a study session from good to great.
We have some food options already, such as our old and (somewhat) trusty vending machine and the student-run coffee shop. But with no expansion of food options on the horizon, we wanted to respond to this student feedback. The libraries' marketing and outreach team organized a Food Fair, where students could taste-test local restaurants that deliver and learn that food is welcome in the library on all study floors.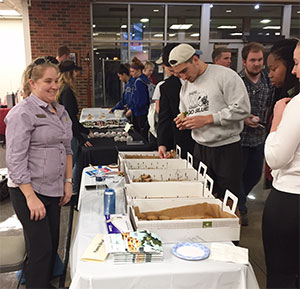 If you order it, they will come
Planning the Food Fair had a couple of components:
We invited restaurants listed in the directory to provide around 100 free samples at an evening Food Fair. From the 12 restaurants, five agreed to come to our early Tuesday evening event toward the end of the semester. The restaurant representatives also brought menus and coupons.
As students lined up to try the selection of food, we showed them the printed directory and reinforced the message that defies long-held notions of library convention: food is not just allowed; it's welcome. Our food policy offers some guidelines about general food and trash etiquette, but we leave it at that. For evidence, they need to look no further than the microwave oven we installed in response to a student's request.
Thoughts for next time
If we plan a Food Fair again, we will plan better for space. The team wanted the event in the library's lobby because that's where food is expected to be delivered. However, with an exhibit of Nativity scenes and a large Christmas tree, our lobby was a tight fit. Although the food vendors were aware that their competitors would be in close proximity, it did feel awkward when students would pass over one for the other. Providing more space between vendors would help.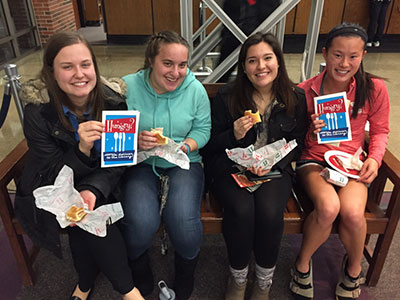 Although the Food Fair was a one-night program, the directory, graphics and messaging live on. Our finals week publicity and digital sign encourage students to seek out the directory and order meals to their liking. With this program, we support the reality of student study habits and promote nearby businesses. Success tastes good!