Short Title
Free Library of Philadelphia's Community-Centered Initiative
Starting this month, 300 Free Library staff will learn and practice the skills necessary to thrive as the role of libraries evolves.
The Aspen Institute's influential report "Rising to the Challenge: Re-Envisioning Public Libraries" predicts that in the coming years, the most successful public libraries will be the ones with services that prioritize and support local community goals.
"What libraries need is to be more intentional in the ways that they deploy resources in the community, and more deeply embedded in addressing the critical challenges facing the community," the report states. "This will require a level of flexibility and adaptability to change as community needs change."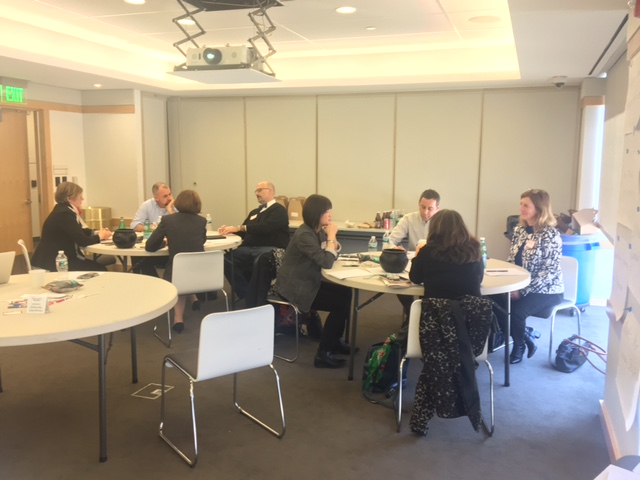 So how is the Free Library of Philadelphia rising to the challenge? Starting this month, 300 staff members at all levels will have the chance to learn and practice the community engagement skills necessary to thrive as the role of libraries evolves. This professional development initiative is funded by an Institute of Museum and Library Services (IMLS) Laura Bush 21st Century Librarian grant.
The process got under way in spring 2018, when eight experts from the United States and Canada gathered at Parkway Central Library to work with Free Library staff and consultants who are developing and evaluating the training curriculum. We spent a day reflecting on the essential skills for leadership, community engagement, and program development.
The National Advisory Committee members enjoyed the day of conversation and are looking forward to piloting the curriculum in their locations: San Francisco, Calif.; Hartford, Conn.; Halifax, NS, Canada; Cleveland, Ohio; Multnomah Country, Ore.; Shippensburg, Pa.; and Columbus, Wis..
Over the next two years, Free Library staff — ranging from library supervisors to guards and assistants — will attend discussion-based workshops called Building Connections, Effective Communication, Community Engagement and Program Development.
After attending four three-hour workshops, participants will tackle hands-on projects designed to practice their new skills, such as researching and connecting with neighborhood assets, facilitating community conversations, and contributing to the Free Library's existing community engagement initiatives.
In September 2020 the training material and related webinars will be freely available online for other library systems to use.
We look forward to sharing monthly updates about this project on ProgrammingLibrarian.org.
For more information about the Skills for Community-Centered Libraries Initiative, contact Project Coordinator Cameron Voss at vossc@freelibrary.org.
Job Functions
Professional Development/Training