Mid-Continent Public Library is making entrepreneurs their business by offering programs that provide information and skills they need to be successful.
 
Entrepreneurs need information, and libraries have it.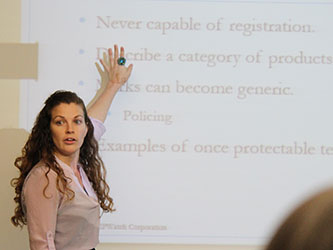 With our Square One Small Business Services, Mid-Continent Public Library (MCPL) is making entrepreneurs our business by offering programs that provide information and skills they need to be successful. Funded through a grant from Kansas City's Ewing Marion Kauffman Foundation, the Square One programs are part of MCPL's goal to help entrepreneurs create and grow viable businesses in the community. (Read a press release announcing Square One Small Business Services.)
Before any programs were planned, MCPL business specialists went out and talked with small business owners and entrepreneurs in the Kansas City area to find out what they most wanted to learn more about when it came to business.
"I spent six months asking small business owners and entrepreneurs what they felt they needed help with," said MCPL business specialist Morgan Perry. "Overwhelmingly, they said marketing. After that, I searched what other business resource organizations were offering and looked for holes in the community that we could fill."
The result is a suite of programs that explores business from the ground up, including a program series called Business Basics, which covers the subjects of start-up planning, marketing, branding, social media, attracting customers, entrepreneurship as an encore career, best practices and even the business of nonprofits.
Two other popular programs have been Small Business Bootcamps and The Business of Food Trucks.
Small Business Bootcamps offer businesspeople the chance to spend a morning learning from local marketing experts on everything from the right social media outlets for their businesses to evaluating their marketing ideas and taking quality pictures for the web. The seminars feature an address by a successful Kansas City entrepreneur, as well as the chance to connect with area business resource organizations.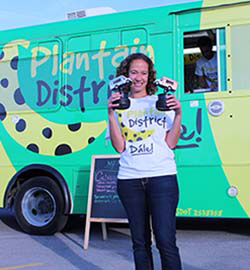 "Our bootcamps really appeal to people because they can get a denser amount of information for their time," Perry said. "During those morning seminars you can always find people to connect with, inspiration and information."
The Business of Food Trucks is a mini-course in the essentials of opening a rolling restaurant. Led by Kansas City food truck owner Brandon Simpson, the program takes participants step-by-step through every aspect of the food truck business. Participants get the chance to hear from health department inspectors and experienced food truck entrepreneurs, and the day ends with a tour of food trucks.
The first Business of Food Trucks program culminated in the KC (Kansas City) Food Truck Face Off, an event that gave the public the chance to sample the culinary offerings of a group of first-year food truck entrepreneurs and vote on which should be crowned 2015 KC Food Truck Rookie of the Year.
Square One has also brought a new twist to the library staple with its after-hours Entrepreneur Storytime series. Centering on the idea that every business has a story to tell, the program invites the area's best known entrepreneurs to tell the story of how they got their venture off the ground. In November, the storytime will feature a panel of local microbrewers.
The audience for Square One programs is not one the library usually focuses its marketing efforts, which has meant expanding and changing up the marketing plan from the library's staple programming magazines and branch programming guides.
"We are after an audience that doesn't't already visit the library," said Perry. "They are busy business owners or people working a full-time job and planning their venture in the evenings or on weekends."
Perry says getting the word out, depends on two things: going out into the community and telling people what the library has to offer. There's also drip marketing in social media, word of mouth and marketing help from community partners. Along with the Kauffman Foundation, the library has partnered with several business organizations in the Kansas City metro area for Square One, including the Ennovation Center, the foundation's 1 Million Cups and KC Sourcelink.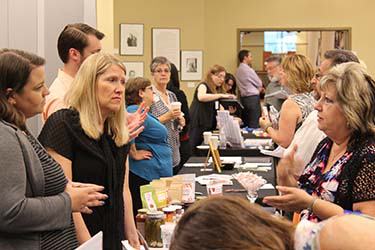 "Experience taught me that it's all about your community partnerships," Perry said. "It's going to take time for people to realize they can look for business help at the library. We are very dependent upon those partners to help us get the word out. We are spending a lot of time right now finding the right partners to ensure the people with the most need get access to the right programs."
When it came to creating a new programming venture for an audience that isn't always familiar with the library and its resources, Perry said, the Kauffman Foundation grant has been invaluable.
"It allows us to do things bigger — better presenters, bigger programs," said Perry, who credited the grant with allowing the library to expand its advertising efforts. "It allowed us to spend an entire year experimenting with different business programming in different communities. People aren't willing to take risks with their yearly budget. We could remove that failure feeling when things didn't work out because the amount of people who attended was just data."
Going forward, Perry said, MCPL is looking at spinning off ideas from its original Square One programming, taking a deeper look at advertising, as well as grouping programs together to create a business roadmap for entrepreneurs.
Developing the Square One programming has been a learning and relearning experience for Perry.
"I had to relearn a lesson from graduate school," she said. "There is a difference in what I think you need, what you think you need, and what you will actually show up for."