A small-town public library takes its board game club to the next level with weekly chess lessons.
At the L.P. Fisher Public Library in Woodstock, N.B., we already have a monthly Family Board Game night and an afterschool Board Game Club, but when local chess aficionado Derek Vihvelin inquired about possibly beginning a chess club we answered with a resounding "YES!"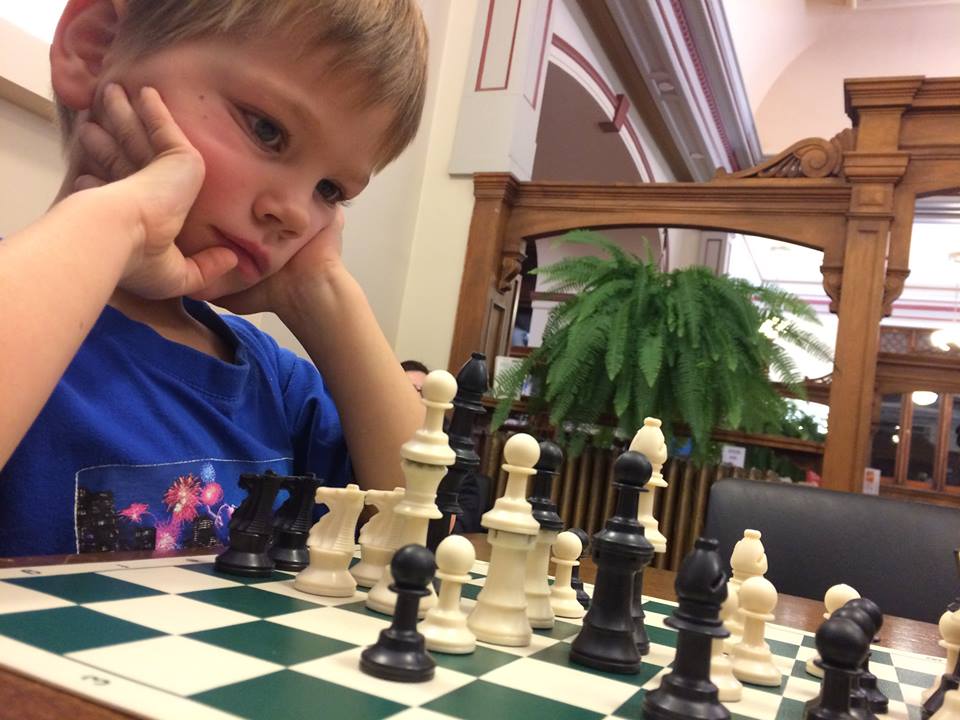 A number of families in our community had been asking if I knew of anyone who offered chess lessons, and my first diggings came up blank. So it was a happy act of fate to find Derek looking for a place to teach and play chess when we were looking for someone to lead lessons!
The best part was that he was willing to volunteer, so families could come for free. Derek was even kind enough to donate some chess books to the library for our circulating collection.
About our chess instructor
Derek started playing chess when he was 3 years old. His father would play games against his friends, and Derek would try to grab at pieces of the board. So they set up a separate board just for him. Then either his father or his friend would teach Derek and his sister how to move the pieces when it wasn't their turn.
Derek isn't a titled player yet, but in blitz chess (timed chess where each player has only five minutes) he is consistently in the top 10 in New Brunswick. He has beaten several National Masters and Fédération Internationale des Échecs (FIDE) masters at blitz chess, and last year in the annual championship came in a tie for third/fourth place.
He estimates that in his lifetime he's probably played around 100,000 games of chess. He's been playing every day online since he was about 12 or 13 years old.
Setting up the club
Our first step for beginning the chess club was to buy some affordable, durable and portable chess sets, which we ordered from Strategy Games. We recommend getting the more expensive, thicker sets that won't warp as easily. Once we received the sets, we sent them off to be cataloged as part of our board game collection. Then we made a Woodstock Chess Club Facebook page, which Derek and I both manage.
We decided, based on his busy schedule as a lawyer and young father of two, that Thursday night from 6:30 to 8 p.m. would be the club's official meeting time. Even if Derek is away, we still hold matches at that time, and people can come anytime to check out a chess set from the circulation desk to practice.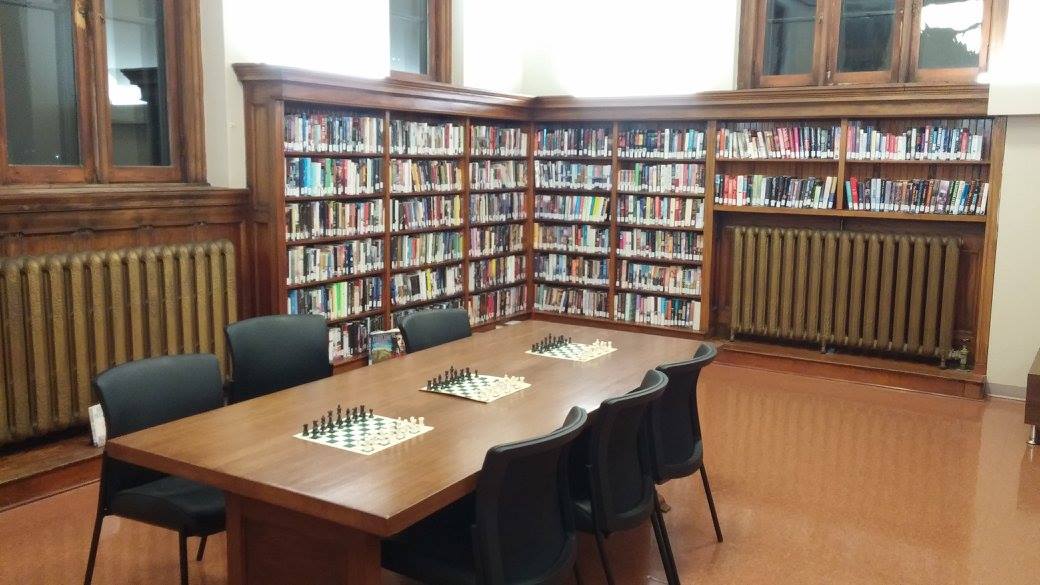 Marketing the club
We set out advertising the club on our Facebook, website and print calendar. Additionally, I contacted all the families I knew who would be interested. Derek and I are also involved in our local jiu-jitsu club (which is said to be like chess for the body), so we promoted it to families there as well.
We opened it for all ages and levels. Each week, we get around 6 to 8 people, and presently have about 12 members in total.
Recommendations
If you're interested in getting into chess, Derek's favorite place to send his students to learn chess tactics is Chess Tempo. He also recommends downloading a chess clock app, like this one for Apple devices or this one for android devices.
Additionally, Lichess is an online platform to play chess recommended by Derek. It is free and has zero advertisements. He invites anyone to find him on there to play; his username is "Dubbik."
Impact and next steps
I hadn't played much chess since my uncle taught me when I was seven or eight. But once my boys joined the Woodstock Chess Club, we've been playing at home in the evenings, and they've reminded me just how much fun it is. My youngest son, Oli, is our youngest member to date, at age 5 and is pictured here. Most of the other children in the club are in the 7-to-12 age range, including my eldest son, Ben (age 10).
Our next step is to order more sets, get a chess clock, some ribbons and a trophy, and have a tournament in the new year. We've had other board game tournaments (Battleship and Connect4) but this will be our first time trying chess!
Library Type
Academic / College
Public
School (K-12)
Audience
Adult
Children / Family
College Students
Homeless Populations
Older Adults / Seniors
Rural
Tweens and Teens
Urban
Young Adult