When summer reading ended at Fisher Library, kids celebrated with 15 holes of mini-golf — in the library. 
For our Summer Reading Club end party this year we wanted to include physical literacy elements that got the kids moving and shaking as well as reading and listening. So in addition to our usual story time/pizza party with cake (and healthy veggies!), we also created an outdoor fun zone of giant board games in the parking lot (blocked off to cars of course by orange pylons).  
We had a "color walk," too (a scavenger hunt where they had to track down items of different colors all over the library). And a teen-reading challenge with books awards to all the participants and a chance to win a bursary to a local university. Miss Woodstock even stopped by to play with our patrons! We were so lucky that our local Dairy Queen donated ice cream cakes and our local Greco donated pizzas. To round out the day I taught a Family Yoga class to stretch out those muscles and burn off those calories.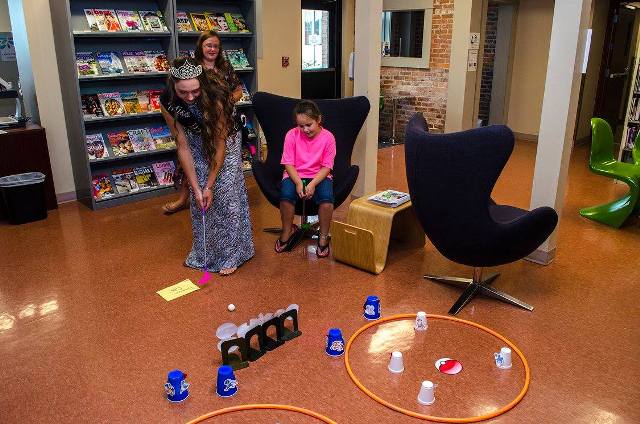 The most-talked about event attended by over 80 children and their parents was the amazing indoor 15-hole mini-golf course designed by our fantastic summer student, Mariah Cummings. To put all this together Mariah started by thinking of themes for each hole such as "In the Garden," "Pokémon" and "Time Travel" (this year's SRC theme).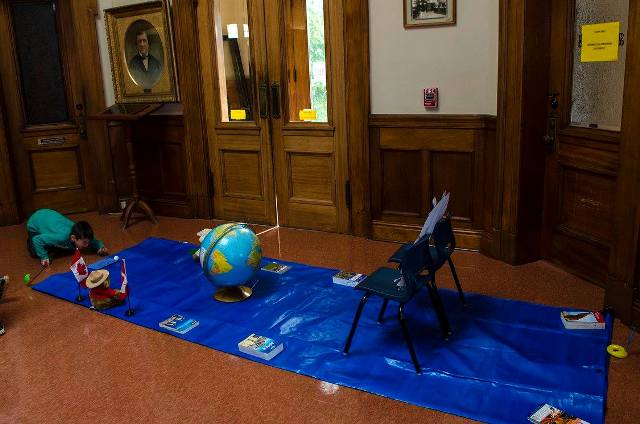 Using a floor plan of the library, Mariah created a map for families to follow. She built the courses out of a eclectic mix of props we had sitting around, such as yoga mats, blocks, books, puzzles, hula hoops, seating cushions, bottles of paint, etc. The holes were constructed out of plastic cups or plastic rings from the dollar store. We bought 20 plastic clubs and balls, as well; people had to wait their turn when we ran out. We weren't expecting such an overwhelming crowd of mini-golfers through the door at 10 a.m.!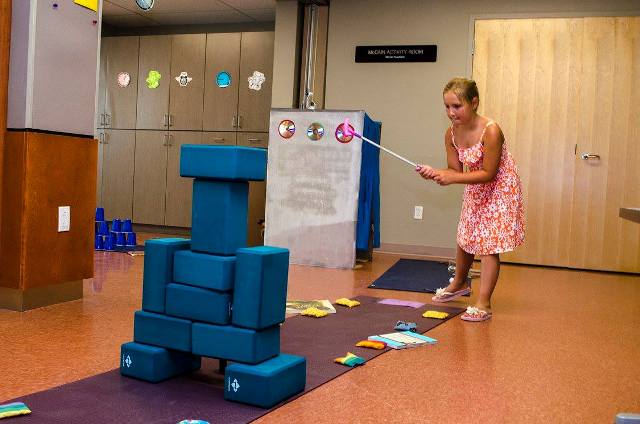 Once families completed the course they received a coupon for a free ice cream, and when we ran out of those they got a candy treat. All in all, this was a fun and inexpensive way to get families into the library and searching the corners they might not normally frequent. It cost us less than $20, and we had a whole lot of smiling faces to show for it!