Short Title
Library Music Programming Isn't Just Kidstuff
Library patrons expect public libraries to provide quality kids' entertainment, especially music. But what about music for grown-ups?
Library patrons have come to expect public libraries to provide quality children's entertainment — especially music — during the summer months. But what about music for more grown-up audiences?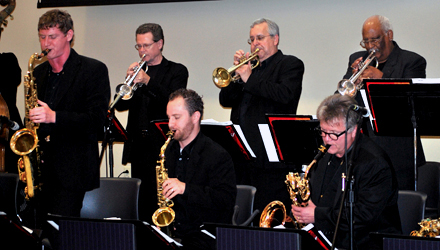 At the Mid-Continent Public Library, we see branch libraries as convenient, comfortable and affordable places for adults to connect with music. Each season, our branch libraries host music programs for adult audiences.
The acts range from The Vine Street Rumble (at right), a 15-piece swing band, to Victor and Penny (below), a retro duo that sings hits from the 1920s and '30s. The music is live, sometimes loud, and, in many cases, out in the open library.
One of Mid-Continent's first forays into music for grown-ups featured Millie Edwards, a Kansas City jazz legend and member of the Wild Women of Kansas City. Edwards and her jazz quartet performed jazz standards as part of an April Jazz Appreciation celebration. The program brought out Millie's fans, as well as library patrons unfamiliar with her music. Well-received by library audiences, Edwards has returned to perform year after year.
While people don't think twice about children's music coming to the library, they often don't know what to think when they hear of a program featuring music for more mature audiences. They often ask, "Live music? Really? Here? Where?"
The answers in order are: "Yes. Really. Yes," and, in most cases, "Right here. In the middle of everything."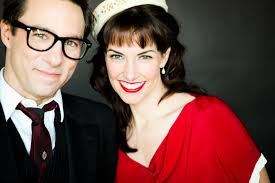 Once their questions have been answered, most people like the idea of live music coming to their local library. For many, the free performances are the only way they can access live music.
Recently, one of our branches hosted the Vine Street Rumble's five-piece jazz combo. The combo, made up of local jazz performers and music educators, tucked into the corner of the branch's programming area, a space open to the rest of the building. Nearly 70 customers gathered in the space, creating an almost club-like atmosphere. The Rumble has developed a following among library patrons, who follow the group between libraries to hear their renditions of standards from Kansas City's golden age of jazz.
On the flipside, the library programs offer performers access to completely different venues and audiences. Kansas City honkytonk man Rex Hobart usually performs in area bars. The library and its patrons are a departure for Hobart's original songs of heartbreak and betrayal.
But just like younger audiences, it can be a challenge keeping adult audiences in their seats when the music starts to play.
I once had a couple ask, "If we really like the honkytonk singer, can we and our friends get up and dance?"