Short Title
Lights, Camera, and an Idea Worth Spreading
With TED Talks' TED-Ed Clubs, librarians can encourage young people to share their big ideas.
Most of us are familiar with TED Talks, a nonprofit devoted to spreading ideas through short, often powerful, talks. As librarians, we can use the format of a TED Talk to engage students and teachers with research and encourage them to spread their ideas.
We chose to incorporate TED-ED into our ninth-grade programming — with excellent results. In fact, we are now hoping to spread it to eighth and fifth grades as culminating projects during those capstone years in our district.
TED-ED Clubs in the library
Imagine this:
Students are giving their final presentations.
They are enthusiastic about their topic.  You can hear it in their voices.
Students start their presentation with a great hook, drawing in the audience.
They engage the audience with impactful visuals.
The conclusion is strong.
That vision of research perfection was our experience with TED-ED Clubs. The club curriculum consists of 13 lessons that will help you and the classroom teacher to develop an idea/topic and coach students on how to present a topic.  
Identifying interests 
As students work through the process of developing a research question, TED-ED helps them formulate the research question as "an idea worth spreading." Students have to spend time really defining their topic, the importance of their topic, and dig into their reasons for choosing a topic. For example, one of our students was very passionate about horses. Through the lens of the TED-ED curriculum, she had to think about about horses and narrow her topic into an idea worth spreading. She ended up giving a very compelling TED talk on the therapeutic benefits of horses and horseback riding. 
Once students have an understanding of what makes an idea worth sharing and have chosen a topic, we work with the students to identify the most compelling arguments for their idea/topic. What do they want their audience to know?  This exercise helps students direct their research and is a perfect time to have a research conference with each student.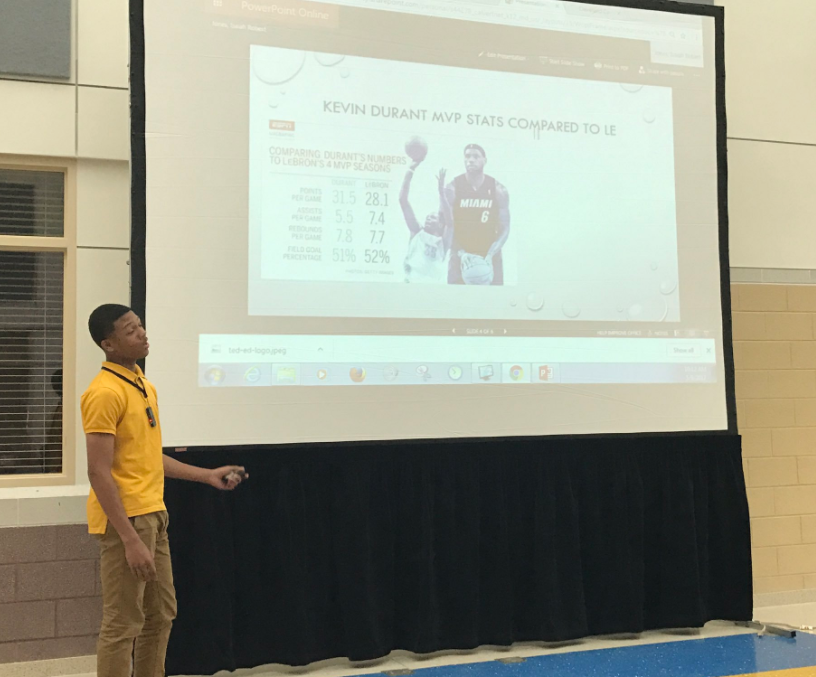 The TED-ED research project is authentic learning, helping students identify their interests/passions and turning those interests into an idea they WANT to research and share. Being part of the TED-ED Club also provides the opportunity to upload finished TED talks to the TED-ED Clubs YouTube channel. For the students, the possibility of sharing their idea on a global platform is enticing.
Getting started
Here are a few things we learned that may be useful as you get started.
Anyone (students included) may apply to be a TED-ED club facilitator. 
 
The end of the school year is a great time for this project. Some of the topics students share are very personal. Students need to have trust in their classroom teacher and classmates.
 
In addition to a camcorder, we used a SWIVL to record the students. Using the SWIVL meant that we knew that we would have clear audio. Also, the videos are uploaded to the SWIVL cloud, which provides an easy link for sharing. Students were sent a link that day and were able to reflect on their presentation. The link was also shared with appreciative parents. The community and parent involvement with this project was strong.
Information literacy, media literacy, presentation literacy. Student generated TED talks can be a research project that covers it all.
Watch a sample student project!
Job Functions
Resources and Program Starters