Books and games — a winning combo. These four easy literary games will keep kids (or adults) guessing. 
Books and games — a winning combination. With minimal cost and prep time, you can create literary challenges that are not only fun, but that reinforce kids' perceptions of themselves as readers. Here are four easy-to-plan, easy-to-implement, low-cost ideas.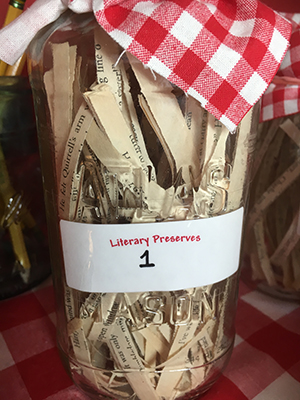 Literary Preserves
Save discarded books to create a Literary Preserve game. It's important that the book titles be from popular books — obscure titles won't work. 
Remove 15 or 20 pages from the book, and then carefully place the pages through a paper shredder, making sure the sentences are entering the shredder perpendicular to the lines of text on the pages. You want shredded slips of paper on which a sentence can be read.
Sort through your pile of shredded pages and look for sentences that include words that will provide identifiable clues to the book title. For example, if you use "Pride and Prejudice," look for a scrap of paper that includes the words "Mr Darcy" or "Pembroke."
Collect a handful of these paper slips and carefully insert them into a mason jar. Create a display of a dozen jars asking students to guess which book is "preserved" in each jar. Offer a small prize to the winners.
Quote of the Day
For this challenge, you need to know which books are the most popular in your school. Librarians often have the best sense of what titles are currently popular, or you can ask teachers what books they've read aloud to an entire class.
Once you have a list of titles that students are familiar with, select a passage from each one that gives a sense of the book without giving it away. Type up the quotation and display it.
Invite students to guess which book the quotation comes from. Have small entry forms where students can write their guesses and place them in a large container. At the end of the day, the first entry pulled with the correct answer is the winner. Offer small prizes to each winner.
Spine Poetry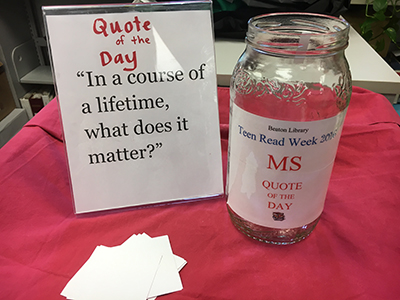 Invite students to "write" Spine Poetry by arranging a stack of book spines with the titles arranged to create a poem. Set a minimum number of books, such as four or five, that students should use.
Invite language arts teachers or administrators to be judges, and give out a few small prizes to the winning "poets." Extend the contest to faculty members as well.
Ask teachers to announce the contest in their English classes. Not only is this a great way to collaborate with your teachers, but it's also another way to entice students to peruse the collection and discover overlooked titles.
Literary Trivia
Create a trivia tradition in your school by keeping a running list of questions about books that pertain to your students and carve out a time to ask questions in an engaging and lighthearted way. Keep the questions quick and easy, and include small prizes.
Sample questions might include:
What book won the Newbery award this year?
Who wrote "Charlie and the Chocolate Factory"?
In what book does a boy live under a staircase for the first 10 years his life?
What's important to remember is that the purpose of Literary Trivia is not to stump the students. Instead, each game is to remind the students that they are readers. As such, strike a balance between challenging questions and easy questions. Every time students recognize an answer, even if they don't win the game, they are reminded that they are readers. And reading creates winners out of everyone.