A university library created a winning storytelling program from the ground up — and so can you.
Ursula Le Guin, in her meditation on the power of speech, says, "Words are events, they do things, change things. They transform both speaker and hearer; they feed energy back and forth and amplify it. They feed understanding or emotion back and forth and amplify it."
Storytelling is elemental to any society, and the library is a place where stories can be shared and preserved. In spring 2017, the William H. Hannon Library at Loyola Marymount University piloted a storytelling program called LMU Speaks. Four members of the LMU community were invited to tell a 10-minute story based on the central theme "The Fork in the Road."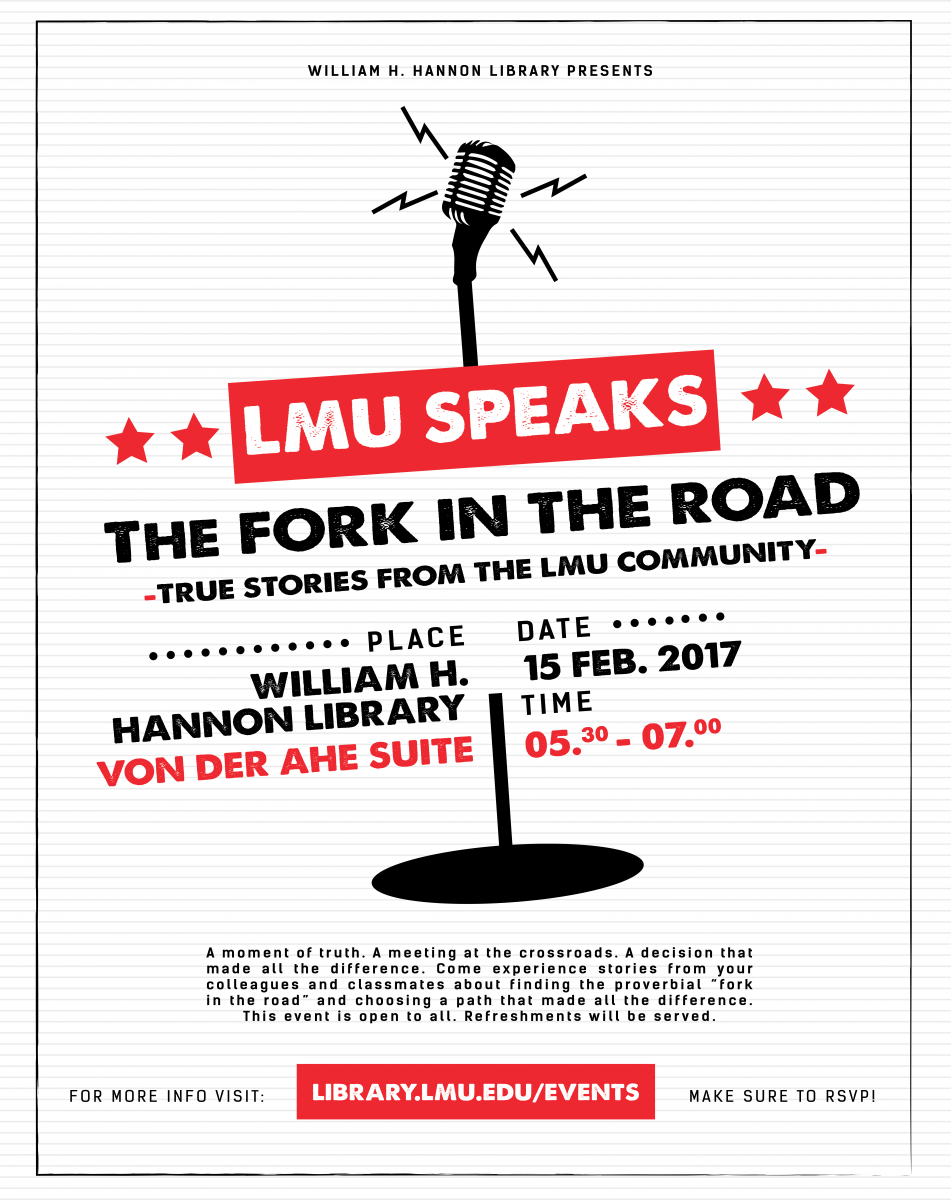 Like many great program ideas, this one was prompted by a presentation at an ALA Annual Conference. Encouraged by the success of the Naked Truth program at Mill Valley (Calif.) Public Library, a team of LMU Library staff set out to translate the format of the Mill Valley program to an academic environment and within the context of our strategic objectives. Part of our library's mission is to serve as an agora for the campus community, a central place for the acquisition of knowledge and the exchange of ideas. It is also part of our strategic plan to collect the stories of our users. A storytelling program provides a platform for the pursuit of both those ends.
Selecting speakers
Like our Faculty Pub Night series, our goal was to invite a panel of speakers that represented as much of the campus community as possible. The planning committee drafted a list of roughly 10 potential speakers and, as best as we were able, selected the most diverse line-up. In order to identify potential student speakers, we reached out to our Student Affairs department for recommendations.
The planning team met with our initial line-up of speakers to explain the goals and format of the program. As expected, some individuals declined our invitation after this meeting (admittedly, storytelling in front of a live audience can be a powerfully emotional experience), so it was helpful to have a deep list of speakers. In the end, we selected two students (from two different academic units), one staff member from IT, and one faculty member from the School of Education.
Tips:
In addition to selecting a diverse line-up, select for both somber and light-hearted stories.
If possible, meet with your speakers ahead of time so they have the chance to get to know each others' personalities.
Touch base with your speakers regularly to see how their story-planning is progressing.
Promotion and outreach
Because this event was a new campus program, we needed to build the outreach from the ground up. We designed an entirely new event poster. We reached out to the communications directors for each of the academic units represented by our speakers. We sent personal invitations to the provost and president. Additionally, we pushed out event information through all our usual communication channels: social media, internal staff/faculty feeds, the library's monthly e-newsletter, university calendar, etc.
The number of personal emails, phone calls and face-to-face touch points was considerably higher that what is typically necessary for us, not only because this was a new program, but because storytelling is not a concept that is by default associated with the work of the academic library (at least, not on our campus). It is easy to conceive of any campus unity starting their own storytelling program. It was up to us to explain to our community why the library needed to be that unit.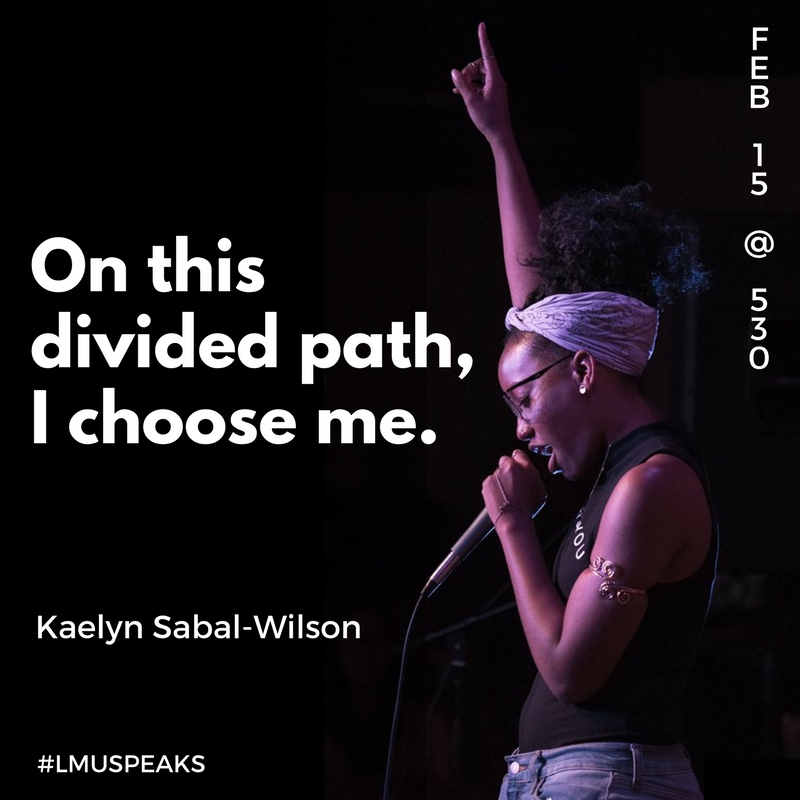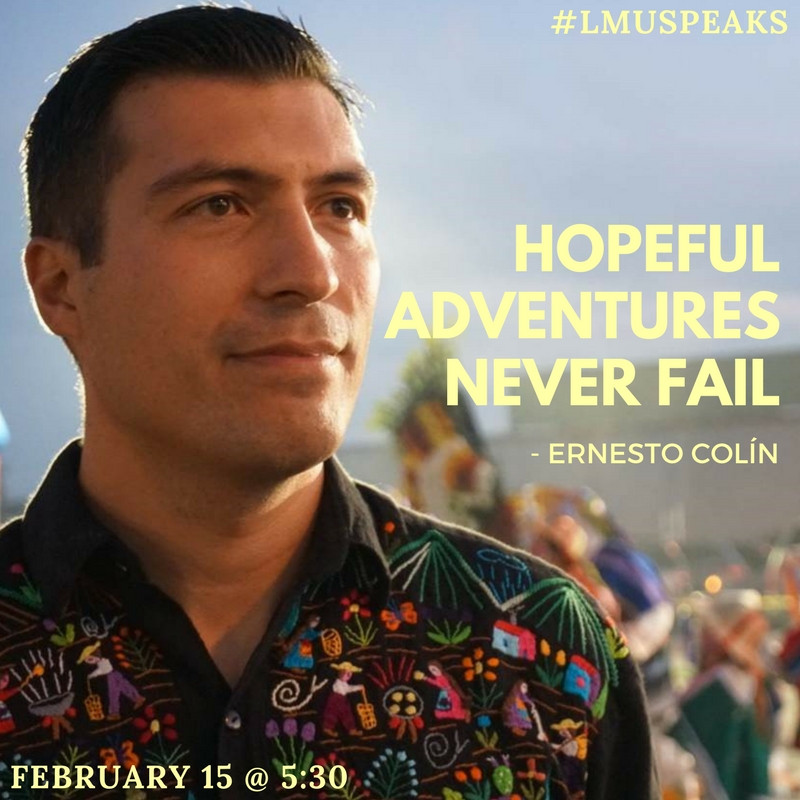 Tips:
Create custom social media banners that include an image of your speaker and a brief quote or teaser about their prosed story.
Reach out to faculty and students in rhetorical arts classes or any course that focuses on oral traditions.
When working with other communications directors, send them social media material that is print ready (e.g., a link to a Twitter post that they can simply retweet).
Program schedule
The program schedule was simple. After an initial introduction by our associate dean, each speaker was given 10 minutes to present on the theme "The Fork in the Road." We also gave our speakers this prompt: "Tell us about a moment from your life when you faced an important decision, a moment of truth or a crossroads in your path that led to where you are now." Each speaker was introduced individually before their performance. At the conclusion of the four talks, we invited guests and speakers to mingle and chat over wine and hors d'oeuvres.  
Tips:
Consider having music playing in the background to set the mood, emphasizing that this isn't an academic lecture.
Keep your technology needs simple so the focus remains squarely on the speakers' stories.
Encourage attendees to introduce themselves to at least one new person before they leave.
Assessment
Since the goal of our program was to reaffirm the library's role as agora, we asked attendees in our feedback forms whether they spoke with at least one new person during our program; 78 percent indicated that they did. We also asked whether they would recommend anyone in particular to be a speaker should we attempt to repeat the program next year. Most importantly, we asked if it would be OK to follow up in three months' time. Among other things, our hope is to use that follow-up opportunity to see if the new connections attendees made that evening produced any new or lasting relationships.   
Future plans
Based on the initial feedback from attendees, the program was an enormous success. The feedback was universally positive and at times effusive. We will almost certainly repeat this program again in the future. If the program continues to be successful, we may consider formalizing the speaker selection process (via call for participants and selection committee). We may also consider putting the event into our annual programming cycle. However, for the immediate future, we are happy with the success of the program and hope it will help to reinforce the library's role as a central hub for our campus community.
Job Functions
Resources and Program Starters