Short Title
Marketing Using Facebook Events
The elusive Facebook event. Who sees it? Do people use Facebook events anymore? Is it worth your time?
The elusive Facebook event. Who sees it? Do people actually use Facebook events anymore? Is it worth your time?
Determining whether your event is reaching your target demographic and getting people into your door can be a bit of a mystery. The good news is it's a low-cost mystery.

While Facebook events have not changed the face of program attendance at Mount Prospect Public Library, I can attest that they have brought in a handful of people that may not have found our event otherwise. At this time, that's enough for me to see value in using Facebook events as a method to spread the word about certain programs — especially since it doesn't require much time.
Interested? Here are the basics.
Creating an event
To create a Facebook event, you must be either an admin or an editor of your library's Facebook page. Once logged in, click on "Events" (likely found in the left sidebar of your screen).
From there, select "Create an Event," select whether you want your event to be private or public (most events should be public), and choose the library as the host.
Make sure to add your own cover image and add all the necessary information. Canva offers a Facebook event template (currently sized at 784-by-295 pixels, but note that Facebook changes their image sizes frequently). 
Benefits
Facebook events offer a free way to spread the word, and they're easy for your attendees to share. Attendees can easily ask questions about a program, and you can easily share information. In fact, the more you interact with people on your event, the more people it will reach. This is an opportunity to add personality to your marketing.
Another benefit is ease of collaboration. Chances are organizations you are partnering with, or performers you are hosting, have a Facebook page. Inviting your partners to co-host or asking them to share your Facebook Event allows them to easily spread the word with little extra work for both parties.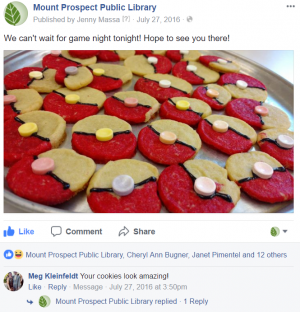 Don't overwhelm
It's important to know that every time you post on your event page, those who have replied as "interested" or "going" will receive a notification. Be careful to balance maintaining a presence with not frustrating those who have already responded. 
In addition to being aware of how much you post, be strategic about which programs you market using Facebook events. Turning every program into a Facebook event will be a lot of noise for your patrons to wade through.
Drawbacks
Finally, the drawbacks. Facebook event analytics offer limited insight; they only break down those your event reached by age and gender. That's still more than nothing, but without adding location it doesn't tell you much about who you're reaching.
You're also at the mercy of Facebook's algorithms. Facebook tends to be selective about what content they put into users' Newsfeeds, giving preference to content creators or distributors willing to pay to boost their events or posts. As a result, you may have less control over who sees your content.
Your turn!
Have you used Facebook events? What worked? What didn't?
Library Type
Academic / College
Public
Rural
Audience
Adult
College Students
Rural
Urban