Short Title
More Than a Week: Money Smart Month
Blogger Sara Peterson-Davis shares how her library turns Money Smart Week into a full month of programming.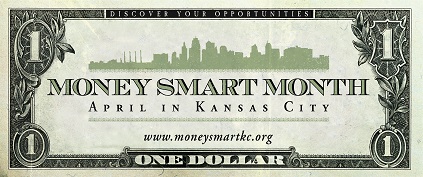 Give us a Money Smart Week in Kansas City, and we'll take a whole month.
Each April, Mid-Continent Public Library (MCPL) joins libraries, businesses, financial institutions, schools, not-for-profits and government agencies from across the metro area for Money Smart Month of Greater Kansas City. The event is a month-long public awareness campaign helping consumers better manage their finances. The coalition, which includes the Federal Reserve Bank of Kansas City and the Federal Deposit Insurance Corp. (FDIC), comes together to provide hundreds of programs and activities that cover all aspects of personal finance, from saving to estate planning.
Last year, according to the Money Smart Month website, the campaign hosted more than 1,243 events (public and private) throughout Kansas City and reached a total of 18,121 attendees, ranging in age from 5 to 85.
For MCPL, providing personal finance and financial education programming is an ongoing priority and one of the system's strategic programming goals. It was a call to the Federal Reserve Bank of Kansas City to find more ways to grow the library's financial programming that brought MCPL to the Money Smart Month team.
"We were interested in increasing the number of financial education programs in our system." said Paul Smith, manager of MCPL's community programming department, "It turned out to be a nice confluence of events."
The need for personal finance and financial education programming is real in metro Kansas City. In a recent analysis, WalletHub.com ranked 2,570 American cities by the money management skills of their residents based on eight key metrics. Several of the cities in the ranking are in the Kansas City metro area. While some ranked among the most financially skilled, others have room for real improvement.
MCPL participates in Money Smart Month in several ways. The library's 31 branches offer personal finance programs throughout April, as well as offer Money Smart Month support materials. The library promotes the campaign in its marketing materials, and Smith sits on the campaign's steering committee.
This year MCPL is offering four personal finance programs for a total of 28 program dates for Money Smart Month. They include programs on how to find and understand information and tools, creating a budget in Excel, shopping with coupons and cost-effective shopping strategies for the environmentally conscious.
The last program, titled Green Pocketbook, is a new partnership with Bridging The Gap, a non-profit focused on environmental education. It looks at how consumers can save money when shopping, while also helping the environment, conserving energy at home and eating healthier food.
While many libraries might not want to commit to a month of Money Smart programming, Smith said most every community has businesses and organizations that libraries could tap as potential partners for a week of financial programming and awareness. It's important to look for both the obvious and the hidden partners.
"The Federal Reserve is an obvious partner, but Bridging the Gap isn't," said Smith, adding that local food banks and social service organizations are often overlooked partners.
Along with working with local partners, Smith suggested using and modifying existing library resources or creating a program around available resources, such as personal finance and investing databases. This year MCPL's Creating a Budget in Excel program came from an existing program tweaked for Money Smart Month.
Also, don't overlook the money smart talents and ideas of library staff members.
"I think couponing is a subject that many programming librarians, with a little research and creativity, could turn into a productive and popular session," Smith said.