Short Title
Financial Education Resources for Key Age Groups
Get ready for Financial Literacy Month with program ideas for every age group.
You may think money is too personal a topic for the library … well, we hope to convince you otherwise. Money matters affect every person you know. Education about financial concepts and tools for money management are important to informed decision-making and are keys to independent living.
April is an ideal time to offer financial education programs in conjunction with Money Smart Week and Financial Literacy Month. And now is the time to start planning. This spring, give your community the gift of financial literacy programming for every age.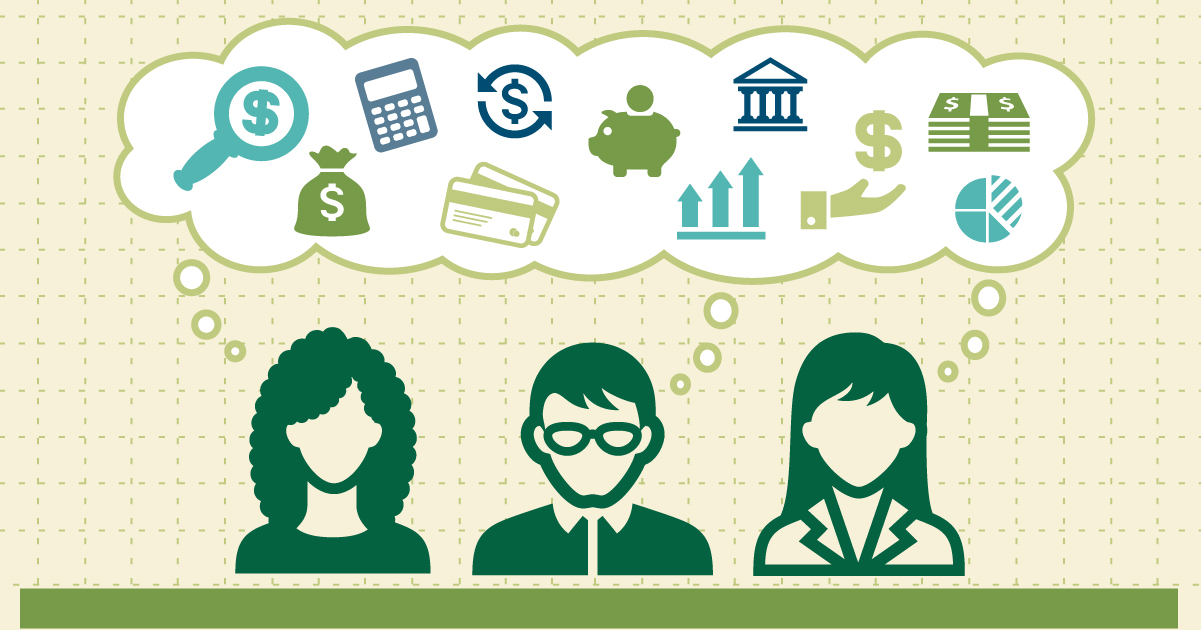 Children
Even the young crowd benefits from learning about money. Financial capability is built on the foundation of executive function, financial habits and norms, and decision-making skills. Make money a topic of storytime during Money Smart Week and throughout the month or encourage kids to create their own currency at home with common supplies.
Help your young patrons develop these skills using the Money as You Grow Bookshelf and materials from the Consumer Financial Protection Bureau. Free parent guides are available to accompany common children's books that highlight some of these foundational skills for financial capability.
For a wealth of program ideas addressing financial literacy, check out "Rainy Day Ready: Financial Literacy Programs and Tools" (ALA Editions, 2020). Edited by Melanie Welch and Patrick Hogan of ALA, the book includes a variety of programs from across the nation, including Art Shop, a popular program at my Plano (Texas) Public Library. (To learn more about Art Shop, read "What We Learned When We Took Our Financial Literacy Programs Online.")
Teens
Teens and young adults have increasing responsibility for their own financial choices, making this age a critical time to gain financial capability. Providing them with information to make wise financial and lifestyle choices is vital as they establish themselves in college and the workforce. Helping our youth understand basic banking concepts, the principle of interest (earning and paying), and budgeting are key.
Many colleges have student success programs that include financial education. Plano Public Library has partnered with the University of North Texas Student Money Management Center to bring in educators who are more like peers to our teens. College students present the Game of Life, in which participants learn about their financial identity and common costs, then choose a career and build a budget based on their lifestyle choices. Could they afford to live the way they want to?
Find useful materials for high school and college students from the Federal Reserve Education resources. Find your Federal Reserve District and reach out to the Community Development department for more information.
Plano Public Library has also combined technology training and financial education by demonstrating how to build a budget in Excel or Google Sheets. This affords the opportunity to bring attention to necessary expenses, such as insurance, and to the importance of tracking expenditures and saving when possible. To help teens and young adults consider how best to build their human capital with education and training, we use the Navigate curriculum of the Federal Reserve Bank of Dallas and have adapted the content for adults, as well.
Adults
Growing up naturally prepares us to make wise choices with our money, right? Everyone knows this just isn't true. Financial wellbeing results from a complex mix of financial knowledge, choices, planning, outcomes and external factors that are out of our control.
Adults benefit from programs outlining what goes into determining a credit score, options for managing debt and how to avoid fraud and plan for retirement.
Plano Public Library starts with the basics, using the Fed's Building Wealth curriculum. The program covers assets and liabilities, the importance of tracking income and expenses, making a plan to save, building wealth and protecting your assets. While we have partnered with the Dallas Fed, there are 12 Federal Reserve Districts, and each develops resources. They are free to order, so try them all!
For additional financial topics, reach out to local nonprofit organizations, banks, credit unions or financial professionals. When working with financial professionals, be sure to set a clear expectation that library programs provide credible, unbiased information, and no selling of products or services should be conducted. You can use Broker Check, a tool from the Financial Industry Regulatory Authority (FINRA), to verify the credentials and professional standing of a professional before engaging them. FINRA also provides comprehensive, unbiased resources related to money management and investing. These resources cover all the bases from the basics of personal finance to essential investing topics. There's also a special section on young adults and investing.
Older adults
Don't forget your seniors! Important topics to tackle for this population include benefits information and options (e.g., Medicare and Social Security), as well as strategies to protect themselves against fraud.
Partners in addressing these topics include your local Area Agency on Aging, a state-designated agency addressing concerns of older persons on a regional or local basis, the American Association of Retired Persons (AARP), or local senior care organizations (nonprofit or government). Consumer publications include brochures and fact sheets on a variety of topics of use to caregivers, and AARP offers a Fraud Resource Center full of information. They often have volunteers prepared to make presentations about their Fraud Watch Network, as well. For web-based interactives related to fraud prevention, check out FINRA's Scam Meter, Risk Meter, and many other tools. And be sure to share FINRA's Securities Helpline for Seniors (844-574-3577).
Remember to highlight books, movies and library databases related to financial literacy topics. Offer book lists, highlight carousels on your library catalog, and promote databases and digital resources during programs, through newsletters, on your library blog and website, and on social media. Be sure to provide direct links whenever possible to help patrons find the information easily.
Libraries are a trusted source of credible information. Now more than ever, give financial literacy a prominent place in your library, and patrons will thank you.
Kristin Linscott is development and partnership coordinator and Rachel Yzaguirre is community outreach librarian at Plano Public Library in Plano, Texas. This blog post is part of a series written by ALA's Financial Literacy Interest Group and sponsored by the FINRA Investor Education Foundation.
Audience
Adult
Children / Family
College Students
Older Adults / Seniors
Tweens and Teens