Short Title
More than a Woman: Audience Mapping for More Diverse Programs
Go beyond Women's History Month to provide programs for — and about — the diverse range of women in your community.
This blog post began as a list of program ideas for Women's History Month. Then, while I was conducting some research, I came across the article "Public Library Response to Women and Their Changing Roles Revisited," from fall 2007's "Library Trends." Authors Kay Ann Cassell and Kathleen Weibel re-examined programs they had written about in 1980 and also looked at new programs for women under the same feminist and practitioner's lens.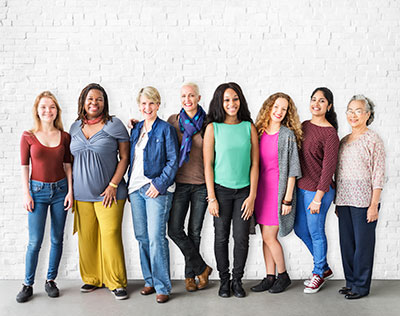 An exploration into programs offered to women
In the 27 years since their article was first published, the authors found that program themes had shifted their focus to new topics. Highlighted programs included financial guidance for recently divorced women and an HIV/STD awareness program for women, with a clinician providing private consultations. However, they found that even though the programs had changed (and they weren't necessarily "just for women"), the underlying principle behind many programs remained the same: "those programs (responded) to issues faced predominantly by women in their societal roles." 
Avoiding narrow definitions
As a culture, we're shifting away from a singular definition of "woman" and ideas of their societal roles. However, when we think of programs that are primarily geared toward women, do you find your library defaulting to a "generic" customer for these programs? How can we stretch our creativity and develop programs that benefit women outside of this singular mold?  
While working on some recent library website changes, a web developer explained one method he uses to ensure he's creating a website that is as flexible as possible: list all the different types of customers you see in your library. Then, review each category and try to break it down even further. Don't think about it too much, and let each category flow into even more specific identifiers. 
It's a tall order to cover every audience group in one go, but when we break down one category at a time, it can allow us to consider our programs from a new angle.
An exercise of inclusivity
For example's sake, let's say one audience starts as a simple group: mothers. This may conjure an image of your own mother or a regular attendee at your weekly story time. However, challenge yourself to break down this identifier into more specific groups who may also be visiting your library. Some examples are:
Working mothers
Mothers who are single parents
Mothers who are homemakers
Very young mothers
Mothers who are caretakers for an elderly relative
This is by no means an exhaustive list. Your list may look very different from mine, depending on your library's demographic. 
Once you've completed the list to your satisfaction, take a step back and review. Are there words or commonalities that jump off the page? Are there customer "categories" who may have been (unintentionally) left out of your program schedule? 
Putting it into practice
The next step, of course, is taking steps to better serve these groups. This may mean coming up with new ideas for brand-new programs, or it might mean reworking programs to include these underrepresented groups. One example provided in the Cassell and Weibel article is including an evening story time so working mothers and mothers in school can attend. 
Another example that came to mind was from the YALSA President's Program, "Making Teen Services Inclusive and Impactful," at the 2016 ALA Annual Conference. Ady Huertas, branch manager at the Logan Heights branch of the San Diego Public Library, identified one teen group that could benefit from more direct programming. With the help of the library's teen-run LGBTQ+ Spectrum Club, she organized programs on applying makeup and clothes swapping for girls who are transgender. 
Exploring other audiences keeps our programs that are for, by and about women as diverse as our library's population, creating a safe and welcoming space for all throughout the year. 
Job Functions
Resources and Program Starters
Program Evaluation
Audience
Adult
Children / Family
Community Members
Young Adult