Short Title
A Mystery Maker Challenge
Even without a dedicated makerspace, you can still incorporate maker elements into your day.
Makerspaces foster creativity and encourage out-of-the-box thinking, but they often require physical space that a library doesn't have. But even if your library doesn't have a dedicated makerspace, you can still incorporate maker elements into your day. Our school library transforms our lunch period into maker time with STEAM activities such as our Mystery Maker Challenge.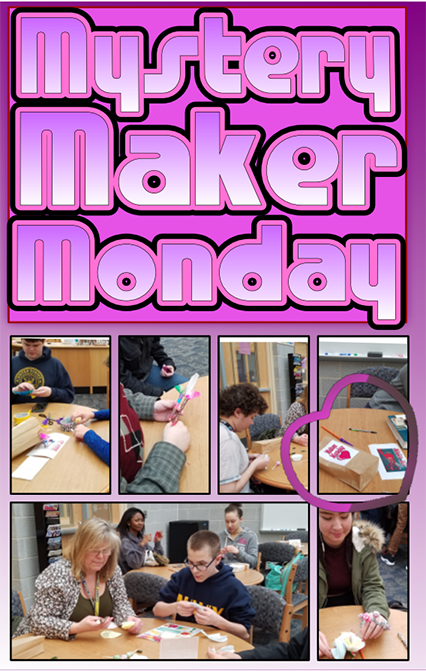 Taking advantage of lunchtime
Our high school has only one lunch shift, also known as "one-hour lunch," during which all our high school students eat lunch at the same time. Each of our four high schools has more than 1,200 students who need to find someplace to eat, work, study or decompress during that hour. This one-hour window also provides time within the school day for clubs and library programs.
The library is the place to be during lunch, with students doing homework, researching, reading, playing games, talking and — yes — making. Gamers play on the computers or sitting around a table; board games are very popular. Students make themselves a cup of coffee, tea or cocoa, and sit and work on puzzles or origami. 
Makerspace Tuesday and the Mystery Maker Challenge
To encourage student creativity, we have a dedicated day every week for maker activities. This year we have Makerspace Thursday; last year it was Maker Monday.
On that day, we randomly place maker supplies on the tables for the students when they come in at lunch. It's always fun to watch the students engage as they start imagining and creating. Maker activities brings all students together. There are no rules.
One Maker day a month, the library alters the programming and really mixes it up by having a Mystery Maker Challenge. Tables have "reserved" signs on them. Students know that, for the first half of the lunch shift, if they sit at one of the reserved library tables they are participating in the challenge. To add some incentive, we always include prizes or some sort of maker take-away with our Mystery Maker Challenge.
Along with the reserved signs there is a paper bag on every table. Inside the bags are carefully worded directions for the challenge and the allowed supplies. These "STEAM-y" challenges can result in some very creative out-of-the-box thinking.
Some favorite activities
Some of our popular maker challenges include: 
For example, for the newspaper fort activity, provide your students with a stack of newspaper and some masking tape and task them with creating a fort. You can add specific criteria for this activity to create a challenge; you could tell the students that the fort must be free-standing, or it must have three sides, or it must have a roof and one person must be able to stand up inside of it. 
We are always looking for new ideas and would love to hear from you and know what you have done. Tell us in the comments!
Popular Topics
Coloring, Crafts & Hands-on
STEM
Job Functions
Resources and Program Starters
Audience
Children / Family
Tweens and Teens
Young Adult