Short Title
A 'No-Pressure' Book Group
A new take on a book club sparks enthusiastic discussion and over 300 book recommendations at Mid-Continent Public Library.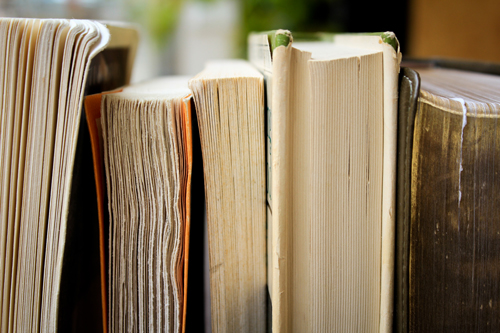 Angie Strathman and Natalie Pauley know that some of the best discussions in a book group happen after everyone is done talking about the month's selection.
It was this energy and enthusiasm for books and reading that Strathman and Pauley wanted to capture when they started NovelTea and Coffee, Too at Mid-Continent Public Library's Woodneath Library Center.
A "no-pressure book group"
The duo refers to NovelTea and Coffee, Too as a "no-pressure book group" where participants can share what they've been reading and gather ideas for what to read next.
Originally named to attract people to the group's meeting spot, the library's coffee shop, they quickly out grew that location because of attendance and the enthusiastic discussion. These days NovelTea and Coffee, Too attracts an average of 16 members each month. 
Attendees range in age from their mid-30s to 60s. Pauley describes this wide age range as "more varied than our more traditional book group."
Recognizing that not everyone can meet at a set time or day each month, Strathman and Pauley vary the meetings every four weeks between morning, afternoon and evening on Saturday, Sunday or Monday.
While some of the regulars are members of other, more traditional book, groups, Strathman and Pauley said many are people who love to read and talk about books. They just don't want to be tied to a particular novel each month.
Pauley, an access specialist at Woodneath, can relate. "I was in a book group for 15 years," she recalls. "It got me to read things I would not have ordinarily read. But then I started working and I became more selfish about what I read."
Meeting structure
But don't think that NovelTea and Coffee, Too is a book talk free-for-all. Strathman and Pauley have created some ground rules and structure for the group.
Each meeting starts with an icebreaker. The questions started as a way for everyone to get comfortable in the first meeting; now it's a tradition that regular members insist on. Questions have included:
"How do you find a book?"
"What's your favorite reading spot?"
"What book did you have to read in school that you ended up really enjoying?" (This last question led to a discussion of what books members read behind their teachers' and parents' backs.)
Following the icebreaker, members are asked to share just one book they're reading. Since many members are avid readers, that can be a challenge.
Since there's talk about so many books in each session, Strathman publishes an email newsletter with a list of the titles discussed each month. This newsletter includes recaps of what members said about the books, as well as that month's icebreaker and future meeting dates. She also posts member picks on Noveltea and Coffee, Too's Pinterest board. Since May, the group has posted nearly 300 titles.
Discussion rules
Stratham and Pauley have two rules for the discussions.
First, no spoilers. Since everyone is usually talking about a different book, and many members are looking for something new to read, members are asked not to give away too much about a plot.
"That was one we were really worried about," said Strathman, the readers' advisory librarian at Woodneath. "We find people read a book three or four months after they heard about it from the group."
Second, avoid tangents. While some straying is inevitable, Strathman and Pauley said tangents can bog down the discussion and hold up the flow of conversation — although they admit that some of them can be fun.
Noveltea and Coffee, Too has attracted an eclectic group of readers whose tastes range from literary and popular fiction to nonfiction and graphic novels. What they have found interesting is how the discussions have moved members to try new genres and formats, like graphic novels and audio books.
"It gives people permission to try something new," Strathman said.