Short Title
NYPL's Community Conversations: Dialogue-Driven Programming
New York Public Library undertook a pilot program to bring community conversations to branches around the city — with significant results.
The New York Public Library (NYPL) is a system of four research libraries and 88 circulating branch libraries that serves the Bronx, Manhattan and Staten Island. The library's Adult Programming and Outreach Services office works with staff across the circulating branch system to provide centralized resources that support the diverse needs of patrons from all walks of life.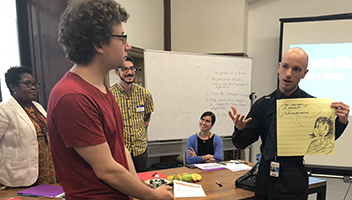 Defining community engagement practices across the many neighborhoods of New York City is an ever-evolving process that considers these needs and the resources and services available at the library. We frequently address questions such as: Are there programs that could connect to every community? Are there tools that all staff need in order to best facilitate this engagement?
In alignment with ALA's Libraries Transforming Communities initiative, the Adult Programming and Outreach Services office began developing an 11-month Community Conversations pilot in March 2017. This pilot sought to train and support branch staff across 16 locations, uncovering new insight into how community engagement could work across neighborhoods through dialogue-driven programming.
Staff were provided with training, program development tools and additional administrative support to build local collaborations and create a series of topical programs that would enable informed discussions throughout neighborhoods in the system. Each community selected their own topic, and library staff created a program model that reflected their community's needs and interests. Branch staff acted as dialogue facilitators.
Here's how we did it.
Step 1: Staff training
Our first step was training our branch staff. Through several in-person meet-ups, staff began to develop a cohesive programming team within the library in which they could support and learn from each other's experiences.
We met in person to watch the first webinar series of Libraries Transforming Communities: Models for Change, which was designed for libraries serving large, urban communities. We made these free webinars an interactive opportunity for staff to connect over a new programming concept. Colorful Post-it notes were put on tables to create analog chat rooms, and we held post-webinar debriefs so we would have the opportunity to practice the dialogue methods ourselves.
Staff participated in mini-facilitation practice sessions where they observed trained facilitators and then took on the facilitator role themselves, incorporating a "you do, we do, I do" approach to learning.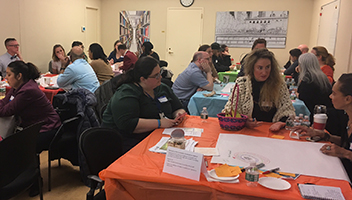 Step 2: Building programs
Next, we built our programs together. This process took place over two important one-day trainings.
In the first day, NYPL designed a training module to lead staff through community-mapping, partnership-building and program design. User-centered design activities made this training interactive.
A second one-day training was led by Everyday Democracy, providing an opportunity for staff to dive deeper into facilitation practice and think critically about their role as facilitators. Community partners attended this training as key stakeholders.
Step 3: Hosting programs
Finally, branch staff hosted programs. Sixteen branches (21 staff) introduced new local dialogue-based programming series. More than 45 new public programs were offered, reaching nearly 700 attendees across locations. Forty partnerships with local organizations were created or renewed.
What We Learned 
Community-centered programming is successful. The tactics used by branches to ensure community interest varied and could include community voting boards, public planning committees, community-mapping and discussions with attendees about next steps.
 
The role(s) of external, local collaborators was integral. Staff cited collaborations with government agencies, nonprofits and small businesses as being integral to building audiences, identifying community issues and furthering facilitation skills. All participating branches planned to continue these programming collaborations.
 
Dialogue-based programs are becoming a core set of branch offerings. Participating branch staff unanimously agreed that they will use the Community Conversations structure as a launch point for other programs (e.g. memory circles, film discussions, elected official forums) and/or continuing to introduce Community Conversations programming.
 
A branch staff community of practice emerged. Centralized encouragement and support (e.g. funding, regular check-ins from the administrative office and in-person meet-ups) helped to create a strong community of practice. Branch staff regularly commented on the encouragement they received to "experiment and share openly about what [they] find" and how that suggestion lent itself to their honest reflection.
Looking forward
Community Conversations at NYPL is now its second year, and we're still learning.
Community Conversations programming took place in over 20 branch locations during its second year (with training beginning in June 2018). It continues to be an opportunity to explore community engagement methods across neighborhoods and build staff capacity for program design and facilitation.
And we have more stories to tell. Over the next year, branch staff who participated in both rounds of Community Conversations at NYPL will reflect on their experiences through this Programming Librarian blog. Their individual insight will provide a holistic perspective of these programs and introduce the library's vision for dialogue-driven programming that can become a template for libraries everywhere.
View a free one-hour webinar, "Community Conversations across Neighborhoods: Dialogue-Driven Programming," about NYPL's Community Conversations pilot.
Job Functions
Professional Development/Training