Short Title
Our Library's Centennial Video Contest
Celebrate your library's centennial in a heartwarming way.
Ah, the halcyon days of 2013. I remember them like they were only two years ago. President Barack Obama was sworn in for his second term, Cardinal Jorge Mario Bergoglio became Pope, Prince George was born, and our library celebrated its 100th anniversary.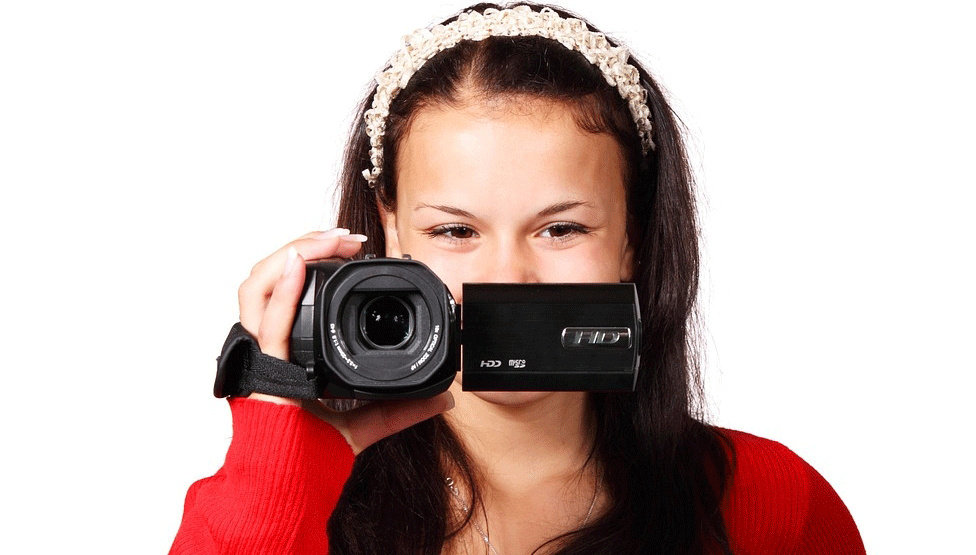 Now, many other institutions around the world might shrug off 100 years, but here on the west coast where nothing appears older than Justin Bieber, 100 years means something. So we brainstormed some fun ways to commemorate this momentous event. We examined the usual fare, including a carnival, a time capsule and possibly a pie-eating contest. OK, so the pie-eating contest was my idea and involved mostly me and a lot of pecan pies. However, one of the things I have always wanted to do was a video contest, and our centennial celebration seemed like the perfect time to do it.
Like all ideas, it started with a simple concept: the community would tell us why the library is important to them via a three- to seven-minute video, and each participant would get the chance to win a cash award and have their film featured on our website and YouTube channel. The community would have a unique opportunity to showcase their creativity and talent and to demonstrate their love of the library, and the library would get the kind of free grassroots publicity that it could neither afford nor generate on its own.
Like "Ocean's Eleven," the first thing I did was assemble a team of specialists, each possessing their own unique sets of talents and skills that would ensure the success of the mission. Unlike "Ocean's Eleven," they all happened to be civil servants in good standing with their employer with nothing unseemly or untoward in their backgrounds. Together, we agreed on the key components of what a successful contest would entail, including applications, rules, a project timeline, funding, promotion, evaluation of entries and awards.
In drafting rules and guidelines, there were several things we considered. We reviewed a multitude of similar video contests online. This was extremely beneficial as each contest seemed to raise considerations: how long should the videos be? What file formats should we accept? How can we best to guarantee the library usage rights? Once we felt we were near completion on the rules, we vetted everything through our legal department. One of our primary concerns was being able to use the videos for future outreach events and promotions. In order to do so, we needed to secure the rights of any submitted videos. We also needed to ensure that all the submitted videos used public domain material. The last thing we wanted was a nasty letter from the Recording Industry Association of America. To ensure this, we included language in the rules that stated that copyrighted music would not be accepted. We recommended that participants compose and perform music themselves; obtain music with proper release and legal license; or use free, public domain music. Staff even created a pathfinder to locating free, public domain music and video. View our contest guidelines here.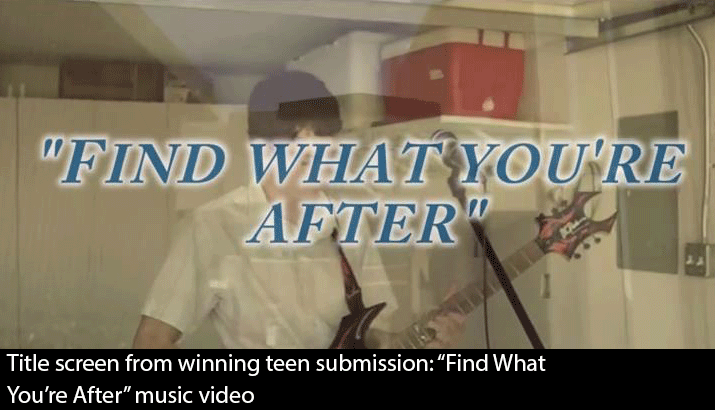 We established three award categories: youth (grades 8 and under), teen (grades 9 through 12) and adult (age 18 and over). This was to ensure that each age group had an equitable opportunity to win. Ironically, my fears were unwarranted, as the youth submissions far exceeded the adult submissions in quantity and quality.
The project timeline included the length of the contest and the time it would take to promote the contest, accept entries, judge the submissions, make selections and organize the awards program. The entry period was from March through July. In addition to providing time for people to create and edit videos, this also coincided with the end of the school year. This meant we could effectively promote the contest while school was in session and still give young people time after school let out for summer to work on the project. And the amount of easily accessible video capturing and editing tools meant that just about anyone could participate.
Our panel of judges consisted of individuals from library support organizations and community partners like our Friends of the Library, historical society and library commission. This was beneficial for two reasons. First, these groups were impartial and unbiased, meaning no library staff could be accused of any impropriety. Second, our community partners had the opportunity to see firsthand how much our patrons appreciated the library. Ultimately, the judges would critique the videos based on established guidelines with points for technical quality, aesthetic composition, creativity and library spirit. The points would be tallied for each category, and we would have our winner.
For funding, I wrote a proposal to our Friends of the Library, which included the cost of cash awards ($500 for each category, $1,500 total) and the cost of trophies (approximately $200).  For a lot of libraries, $1,700 may be cost-prohibitive. The contest could have been accomplished without it, but our justification was that we would potentially receive a huge return on this relatively small investment. When you consider actually sitting down and attempting to write, cast, direct and edit just one commercial for your library, $1,700 seems paltry.
For promotion, we used traditional methods which included social media, fliers and word of mouth. We also contacted the film instructors at our local community colleges and high schools. We thought that in addition to garnering more participation, the prizes might be an incentive for budding film students on their resume for film school.
Perhaps, the most nervewracking part of the entire contest was the waiting. The entry period lasted for about three months and there was near silence during the entire period of time. Now it's my firm belief that all programs are calculated a gamble. You can plan everything to the finest detail, but invariably there are things that are out of your control. People may not show up for a variety of reasons, the presenter might be a disappointment, your equipment might fail. A video contest is no different, and it was beginning to look like my gamble was not going to pay off.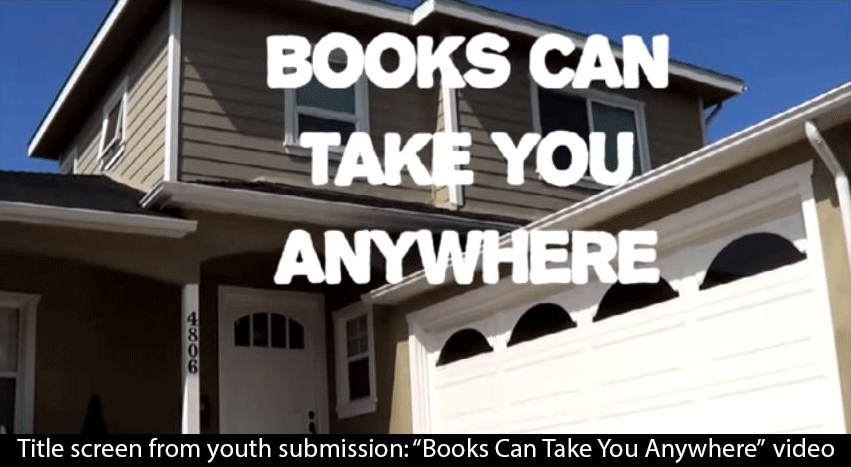 On the morning the entries were due, I received one flash drive with a truly heartwarming video. The video told the story of two teenage girls and their rebellious dog. One day, they decided to go to the library and learn dog training. Throughout the video, they demonstrated how to get a library card, find books in the online catalog, and even use self-checkout. This was fantastic! I watched it about three times then went running around my department like Paul Revere telling people they had to watch it. During the rest of the day, I continued to receive entries. We ultimately collected 14 submissions including an original music video. 
The following week, I scheduled our panel of judges to review and score the videos. They made their selections, and I invited all the participants to a special screening of all the videos. Not wanting anyone to feel left out; I made sure everyone would receive an award for their participation. Photos were taken and tears were shed. It was a proud moment for everyone.
The project was a huge success and a good example of crowdsourced advertising. Aside from the obvious rewards of conducting the contest itself, there were several unforeseen benefits. The videos were extremely impactful for many staff members, patrons and public officials. As the videos were produced directly by the public we serve, we could not have asked for more genuine and heartfelt evidence of the importance of our library in the community. We continue to show the videos during community outreach events, staff events, and even give flash drives of them to newly elected officials.
Visit our YouTube playlist to view all the contest submissions.
Job Functions
Budgeting
Copyright
Film Licensing / Distribution
Audience
Adult
Children / Family
Young Adult