Good gourd, pumpkins aren't just for Halloween! We've found a low-budget, family-friendly activity for everyone to enjoy.
In lieu of celebrating Halloween, the L.P. Fisher Public Library held a pumpkin painting party at the end of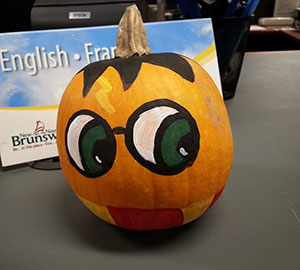 October. Many members of our community don't acknowledge Halloween as a holiday, so we always try to be mindful of creating a program that patrons from many different cultures can enjoy. 
We were lucky enough to partner with a local organic farm, Strawberry Hill, who donated 20 small pie pumpkins — the perfect size for small hands to paint! People also had the option of bringing their own pumpkin from home.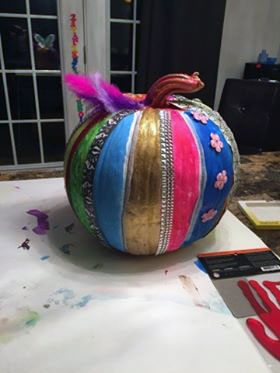 We put out old newspapers and brushes and, using tempera and acrylic paint, glitter glue, glue, googly eyes, paper, yarn, feathers and pompoms, we decorated up a storm. It was totally freestyle, with some people painting traditional Jack-o-lanterns and others making more abstract and artistic creations. 
We posted about the event on Facebook and even inspired viewers from the other side of the province to paint their pumpkins at home and send in the results — talk about outreach! Since our pumpkins were generously donated or provided by patrons, it was a very low-cost event. We bought about $15 worth of supplies.
The fun thing about this simple craft was that it was so versatile and required little skill, so people didn't feel intimidated to join in — no professional artist training required. Since there was no "right way" to make the pumpkins look, this process-led program was highly enjoyable and super creative.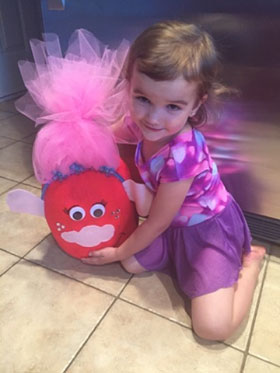 As you can tell from the photos in this post, our patrons and staff created some masterpieces!
If you are looking for an easy craft to do during this winter season, get your hands on some leftover pumpkins, paint 'em white, stack 'em up, and make some adorable snowmen! There's even an easy-to-follow YouTube video to show you how. In fact, according to some pretty inventive crafters on the internet, you can paint pumpkins to celebrate just about any event!
Special thanks to our clerk Kate Waller for organzing the event.
Popular Topics
Coloring, Crafts & Hands-on
Audience
Adult
Children / Family
College Students
Community Members
Older Adults / Seniors
Rural
Tweens and Teens
Urban
Young Adult