Short Title
Parks & Rec: A Health Programming Partner
Partnering with local, state and national parks and recreation departments can help build healthy communities.
Each year, one Sunday in late April is National ParkRX Day. This day celebrates the "the growing movement of prescribing parks and nature to patients to improve human health." National ParkRX Day builds upon the U.S. Surgeon General's call to promote walking and walkable communities. Americans need to move more, and parks are the perfect place for that.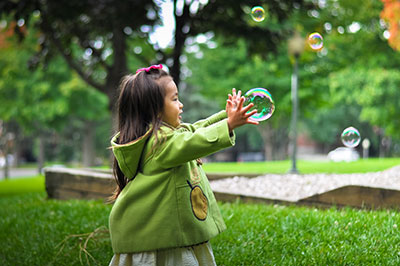 How can public libraries partner with parks and recreation departments to develop health programming? That is the focus of this month's blog on health programming developed through community partnerships.
National parks
Libraries can and do partner with parks at multiple levels (local, state, national) for health programming.
At the national level, the San Francisco Public Library has for three years partnered with the National Park Service to provide free shuttles from neighborhood branches to nearby national parks, as well as to develop other programming that enhances the experience of being active outdoors.
Similarly, the North Olympic Library System in Washington partnered with the nearby Olympic National Park for a variety of programs, including poetry hikes, story times in the park, and an Explore Olympic backpack that includes a free entrance pass.
State parks
Many state parks now provide local libraries with park passes and backpacks that can be checked out in local libraries to encourage healthy active outdoor activities. Some states, such as Missouri, also provide local libraries with other equipment, such as fishing gear, that they can in turn circulate to encourage active lifestyles among their patrons. 
While not a library program, a new initiative from Blue Cross Blue Shield NC and the North Carolina State Parks system can serve as inspiration for state-level collaboration. Hike NC will offer dozens of guided hikes ready to be explored and enjoyed throughout North Carolina."Mother Nature is calling, and Blue Cross and Blue Shield of North Carolina (Blue Cross NC) is making it easier to answer the call," the project website reads.
Local parks
The most common partner, of course, is the local parks and recreation department. In "Promoting Individual and Community Health at the Library" (ALA Edition, 2018), Dr. Mary Grace Flaherty writes that staff from parks and recreation departments:
"can be tapped for program opportunities such as lectures on safe hiking that address tick prevention, how to identify poison ivy, or what to do if there is a dangerous animal or snake on the trail. If the library is near a public hiking venue, the program might include a group hike. If the library has a teen council or teen group, they can help monitor and groom local trails in concert with the park department" (p. 85)
Another common program libraries do in partnership with local parks departments are StoryWalks®, a program model developed by Anne Ferguson of Montpelier, Vt., with the help of Rachel Senechal, of Kellogg-Hubbard Library. The assistant director of the Norwalk Public Library in Ohio called partnering with her parks and recreation department on StoryWalk® programming a "win-win." This short video from the Stillwater Public Library in Oklahoma explains what this program entails and how to get started building one in a park.
When we think about parks and recreation, we tend to think about natural amenities. However, most departments also have indoor recreational facilities as well. The Wood River Public Library and its local park department offer a kids' story time and tumbling program, called Roll-n-Read, at a rec center. Each week the librarian shares stories with children and engages the kids in gynastic activities.
Building partnerships
As the examples above show, libraries can offer a wide variety of health-related programming with parks and recreation departments. Nonetheless, many libraries struggle to form and sustain the partnerships that undergird these programs.
A panel discussion at the North Carolina Library Association's 2018 meeting was entitled "The True Story of Tammy and Ron: How Libraries and Parks and Rec Can Have a Healthy Relationship," riffing on the truism that libraries and parks are like cats and water.
Similarly, a Facebook post in ALA's Programming Librarian Interest Group in January 2018 asked, "Have any of you experienced successful partnerships between libraries and parks & rec departments?" The top response (in terms of number of likes) was "You'll generally find that under either 'fiction' or 'fantasy,' with an occasional episode shelved under 'horror.' Occasionally, you can find it as a happily-ever-after story."
These examples illustrate that we, as a profession, have a long way to go to building effective and powerful programming partnerships with our parks and recreation departments.
Where to start? According to Lindsey Herron, the director of the Wood River Public Library, it all comes down to building relationships. 
"What makes our partnership great is we have mutual respect for each other and try to eliminate having the same programs going on," Herron said. "By collaborating on all of our events we save money (split the costs) and hit up a larger crowd (we advertise at our respective locations). The Parks & Recreation department has several large events that have been going on for decades. Rather than trying to compete with them, we simply have joined in and helped to promote their event while getting our own names out there … . My advice for those looking to reach out would be to check their websites, check their Facebook pages, etc. and see what BIG events they are doing. Then come up with a way to be a part of it. Find out who does the different monthly events and see if they want to partner. Find out what gaps you have in the events you both provide and see how you can fill them together."
My library here in Greensboro, N.C., is doing something similar. For the first time ever, in summer 2018 the library and the parks and rec department will release a shared summer program guide that will include what both entities offer.
Find ways to work together with your parks and recreation departments. You have a lot to offer them and they have a to offer you, in terms of the work needed to build healthy communities. Partnering for programs will extend your impact.
Audience
Adult
Children / Family
Rural
Urban