University of Dayton Libraries has the formula for a great finals week: free pizza for students, nostalgia for alumni, and warm fuzzies for everyone.
At the University of Dayton, the alumni association and libraries partner on programs that reach out to younger alumni without asking for much. This includes a fundraiser for a pizza break for students and a note-writing drive that brings smiles. UD is a Catholic, Marianist institution that is known for its sense of community, nice people, and everyone holding a door open for the people behind them. These programs align with the community spirit of the institution.
To set the scene, think about finals week: The library is crowded, and you haven't slept — but you have free pizza to look forward to. This is what a recent alum was remembering when he wanted to set up a fund to provide pizza to students studying — something he remembers sharing with friends.
The giving opportunity for alumni is promoted as, "Just $15 will fuel four students for a long night of studying." Then, every Sunday night before finals week, alumni volunteers distribute the pizza in the library. A local pizza company owner offers a discounted rate.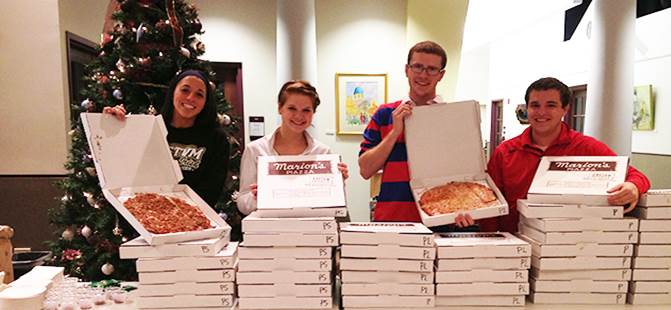 Everyone remembers studying for finals. You can draw on that emotion to get alumni to give to the program. If you wanted to try this in your library, maybe the study break would be coffee or cookies — or any caring gesture coming from people who were once in the current students' shoes and know what it's like.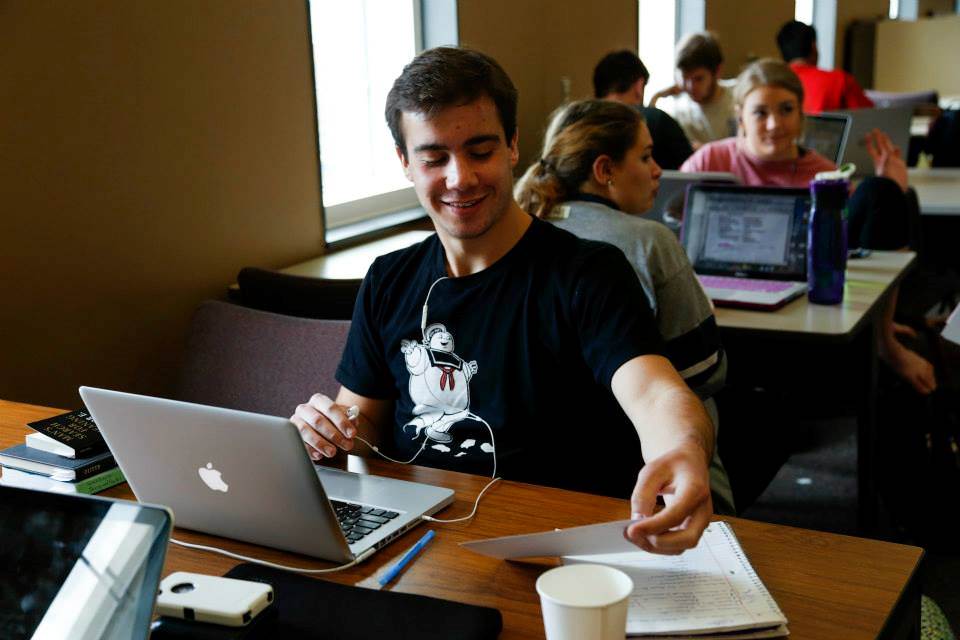 If you're looking for a free way to engage alumni, ask them to write notes of encouragement to students studying for finals. It's nice to ask your alumni for something other than money, whether it be time or expertise. 
Finals Friends is what we call our alumni note-writing drive. It's coordinated by the library and cross-promoted by the alumni magazine, alumni relations and library. Electronic submissions are accepted on the program website.
Blank print cards are made available at alumni events such as March Madness game-watching socials and reunion weekend events. Some alumni fill them out in groups, sharing memories together while thinking about what to write.
These notes — which can be heartfelt or humorous or anything in between — are posted by library elevators, on bulletin boards, in study carrels and on the bathroom mirrors. People who write the notes typically write their graduation year, which makes it interesting to see what different generations of alums will write.
This year, we had cards out in the library lobby during our summer reunion weekend open house. People who stopped by to check out the renovated library could write a note of encouragement and learn more about what services we have for students.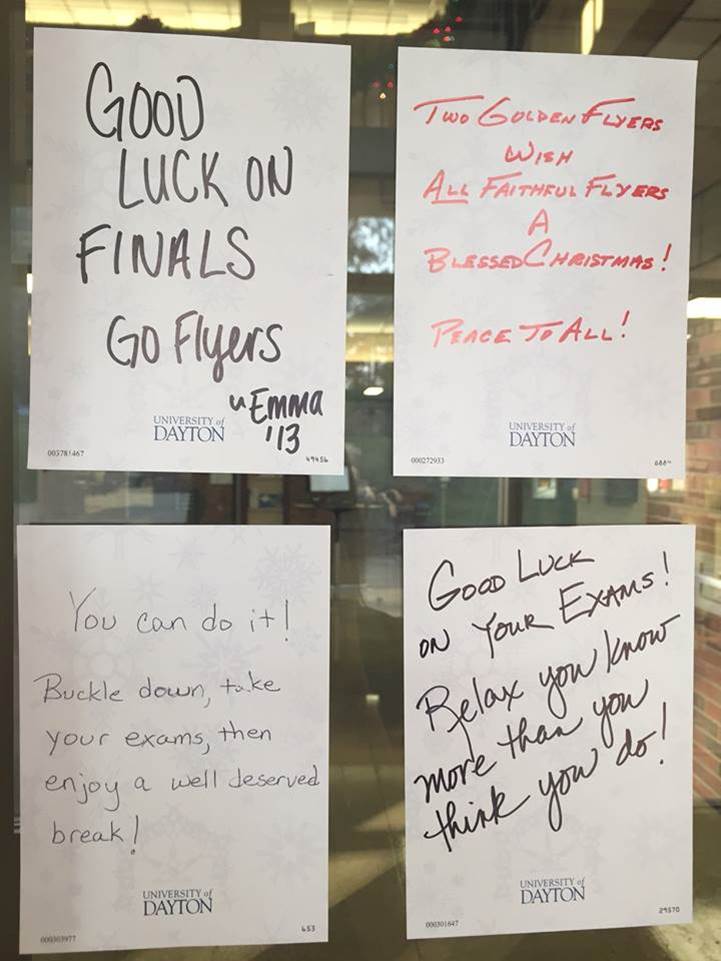 The library and the university share snapshots of the notes on social media. On Facebook, some alums were tagged in the photo of their note. How satisfying for alums to see their notes posted and read in the library, as promised.
Here are some examples of social media reactions: "The motivational notes all over @roeschlibrary are a true reflection of what the @univofdayton is all about  #community."
"PSA: The alumni wrote letters to us for finals week and they're on the mirrors in the bathroom #cutestalumniever."
You can ask alumni to send back physical notes or cards, or use an electronic form and use your social media channels, digital signage or bulletin boards to share the messages. It's always great to have campus partners such as the alumni association, the alumni magazine and university marketing. These initiatives benefit everyone. The notes are similar to a random act of kindness, an unexpected something that makes people stop and smile.
Audience
College Students
Young Adult