Short Title
Programs for Maternal Health
Help new moms adjust, make social connections and move their bodies during a critical time in their lives.
While attending the Next Library Conference in Berlin in September 2018 I showed up for an interactive session called "Library Story-Times and Maternal Mental Health." The talk was led by a library assistant from Essex Libraries in the U.K. and two researchers from the firm Shared Intelligence. I was curious about how storytimes could benefit new mothers, especially given my own experience as a new mom.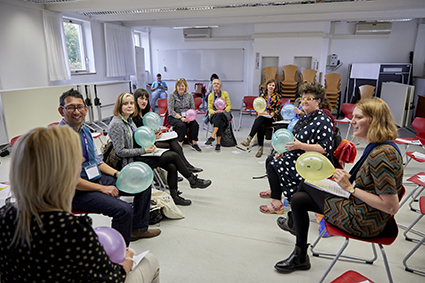 When both my boys were babies/toddlers I tried to make it out of the house as often as possible to attend storytimes at my local libraries. We often didn't make it and ended up in a crumpled mess of diapers and dirty clothes, or else rushed in late and red-faced from embarrassment (well, me anyway, the kids didn't care). I can remember feeling like such a failure sitting there among all the other mums and dads who I was so sure had it so much more together than I did.
Storytime for grown-ups
Years later, sitting in an activity room in a Berlin library, the researchers asked us to play along with a storytime program, using an inflated balloon as my stand-in child. In her role as storytime leader, Audrey Read, the library assistant leading the program, was very welcoming; she made sure to check in with everyone, thanked us for coming and acknowledged how difficult it could be getting out of the house with small children. We were also asked to rate our mood — very happy, happy, neither happy nor sad, sad or very sad — on a chart with a sticky dot. 
Then we got down to the business of storytime — lots of interactive stories, fingerplays, songs, instruments, puppets and participation (as a physical literacy researcher I was impressed with all the movement!). The whole thing only lasted about 30 minutes, and then we again rated how we felt.
Many participants enjoyed the session and indicated with their dot stickers that they felt better afterwards. I have to admit I had a good time, even though we were all grown-ups singing "If You're Happy and You Know It" to balloons while wearing finger puppets.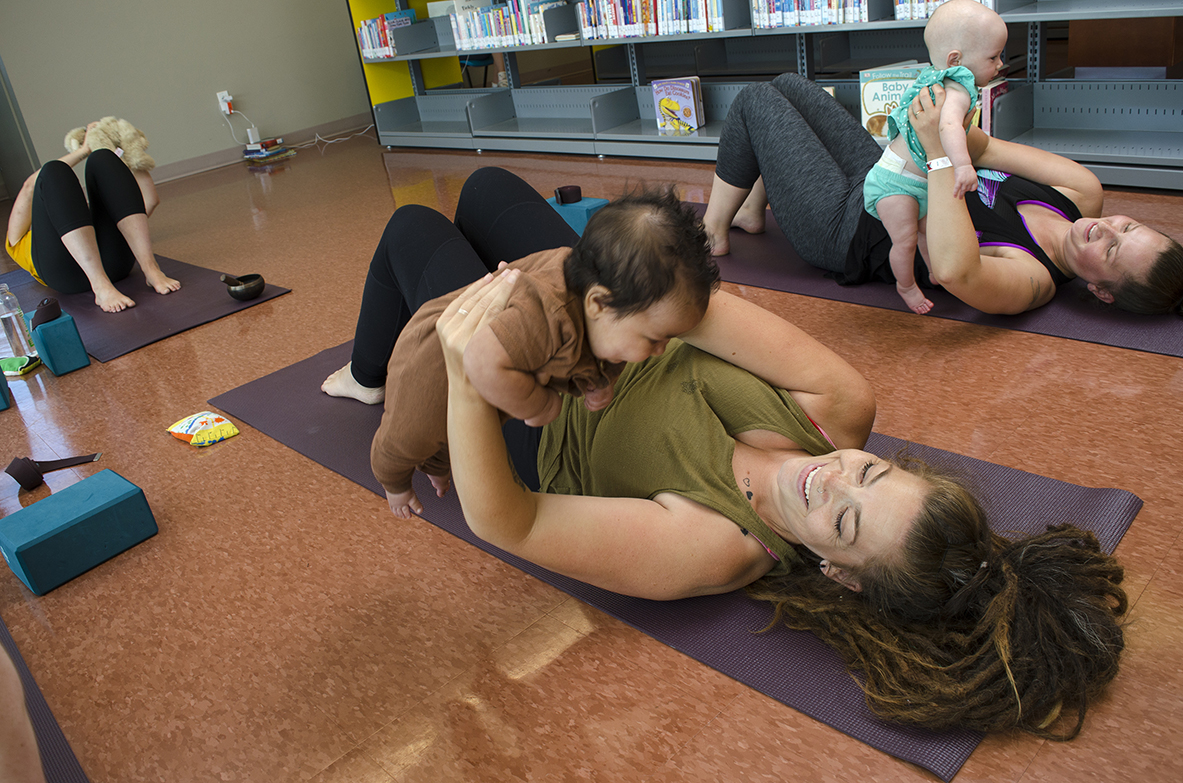 Benefits for new moms
So what's going on here? Why is a program designed for young children having such a positive impact on grown-ups?
In the U.K., one in five women experience mental health problems during pregnancy or the postpartum period, ranging from mild depression and anxiety to full-blown psychosis. The numbers are similar on this side of the Atlantic, with 12.8 percent of women who experienced a live birth in 2018 reporting symptoms of depression (and that's only what was reported).
The Essex study, led by Shared Intelligence and Essex Library Service and funded by England's national arts agency, found that their modified storytimes promoted feelings of achievement, enjoyment from social interaction, provided structure to the mothers' days and reassurance seeing other children's developmental stages, and also gave mothers a sense of pride and confidence. (Read more about the presenters' research in "Library Rhyme Time and Maternal Mental Health.")
This directly resonated with my own experience of postpartum OCD and finding solace and acceptance at the library and its inclusive atmosphere. These are things I continued to be mindful of when I became a library director, and I'm proud to say my own staff work hard to make parents feel welcomed and appreciated for attending our Babies in the Library and Preschool Storytime programs. While we haven't conducted a formal study, we believe they leave feeling supported by our services.
Mom & Baby Yoga

This fall, inspired by what I learned in Berlin, I undertook a new program to target mothers with young babies, based on my area of subject expertise (physical literacy). It was a nine-week program called Mom & Baby Yoga.
While babies were certainly part of the program and we did lots of songs, fingerplays and stories for them, the focus of each session was postpartum reintegration of the pelvic floor using gentle yoga stretches. I also made sure to mention the resources we had available for postpartum depression and early childhood development.
We started off with a full house (20 moms!) and a waitlist, but life gets in the way (maternity leave ends and a return to work, bad weather, transportation issues, illness, etc.), and as we were approaching the holiday season, I was down to about 5 regular moms and their babies. As we wrapped up our last session I asked the moms for feedback.
They said the time of day was perfect (10:30 a.m.) as it was before older children got home from school and didn't interfere with naptime. They felt the program really benefitted them, both physically and emotionally, especially having a chance to get out of the house and interact with other mothers. They wanted the program to continue into the new year. I said we had to take a break for a few months while we offered Babies in the Library (a mandatory province-wide program) but that we would resume again in the spring and that they were welcome to come to my weekly adult yoga program. I also provided them with a handout of the routine so they could practice at home. 
I'm looking forward to reinstating the Mom & Baby Yoga program in the spring, and I've also included the program (complete with an infographic of all the poses) in my upcoming book, "Yoga and Meditation at the Library: A Practical Guide for Librarians" (Rowman & Littlefield), due to be released in June 2019. In the meantime you can find downloadable PDFs and videos of other yoga programs at www.jenncarson.com under "Resources."