Mingling different age groups enables kids to learn from one another in new ways.
If you spend any time on social media, especially if you follow other libraries, librarians or community groups, you've probably heard a lot of talk about intergenerational programming. I have read news stories about daycare groups being integrated with seniors' homes, or 20-somethings finding mentors (and roommates!) in older adults. At my library we hold a lot of intergenerational programming, like an Outdoor Water Party, Family Dance Parties and board game nights.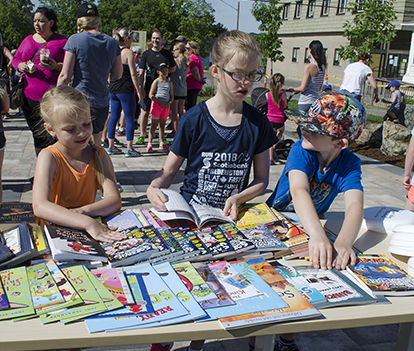 Benefits of intergenerational programming
Intergenerational programs are a great way to revitalize segments of your community that may experience loneliness and isolation, such as the elderly or teens, and also a wonderful way to share skills across multiple generations. Until the last century it was much more common (and still is in many cultures) for multiple generations of family members to live together under one roof. Now with families spread far apart, children don't always get the benefit of frequent visits from grandparents, and grandparents don't always get a younger generation to enjoy and mentor.
While all intergenerational programs have their benefits, I'd like to touch on one specific category: mixed-age play.
Why offer mixed-age play?
In school, most children are stuck in classrooms all day, interacting with children their own age. Now that we have, on average, smaller families in North America, most children don't have the benefit of having siblings that are many years older or many years younger.
The benefits to multiple age demographics co-mingling is huge. As Peter Gray discusses in his excellent book "Free to Learn" (Basic Books, 2015), when younger children interact with children a few (or more) years older than them, they get to:
learn through observation, which encourages them to take risks and stretch outside their comfort zone;
play in the zone of proximal development, where they have to collaborate with others of a higher skill set to participate; and
receive emotional support and encouragement, which helps them feel loved and supported by older peers they look up to.
The benefits are also high for older children interacting with younger ones. They get to:
nurture and lead, which build empathy and teaching skills, making them better parents and mentors later in life);
learn through teaching and demonstrating, which reinforces and enhances their own skills); and
benefit from the creativity enhancing effect of being around younger children (what teenager can resist fingerpainting when given the opportunity in a no-stress environment?).
How does it work?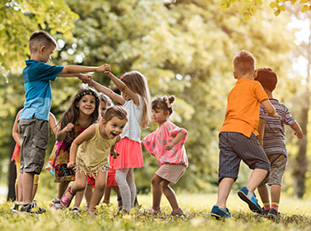 Drawing from these findings, there are no shortage of ideas when it comes to mixed-aged programming. Some schools and libraries have started programs like Roots of Empathy, which brings babies into the library or classroom to give older children the chance to spend time with an infant.
Pairing up older and younger kids during physical games (catch, for example) helps enhance everyone's skills. Two 5-year-olds playing catch aren't going to learn much and are going to drop the ball every other throw and get frustrated and quit. Pair a 10-year-old with a 5-year-old, and the elder child can gently encourage the younger one with soft throws while getting lots of exercise and spontaneous bursts of creativity while diving for the 5-year-old's attempts. This is known as scaffolding, a term developed by Jerome Bruner at Harvard.
The same goes for less physical games, like board or card games. The elder child builds a scaffold of hints ("Do you have any aces?"), encouragement ("Oh wow, you got two that match!") and reminders ("It's your turn"), which help the younger participant stay in a game that might otherwise be too difficult. 
At our library we have interactive play stations (a dress up center, a puppet theatre, a weaving wall, etc.) where age-mixing is naturally encouraged. Much literacy-based learning happens through this sort of play. For example, in a group of children playing store, an older child can encourage a younger one to "write" a grocery list, even if they can't spell yet, or "count" coins (even if their numeracy skills are only beginning). 
There are many more ways to encourage mixed-age play at your library; what's some things you are doing? To browse through more tried and true ideas, please check out "Get Your Community Moving: Physical Literacy Programs for All Ages" (ALA Editions, 2018). You can also download free tutorials, handouts, and posters on my website.
Popular Topics
Community Engagement
Health and Wellness
Audience
Adult
Children / Family
College Students
Community Members
Older Adults / Seniors
Rural
Tweens and Teens
Urban
Young Adult