Short Title
Reel 'Em In! Get Secondary Students Hooked on Self-Selected Titles
Encourage teens to get excited about reading with these tips from school librarians Donna Mignardi and Jennifer Sturge.
The American Association of School Librarians (AASL) share six Common Beliefs in their 2018 National School Library Standards. One that stands out to us is the belief that "reading is the core of academic and personal competency."
"School librarians," the standards go on to state, "initiate and elevate and motivate reading initiatives by using story and personal narrative to engage learners."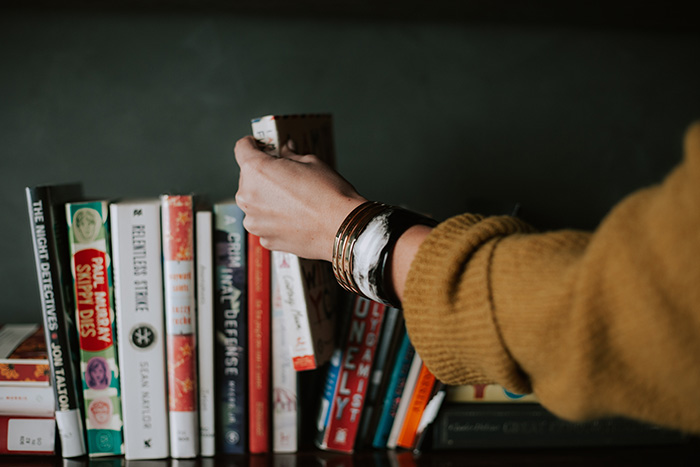 In recent years, due to competing priorities, there has been a shift in the amount of self-selection that classroom teachers encourage among students when it comes to reading choices. In our state and district, we saw fewer classroom teachers encouraging self-selection of books as part of their classroom instruction.
This saddened us. As librarians, we feel joy and a great sense of satisfaction when a student has found just the "right" title. We know that students who get hooked on a good book are more likely to come back and utilize the library over and over and to become life-long readers. And reading is reading — we are advocates for reading in any format.  
Advocating for self-selection
In the past two years, our district has done a lot of professional development around the work of Kelly Gallagher and Penny Kittle. The lessons we have learned from Gallagher and Kittle have fundamentally changed the way that our English teachers think about reading. We have gone from little to no self-selection of books to teachers who are advocates for self-selection, book clubs and book conferences. 
As librarians, this shift is M-A-R-V-E-L-O-U-S! One of the biggest benefits of teachers who are examining the value of self-selection and student engagement in reading is teachers booking time in the school library for checkout.
After reading Kelly Gallagher and Penny Kittle's "180 Days" last year and participating in a book study with Penny Kittle's book "Book Love: Developing Depth, Stamina, and Passion in Adolescent Readers," our English teachers are implementing book clubs and book conferences in their classrooms. One of the ideas implemented in our school is for teachers to have short individual conferences with each student about their book, during which teachers can discuss progress, set reading goals and talk about reading or writing strategies. Timing does not allow for a teacher to meet with every student every week. The teachers we have talked to plan to meet with each student at least twice during a four-week period.
Student book clubs
Because of the professional development around Gallager and Kittle's books, students are participating in book clubs during class. Student book clubs meet every week. One teacher hosts a club called Talk About it Tuesdays.
The questioning students engage in with each other while participating in a book club can be similar to a conference with a teacher. A book club has students working in groups and accountable to each other. As a group they decide how far they wish to read, and students hold each other accountable for their progress. The book club model motivates students to read and through group discussion generates additional enthusiasm for the book.
Book club discussions are not entirely student-led in our building. The teacher provides a question(s) for the group to discuss, such as a question about character development or another standard that the teacher is hoping to address. We visited a class engaging with book clubs last week. When the teacher indicated that students should take out their books, the transition time was nearly none, the silence was nearly immediate and the students were engaged in reading in record time.
Love at first sight
At Calvert High School, within the first three weeks of school almost every ninth- and tenth-grade student has come to the library for an enjoyable class period of speed dating books. We recognize that we all have numerous programming resources to introduce books to students: book talks, book tastings, book trailers, etc.
Book speed dating is one of our favorites. This activity can be easily tailored to suit the differing expectations of the classroom teacher. Some classroom teachers just want students to pick a book that they felt individually drawn to. In other cases, classroom teachers are looking to have multiple students read the same title in order to pursue a classroom book club model.
How do we approach speed dating with books in the library?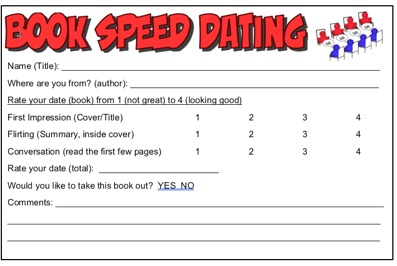 First of all, we talk to students about how to "check out" a book, to assess their first impressions:
Does the title speak to you?
The cover art? 
Maybe it is the award stamped on the front, or a review? 
Next, we start "flirting":
 What is the book's story?
 Read the back cover or the inside flap 
Finally, we dig a little deeper and decide if a "date" is in order:
Open the book; read the first few pages.
Check out the white space on the page; some students are not drawn to dense text.
Note the format (graphic novel, anyone?).
Evaluating the book to see if it's a match and a date is quite simple. Students provide a 1 to 4 score for each step of the dating process. If a book scores a 1, it is not the right fit; a book scoring a 4 — it's a date!
But that's not all
Teachers and administrators are being encouraged to visit classrooms, book-talk a favorite book, and connect with the students. Students love hearing about a book from the adults in their lives. We've witnessed students who are in awe that their teacher has a favorite book or that the principal spends her time reading science fiction and fantasy novels at home.
Another tool we have been utilizing is Flipgrid, a website that allows students to record short videos and share them with their classmates. We've created a Calvert Booktalks Flipgrid, where students and staff can upload booktalks on their book selections. It really enables students to use these short 30-second and 1-minute videos as a jumping off point for finding additional books. 
It's a wonderful problem to have
We now have this wonderful programming dilemma. Now that students know the routine and can speed date a book, do we speed date again? Or, do we host a different activity? Do we stick with what worked or build on our success?
As librarians utilizing the speed-dating format, we have made so many connections with the students very early in the year. Books are out and in students' hands as we pass them in the hallway. We secretly high-five each other when we see students reading in the hallway, at lunch and even during class. The bottom line is that students are reading. And after all, isn't that what it's really all about?
We are always looking for great ways to get books into the hands of students. What are some of your go-to moves for getting students engaged with finding that perfect read? Let us know in the comments below!
Job Functions
Resources and Program Starters