Short Title
Robot Story Time: Coding for Preschoolers
Introducing Cubetto, a wooden robot that can teach young kids the basics of coding — without a screen.
The LP Fisher Public Library in Woodstock, NB (Canada) has offered computer coding and robotics programs for school-aged children using Scratch and Recon 6. We've also taught children the basics of making their own video games on laptops. But until recently, we had yet to target a younger audience with any STEM programming.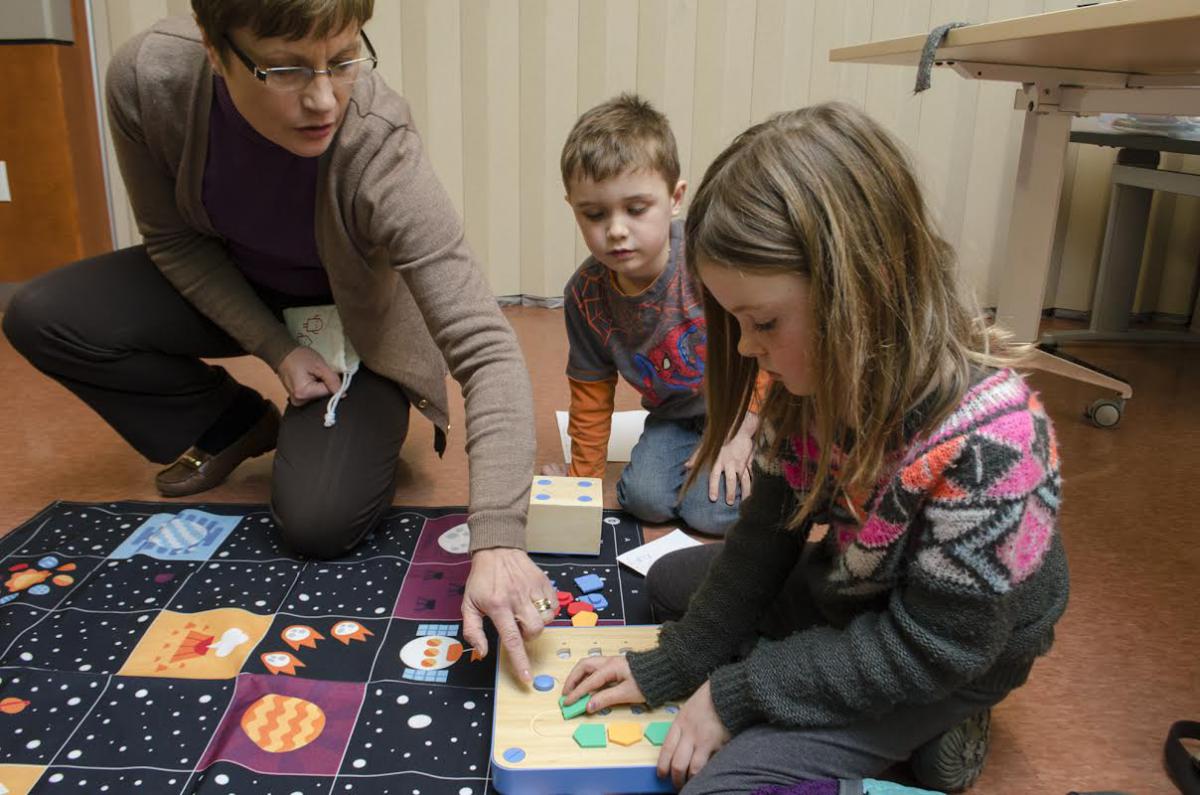 The search begins
I wanted to create a program for preschool-aged children that would introduce them to the basics of computer coding and robotics. I started looking for a solution by playing with a bunch of different robots at other libraries, like LEGO Mindstorms, Snap Circuits, Ozobots, Cubelets and Techno Robotic Pets. Unfortunately, I discovered that these were either too advanced for the age group or just weren't durable enough for my rambunctious pre-school patrons. Plus, I wanted to stay away from screens; the screen time recommendations for children in this age bracket are no more than one hour per day.
After my search failed to turn up what I was looking for, I even thought about teaching the kids how to knit as a preliminary intro to coding, but the idea of 3- and 4-year-olds with sharp needles put that to rest. I bought the awesome game Robot Turtles for our board game collection,and while it is very popular, you can only play with up to four players, plus an adult, so it wasn't ideal for a large group activity.
Cubetto: Coding for kiddos
Then I found Cubetto. Cubetto is an adorable wooden robot made by Primo Toys, and he solved all these issues. He doesn't require a device to operate. He's very sturdy. He's Montessori-approved. If you can afford the extended pack, I highly recommend it. The pack comes comes with lots of fabric story mats (washable!) and plastic-coated storybooks (wipeable!) to go with the robot. The basic kit just has one of each.
You play with Cubetto by plugging the sturdy plastic key-codes into the robot's wooden board and then pressing the button on his head to make him act out the code. You can follow along with the storybooks or just freestyle play. The kids' spatial abilities improve as they navigate right from left, up from down (or north, south, east, west — each mat has a compass). They also have to remember that the directions are not as they see them, but as Cubetto sees them from where he is facing at any given time ... something that may have fooled a grown-up when she was first testing it out. Ahem!
The Primo Toys website has some great resources for educators, but I found the best way to learn is by just playing with him. There are function keys that allow you to use a sequence more than once, which the kids quickly got the hang of once they figured out the basics. 
Our programs
Since there was only one robot and more than 20 people at our first program, we gave the kids pieces of paper and had them draw out their code first, until their group got a turn with the robot. Each group had its own story mat and storybook. It was fascinating to see how some kids wrote the words out (e.g., left/right), some drew the shapes, some used the colors, and some did a combination. Such a great tie-in with literacy through the storytelling and writing components!
For our first two programs we invited children ages 5 to 10 and their families, but we got kids as young as 3 who came, just to test it out. The older kids helped the younger kids (and the parents!). Our next step will be to introduce Cubetto to our younger set at a preschool story time and to do some outreach by bringing Cubetto to our local daycares.