Short Title
Rural Roots: Social Media
Despite finding social media "puerile and repulsive," blogger Larry Grieco has finally jumped on the bandwagon.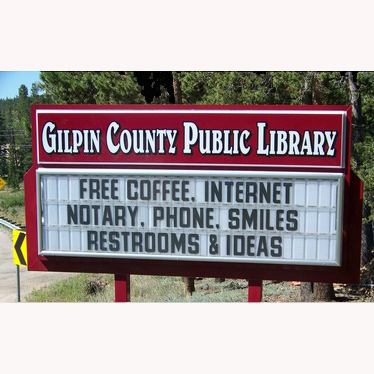 In these days of social media, librarians do not want to be left behind. Library directors, particularly in rural areas, are either unflinchingly embracing one or more forms of social media or being dragged kicking and screaming into the 21st century by their patrons, staff, trustees, friends group, county government and, more and more frequently, by their own devotion to their duty.
For some directors, using social media must be preceded by a kind of consciousness-raising. "Why do I have to do this?" they may ask themselves; or, if they ask that question out loud, they could be addressing the powers that be. 
Regardless of how you get to the fork in the road — with traditional forms of communication in one direction (a path that doubles back and you end up where you started) and social media in the other (the path toward progress) — there seems to be little choice but to march bravely into the future. And so, here are a few thoughts on progress from someone who finds Facebook, as a prime example, not only puerile, but somewhat repulsive.
You may have already deduced that the writer of this blog is no spring chicken. In fact, he is several months into his 70th year of life and fourth decade of librarianship. You should cut him some slack, as a matter of respect (or sympathy), but it is no surprise that he is resistant to stepping into the uncharted (for him) waters of 21st-century social media. He who read Kurt Vonnegut, Jr. in the '60s came away with two pearls of wisdom from the master of social satire himself. First:
"Every passing hour brings the Solar System forty-three thousand miles closer to Globular Cluster M13 in Hercules — and still there are some misfits who insist that there is no such thing as progress." — "The Sirens of Titan"
OK, with all due respect, social media represents progress, no doubt. When our children, with or without our blessing, are seemingly born with computer dexterity and quickly become experts in the use of the tools of cybernetics, what could be more logical than the relatively newborn existence and growth of social media in all its forms? Only a misfit (dare I say "social misfit?") would look at this as regression rather than progression. It wasn't even a quantum leap that landed us in the midst of this young generation and its new way of communicating; we just took a "small step for man, and a giant step for mankind," and here we are.
The second Vonnegut pearl is also from "The Sirens of Titan." In it he describes the difference between two characters in the book:
"To contrast Malachi Constant of Hollywood with Winston Niles Rumfoord of Newport and Eternity: Everything Rumfoord did he did with style, making all of mankind look good. Everything Constant did he did in style — aggressively, loudly, childishly, wastefully — making himself and mankind look bad."
And therein lies the key, the saving grace of embracing social media, and maybe — in a larger sense — rescuing the future of librarianship in the process. Treat it as the prime directive, if you will, the first rule of thumb, at the core of the profession. Be wary if someone insists that you must "get in step with the times." By doing so, you are vulnerable to the temptation of conforming; we all want to be accepted, regardless if we are 10 or 70 years old. If you blend in, do what's expected, succumb to the peer pressure of being in style, you may make yourself (and — eek — all of mankind) look bad. But if you can manage to reach back for that little extra bit of imagination and do something with style, you will not only look good, but it will make all librarians look good!
Bring on social media — there's nothing to be afraid of. Remember the saying, which has now become somewhat of a cliché: "The future is now." Well, guess what? It is. But we don't have to give the appearance that we're becoming, God help us, "trendy." We can create a new face on Facebook, Twitter ourselves to fame and fortune, add a totally new link to Linked In, go "viral" on YouTube. Just, whatever you do, don't copy anyone, and don't do something to please someone else. Be inventive, creative, imaginative, even visionary, because social media is not static, it's constantly evolving, as is the profession of librarianship. Let yourself take risks, and remember, before you can follow your dreams, you have to have some.
Audience
Adult
Children / Family
Older Adults / Seniors
Young Adult