Short Title
Scouts Can Help Make Your StoryWalk® Grow
Working with scouts is a fun way to bring StoryWalks to your community.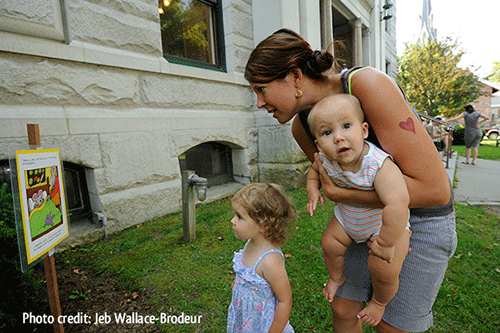 You've heard of StoryWalk — maybe you've even done one or two as part of your summer programming — and you're thinking about setting up a permanent installation in a local park or green space. Where do you get started? This blog post focuses on teaming up with scouts (boys and girls) to bring a permanent StoryWalk to your community.
The origins of StoryWalk®
Let's start from the beginning. What is a StoryWalk, and why does it have that "®" after it? The StoryWalk concept was created in 2007 by Anne Ferguson of Montpelier, Vermont, with the help of Rachel Senechal, of the Kellogg-Hubbard Library. Storywalk is a registered service mark owned by Ms. Ferguson.
StoryWalk is a way for people to enjoy reading and the outdoors at the same time. Laminated pages from a children's book are attached to wooden stakes and installed along a path. As you walk down the trail, you're directed to the next page in the story.
Basically, Anne Ferguson focused a huge amount of her time working out the legal issues associated with taking apart books so that you could display their pages along walking trails. According to the project's Frequently Asked Questions, she registered the idea with a trademark so that StoryWalks are only used for "educational, noncommercial projects consistent with the StoryWalk® Project mission to promote literacy." Think of it like a Creative Commons license in which only non-commercial uses are authorized! You can also learn more at the project's website.
The original impetus of the StoryWalk idea was to increase healthy living among Americas. "I was working as a chronic disease prevention specialist at the time and knew that I wanted to create something different, fun and interesting," Ferguson writes. "I had tried some different approaches involving children but found that the parents stood around chatting while the children were physically active. I knew I wanted to create something where the parents had to be as active as the children. Active parents have active children and physical activity is a key component to chronic disease prevention."
This idea inspired Ferguson to create the StoryWalk concept, which gets whole families up and moving and reading together.
A growing movement
StoryWalks have been installed in all 50 states and 12 countries. In my research, I have found over 300 public libraries that offer outdoor StoryWalk programs. (Sometimes libraries do these walks within the library, but this post focuses on walks outside.)
As the movement has developed, many of these programs have shifted from being temporary set-ups to permanent installations. This shift requires close coordination with partners around the placement of the kiosks, as well as an investment of time and money to pay for the individual kiosks.
Spontaneously, librarians across the country started to realize that scouts make the perfect partners for these large endeavors! In order to achieve to highest rank possible, both Boy Scouts and Girl Scouts have to undertake large, service-oriented projects.
Scouts and StoryWalks
In Illinois, Bethany Pohlman decided to "to work for the Girl Scout's top honor, the Gold Award" by teaming up with the Jacksonville Public Library and the YMCA to install a StoryWalk along a one-mile walking trail on the YMCA grounds.
"As a child I spent many years going to babysitting, play group, swimming lessons, working out and practicing cross country on the running trail, and I loved going to the library and reading the books," says Pohlman. "When I was looking for a project I talked to my mom, who works at the library, and she had just read about this StoryWalk. I thought, what a great way to combine the love of reading with the outdoors."
This story has played out repeatedly all across the country. You can find very similar stories of public libraries teaming up with scouts in New York, Washington, New Hampshire, Connecticut, Indiana, Tennessee, Massachusetts, Michigan, Florida and Wisconsin. 
Collaborating with Scouts for your StoryWalk
How can you bring this partnership to your library? The first step is to get the idea into the heads of local scouts. Try to meet with local scout leaders to share the idea with them and use some of the articles in this blog to illustrate that scouts are already doing this work successfully across the country.
Second, see this project as a partnership, not as a service project. To do this work successfully, you'll have to coordinate with the site where the StoryWalk will be based, ensuring that they approve of the placement of all the signs. You'll also want to work closely with your partners to ensure the design will work for your library. Most permanent StoryWalk change titles every month, or even every other week. Make sure you're prepared to keep the stories fresh so that the project is sustained after the initial investment of time and resources by the scouts.
Finally, start building up a collection of StoryWalk titles you can use in your display. Some good places to look for inspiration include:
What have been your experiences working with scouting organizations on these or other programs? Let us know in the comments!
Library Type
Public
Rural
School (K-12)
Job Functions
Resources and Program Starters
Audience
Adult
Children / Family
Young Adult