Short Title
Programs for Family Caregivers
This Family Caregivers Month (and year-round), help those who spend so much of their lives helping others.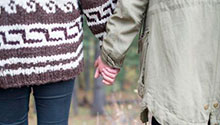 November may be a time for turkey and holiday shopping, but it's also Family Caregivers Month. Many of us know someone who provides support and care for a family member with a disability. You may be that person! Now is a great time to consider how your library can offer year-round programs to assist this large and unique community.
According to the latest report from the National Alliance for Caregiving, approximately 44 million adults in the U.S. acted as a caregiver for a family member in the past year. The caregiver community is diverse in age, gender and race, and they face unique circumstances, as they care for individuals with a variety of conditions and levels of impairment.
But as the report highlights, they also share some unfortunate commonalities. Thirty-eight percent of their study's participants described caring for their family member as "highly stressful." Adding to the stress is the fact that most caregivers are first-time caregivers, so they may not know where to turn for support and information.
How can libraries help? Much like the library, many organizations that assist caretakers and their charges do their best to provide community outreach. This makes your library a natural partner! You can help your patrons connect to caregiving resources — or just provide them with some time to unwind — and offer programming for staff to learn more about how they can best assist patrons with disabilities and their caregivers.
First, do your research. While there's no one typical caregiver, the National Alliance for Caregiving offers profile fact sheets based on their research. Find out what caregivers of different ages and communities may face to help you structure your programs. For example, a program that may be of interest to "higher-hour" caregivers — those who provides an average of 60 hours of care per week — may focus on self-care, support groups and caregiver-friendly community events. Also be sure to check out the Family Caregiver Alliance's state profiles to review what's happening in your part of the country.
Addressing the needs of caregivers also means addressing the needs of their family members who require assistance. How can you best meet the needs of both groups? When considering your target audience, review your community's demographics and resources. Does it make more sense to go to them? Providing outreach to the Department of Veteran's Affairs (VA) or a local adult daycare alerts employees and caretakers to your library's supportive stance. 
Finally, think about empowering your staff to assist caregivers. Offering programs to staff educates them on the best ways to help patrons with disabilities. My library partners with Pathfinders for Autism on a training program that teaches library employees about the autism spectrum. Trainers offer scenarios to show employees how to best assist and engage patrons with autism and their caregivers. Also, Maryland's State Library Resource Center hosted an employee training with the Maryland Department of Human Resources covering different statewide resources and initiatives, including those specifically for caregivers. 
No matter how you choose to address the needs of caregivers, remember: providing a comfortable and supportive atmosphere for caretakers and their charges is the most important step. 
For more information on caregiving resources and support, visit the VA Caregiver Toolbox and Medicare's resources on caregiving. Organizations like the Family Caregiver Alliance and the National Alliance for Caregiving (both linked above) offer comprehensive tip sheets covering everything from assistive technology to balancing finances.
Have an idea for a program for caretakers? Share it with us in the comments!
Job Functions
Resources and Program Starters
Professional Development/Training
Audience
Adult
Older Adults / Seniors