Short Title
Sharing Skills for Community-Centered Libraries
The Free Library of Philadelphia shares an update on Skills for Community-Centered Libraries, a community engagement curriculum.
The Free Library of Philadelphia received a 2017 grant from the Institute of Museum and Library Services (IMLS) to implement the Skills for Community-Centered Libraries Initiative. The project's goal is to create a practical curriculum to build community engagement capacity in 300 staff members at all levels.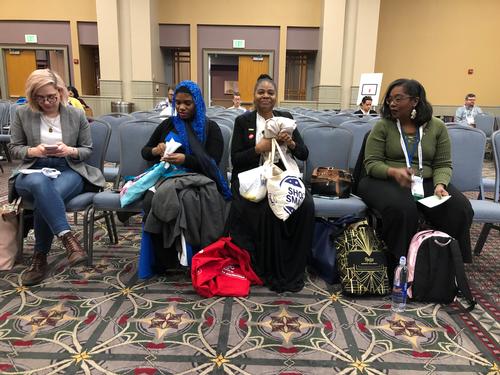 The American Library Association (ALA) defines community engagement as "the process of working collaboratively with community members—be they library customers, residents, faculty, students, or partner organizations—to address issues for the betterment of the community."
Community engagement is a common theme when experts and practitioners talk about the future of neighborhood libraries. And back before COVID-19 made large gatherings unthinkable, staff from the Free Library of Philadelphia presented at ALA's Midwinter Meeting in Philadelphia on this very topic. Closing out the conference's "News You Can Use" series on January 27, the panel was titled "Skills for Community-Centered Libraries: Developing a Curriculum for All Public Library Staff".
The 90-minute session provided insights into how the Free Library's Skills for Community-Centered Libraries initiative, funded by a grant from the Institute for Museum and Library Services (IMLS), has helped staff develop new skills in researching neighborhood assets, facilitating community meetings, and contributing to the Free Library's existing community engagement initiatives. Teri DeVoe, Associate Deputy Director of Grants to States at IMLS, introduced the panelists, who represented the wide variety of skills and talents found amongst the Free Library's staff.
To begin the presentation, Naquawna Letman, a Library Assistant in the Culinary Learning Center, led the audience in an exercise to identify their personal strengths and team roles, which is a crucial first step when preparing to engage with the community. Chera Kowalski, a former Teen Librarian at the McPherson Square Library, then spoke about the importance of creating an "asset map," or inventory of resources in a particular area, to ensure that a library's community engagement initiatives are authentically rooted in the neighborhood it serves.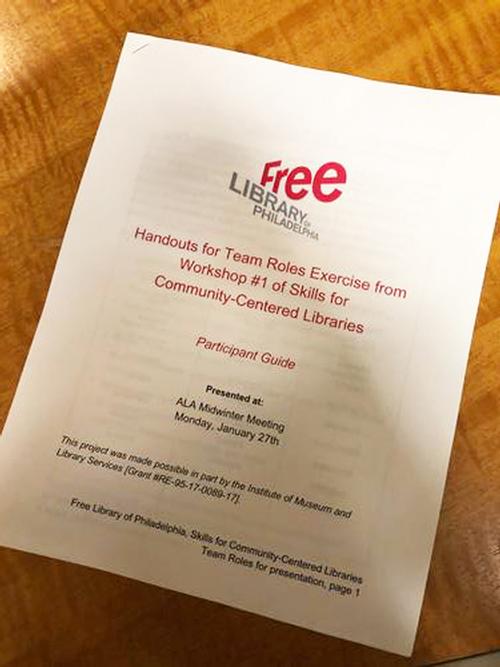 Storm Rhodes, a Library Assistant at the David Cohen Ogontz Library, shared eloquently about her own experience with community engagement and how important it is to consider individuals' communication styles and world views in this work. Sometimes referred to as "the iceberg" – the idea that every person has aspects of themselves that we can see, as well as other core values and characteristics that are not immediately visible – Storm highlighted how these factors shaped which engagement efforts were most useful for her library's community. 
Community Initiatives Specialist Shahadah Abdul-Rashid also shared specifics about her community engagement project by describing a partnership between the Free Library's Rare Book Department and imams from the Majlis Ash'Shura of the Delaware Valley. Shahadah worked with the group of religious leaders to create an exhibit of Islamic manuscripts for display and study. She noted that true engagement goes beyond simple outreach and forges a mutually beneficial, two-way relationship.
To wrap up the presentation, Chief of Neighborhood Library Services Division Lynn Williamson fielded questions from the audience about implementing similar community engagement efforts in their own libraries. She emphasized the role of training to create a shared language amongst library staff and directed the audience to abridged versions of the Free Library's workshop materials available through the session's listing on the ALA Midwinter conference page.
Of course, the question before all of us now is: what does community engagement look like in a time of global pandemic? Free Library staff will explore the possibilities and challenges of this unprecedented time in a series of community engagement webinars for library professionals through WebJunction later this year. Lessons learned from those conversations will be reflected in the nation-wide release of the Free Library's community engagement curriculum in late 2020.
This project was made possible in part by the Institute of Museum and Library Services [Grant #RE-95-17-0089-17].