Short Title
A Small (but Mighty) Makerspace
Griswold Public Library — a small library — wanted a makerspace. They ended up making two.
A makerspace — for anyone who isn't yet aware — is a collaborative workspace where people have the opportunity to construct or explore just about anything they can imagine.
The goal of a library makerspace is to let patrons learn through hands-on experimentation and from collaboration with others. And yes, that CAN be achieved in a small library. Griswold Public Library, located in a small town of about 1,000 in southwestern Iowa, is proof.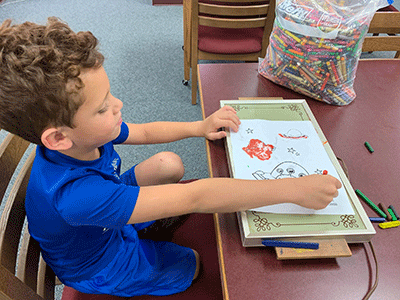 Finding space and financial support
We wanted a makerspace in our library, but we are a small institution with a correspondingly small amount of space. So we first visited other libraries to find some space-saving ideas that would help us carve out more room for our makerspace. After weeding books, arranging, and rearranging, we finally found our space!
To secure more funding to help us build up our inventory of makerspace supplies, we have applied for every STEM grant opportunity here in Iowa. With the governor encouraging more STEM-based learning, we have had many opportunities.
Additionally, when we see an obituary for a former teacher or someone in a technology field in the local paper, we are sure to talk with their families the next time we see them in the library. Soliciting support in this way might not work in every type of library or community, but in our small town of 1,036 residents, it has been successful.
Creating our makerspaces
We now have two makerspace areas in our library.
The first consists of a table and a cube area with storage bins. When people in our community move, they often donate a bag of miscellaneous craft supplies to our library: leftover stickers, lace, broken crayons, markers, rulers, the plastic middle pieces from rolls of tape, small boxes, yarn and other small items. We put these donated supplies in the storage bins in our first makerspace area, creating a great space for kids and adults needing some supplies when they create a display, diorama or report. We also print and display different small craft ideas to provide inspiration.  
Our second makerspace is about 10 by 12 feet. What can you fit in a space this small? We have managed to fit an impressive amount, including a large toolbox on wheels, purchased thanks to a STEM grant; a high shelf attached to the wall, which we got from another library; wheeled shelving with storage boxes; and two long tables for activities. Patrons coming to this makerspace have access to a green screen, a sewing machine, a VHS-to-DVD machine, a film to digital machine, a Makey Makey, a 3-D printer, several toolboxes, stamps, colored sand, a 3-D pen, a saw, an electric drill and more. We also got a grant to put in an electrical strip that has outlets about every foot.
With great space comes great responsibility — and a makerspace policy
One challenge with the two makerspaces in our library is staffing and supervision; we only have one full-time and one part-time staff member, and our library is divided into two rooms. Our library needed to create a makerspace policy so patrons could freely use the space without staff supervision. We have too much invested to let people have free reign over the spaces, but we also have too many resources for the resources to sit unused! Coming up with a policy was my biggest challenge, because the library board was very worried about patron safety.
We finally adopted a system that our local school uses in their makerspace: employing colored labels to indicate what level of supervision is required to use an item. A green label means a patron can use the item with no supervision, a yellow label means patrons need to ask a staff member for instructions, and a red label means patrons need instructions and a staff member to supervise.
We also only allow four people in the space at a time. When a patron asks to use the makerspace, I first take them to the space and ask what they'd like to create, then go through some instructions. If they change their minds mid-project and need to use another tool, we ask that they come back to a staff member to get new instructions.
So far, this level of instruction has worked well for our size and our patrons' needs. We would eventually like to create training videos. 
Promoting creative exploration
Although our makerspace is small, the amount of fun activities available to our patrons is massive. We have worked to assist our community with crafts, STEM projects and creativity. We will continue to promote the fun possibilities that reside in our small — but mighty! —  makerspace.
 
Lisa Metheny is the library director at the Griswold Public Library in Griswold, Iowa. This blog post is part of a series, organized by Iowa State Library, exploring programming in small libraries throughout the state.
Popular Topics
Coloring, Crafts & Hands-on
Job Functions
Resources and Program Starters
Space / Facilities