Short Title
Small-Town Library, Big-Time Author
How did tiny Meservey Public Library get a free visit from a bestselling author? Two words: they asked.
When I started as library director in March 2015, I made a list of programs, fundraisers and events that I wanted to plan at some point. The list was pages long and included things like an outdoor potluck, a dinosaur park and an '80s-themed prom. About halfway down the list I wrote "Elizabeth Berg book signing – LOL."
That's "LOL" as in "That's hilarious. Why would a bestselling author visit our little library?!" Little did I know that only a few years later, I would be welcoming Elizabeth Berg herself into our tiny town.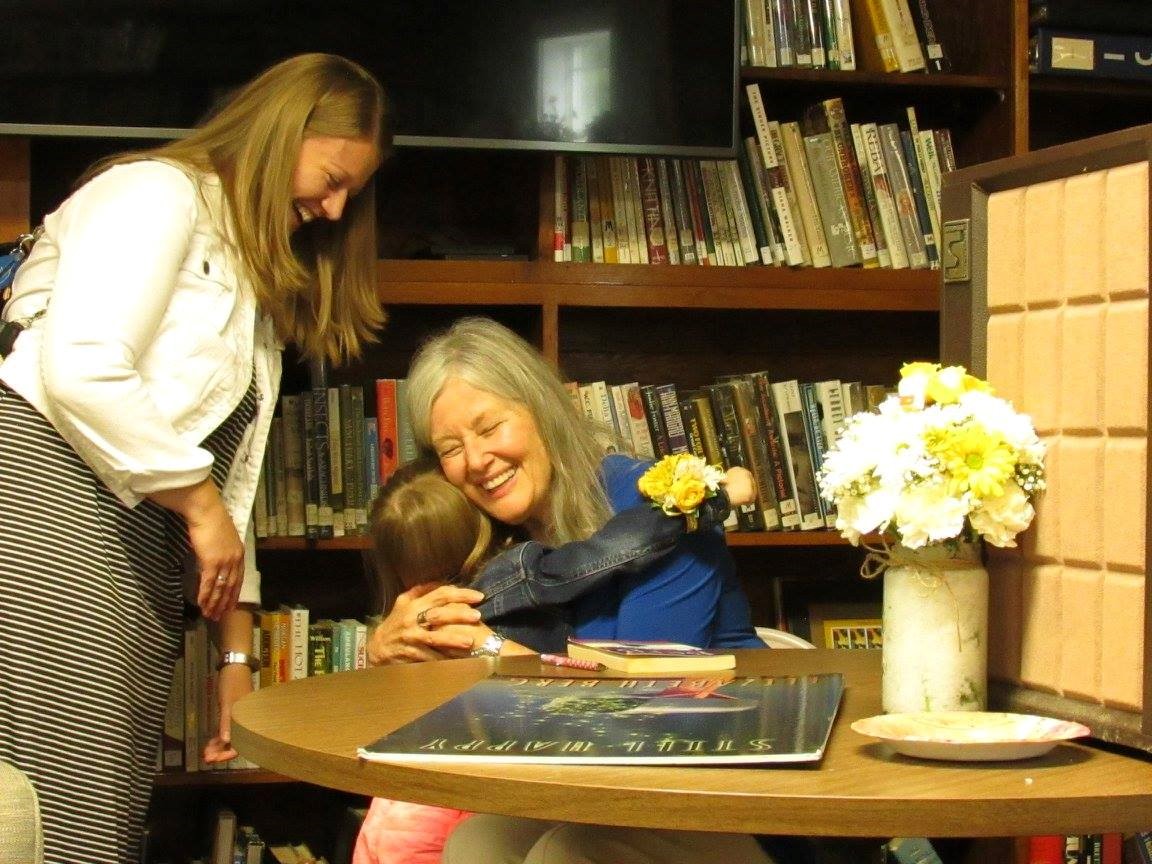 It began with an email
I've been a fan of Elizabeth Berg's work since I was in high school. I own all of her books, saw her speak in Iowa City, and almost went to one of her writing workshops. So when I saw on her Facebook page that she was doing a Midwest library tour, I was excited at the prospect that she might be speaking nearby.
I saw that she wasn't visiting any Iowa libraries, and even though it seemed like her schedule was finalized, I decided to send a brief email to her partner and media escort, Bill Young, whose information I saw on the Facebook page. I told him a little about our library and how important it is in our small town, and I said that if they were ever in the area on another tour, I would love to toss our hat in the ring. 
Not five minutes later, the phone rang. "Hi there, this is Bill Young," said the voice on the line. "I just received your email as I was sitting down to look at Elizabeth's tour schedule. We have an open day before we head home. Would you like to be our last visit on the tour?"
Elizabeth Berg's requests
Before I got too excited, I had to let Bill know just how small our library really was. There would be no separate meeting room, I told him, no fancy microphone and speaker system — just one big room filled with folding chairs and a small podium. He reassured me that small towns and libraries were Elizabeth's favorite, and that it wouldn't be a problem.
With that, the Meservey Library was on the schedule.
Thankfully, Ms. Berg did not charge a fee for this particular tour. Without her gesture of good will, we probably would not have been able to play host; needless to say, our budget doesn't really allow for author visits. She only asked three things of us: that we have treats for our attendees to enjoy, that we display some beautiful flowers here and there, and that we try to partner with a local animal shelter to have an adoptable animal in attendance. 
The details
I was overjoyed to hear the request that we partner with an animal shelter, as I am very active in animal rescue and am friends with the director of the nearest humane society. She was more than happy to bring two small adoptable dogs to the event.
I immediately posted a request for any small, local bakeries to contact me about making baked goods for the event. To my surprise, I was contacted by five small businesses who were happy to donate cookies, cupcakes and doughnuts at no cost as long as I put out business cards acknowledging them. 
I also called a local florist about getting a few arrangements. She refused to accept payment; she was very excited about the library getting a visit from such a big author and wanted to help.
With these donations, the only things the library had to purchase were plates, napkins, coffee and lemonade.
Advertising and turnout (no pressure, right?)
Clearly, it was very important to advertise this event well; we didn't want Elizabeth Berg to show up to an empty room. So I contacted local radio stations, newspapers and TV news. I created a flier and emailed it to all other public libraries in my district, asking if they would be willing to help me advertise. Most were more than happy to do it.
We ended up having 80 attendees. That might not seem like much to larger libraries, but our little building could not have held one more person; it was the most well-attended adult program we have ever had. People came from hours away to hear Elizabeth speak, and the feedback I received was wonderful. Elizabeth and Bill (and pup Gabby!) could not have been nicer or more complimentary of our town and library. 
Don't be afraid to ask
There is no doubt that this event wouldn't have happened without good timing and a whole lot of luck. The fates were on my side.
However, it also would never have happened if I hadn't reached out in the first place. I honestly didn't even expect a response, but I figured no harm could come of a simple email.
The lesson to take away? Don't be afraid to reach out and ask. Maybe you'll get ignored, maybe they'll say no ... or maybe you'll end up having your best program ever.
Popular Topics
Books and Authors
Community Engagement